Series B, Episode 2 - Birds
Further details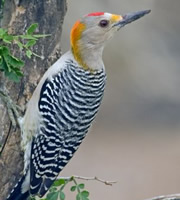 Extra Tasks
- Drawing a kiwi, paying particular attention to the nostrils. The most accurate is Alan, who draws the nostrils at the very end of the beak. Officially, you measure a beak/bill from the tip to the nostrils. As a result, the kiwi officially has the shortest beak of all birds.
Topics
- Tangent: The national bird of England is the European Robin.
- David Livingstone could not distinguish between the sound of a lion and an ostrich, claiming the only difference was that ostriches roar by day and lions by night.
- Tangent: Johnny Cash was once attacked by an ostrich. He never fully recovered.
- A woodpecker tongue is two-thirds the length of its body. It has sticky salvia, covered with barbs and has an ear on the end of it. The tongue goes around the back of the head when it is not inside the mouth. Woodpeckers beat wood 15 times a second, which is 250 times the force that astronauts are put though. It also has lots of cartilage around the head to protect it. Woodpeckers are very popular on creationist websites because they claim that they are so fit for their purpose that only a designer could have created the species.
- Birds do not like chocolate. It is poisonous, and birds have only 20-30 taste buds, so they could not taste it anyway. A Smartie would kill a small songbird. Chocolate is also poisonous to humans, but the lethal dose is very high (22 pounds). Humans have 9-10,000 taste buds, but new ones grow every five days.
- Tangent: The panel begin to talk about their animal anecdotes:
- Alan's friend had a hamster which was ill, so to make it better, Alan's father gave it some brandy. The hamster died of severe alcohol poisoning.
- A friend of Jo's gave a dog LSD at Glastonbury.
- Fry once kicked a ball out of a window, not realising that a hamster was inside the ball. The hamster survived.
- Jo talks about a girlfriend of Bill Bailey's who once had a dog that would eat boxes of Daz washing powder and pants. The pants would come out white-ish.
- Alan's cat could open the fridge.
- The largest organ in the human body is skin. On average, it weighs 6lbs and covers 18 square feet. One square inch has 20 feet of blood vessels, 1,300 nerve endings and 100 sweat glands. 50,000 cells are lost every second. A person will get through around 900 skins in a lifetime. (Forfeit: Speak for yourself)
- Sperm can smell, in particular the aroma of lily of the valley.
- Chang and Eng Bunker were the original Siamese twins. They had a stage act, and one time Chang punched a member of the audience, therefore committing assault. However, the judge could not send him to jail because Eng would be falsely imprisoned. On their journey from Siam, they had a fight over taking a bath so they 'had to be separated'. They got married to a pair of sisters and had 21 children between them. Chang later turned to alcohol and died aged 63. When Eng found him dead the following morning, he wrapped himself around him. He died of a 'broken heart' before doctors could separate the two.
General Ignorance
- The loudest thing in the ocean is the shrimp layer. The noise is made by bubbles of air bursting when they snap their claws. It travels at 30 feet a second and then pops. It can wake up coastal towns, white out sonar and deafen operators through their earphones. (Forfeit: Blue whale)
- In the UK, you are more likely to be struck by an asteroid than by lightning. A large asteroid strikes the Earth once every million years. The expected death-toll is to be in excess of 1 billion people. The chances of dying of an asteroid are therefore 1 in 6,000,000 in a year. (Forfeit: Struck by lightning)
- Tangent: Rich's aunt got struck on a golf course.
- Camels originated in America 20 million years ago, but became extinct on the content during the last Ice Age.
- Flamingos are pink because the eat blue-green algae. They only stand on one leg. (Forfeit: Eating shrimps)
Deleted Scenes
- Tangent: Alan tells the old joke about the funeral of the man who invented the Hokey Cokey.
- Young, single, female turkeys can give birth without having sex. This is known as "parthenogenesis" - in other words, "the virgin birth", hence why eating them at Christmas is rather appropriate. They are the largest animal to have parthenogenic sex. Correction: Komodo dragons are the largest animals to have parthenogenic sex.
- Tangent: 11 million turkeys are eaten in Britain every Christmas.
- Tangent: Stephen had a friend who used to work for Bernard Matthews. Matthews employed someone to work on the idea of giving turkeys an extra third leg under the breast, so they could move around because they were so fat.
- Tangent: Catfish have the most tastebuds of any living thing.
- Tangent: Winston Churchill said he liked pigs, because cats look down at you, dogs look up at you, but pigs look you in the eye and regard you as an equal. It has been known for pigs to eat dead humans.
- Tangent: Alan comments how people rob him. He was once robbed when he was asked by some kids if he was, "Off the telly". Another stole his car by putting a bamboo hook through his letterbox to steal his car keys. Another time, someone broke through his front door at the middle of the night. Alan found him in the kitchen. Alan however was wearing only a T-shirt, so the kid ran off.
- Tangent: "Onanism", meaning "Masturbation" comes from the Bible. All the people in the city of Onan masturbated. Dorothy Parker called her pet parrot "Onan" because, "It spilled its seed on the ground."
- Tangent: The Kinsey Report showed that 90% of American males masturbated regularly. When asked in an interview what this figure meant, Kinsey said, "It tells us that 10% of males are liars."
- Tangent: In early castration procedures, the candidate was placed on a bed and asked if he would ever regret castration. If the answer was "No", the candidate was bound in tight bandages, given a bowl of nerve-stunning herbal tea and then the genitals were dipped in an extremely hot chilli sauce to desensitise them. The penis and testicles were then swiftly cut off with a small, curved knife in a single movement. A metal plug was then inserted into the remains of the root of the urethra so that the man could still urinate. The entire wound was then bandaged and left to heal.
Scores
- Rich Hall: 3 points
- Phil Kay: 1 point
- Jo Brand: -8 points
- Alan Davies: -40 points
Broadcast details
Date

Friday 8th October 2004

Time

10:30pm

Channel

Length

30 minutes
Cast & crew
Supporters and subscribers get more
Additional content and tools are available across the site for Supporters and BCG Pro subscribers. On this page you can:
Broadcast details of 49 further repeats of this episode
This episode's inital overnight ratings
Already a donor or Pro user? Sign in