Series B, Episode 8 - Bees
Further details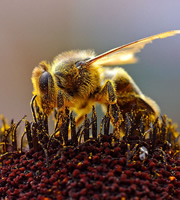 Topics
- Bees were the first creatures to discover that the world was round. This is known because they can use the Sun as radar even at night to find nectar. It takes 12 bees a lifetime to make a teaspoon of honey. Beehive cells are hexagon shaped because it uses the minimum amount of wax for the maximum storage space in a given area. If you put a magnet next to a honeycomb, the hexagon cells turn cylindrical. Bees have only 950,000 neurons in their brains, compared to humans who have 10 billion. Only one bee, the honey bee, dies after stinging. If you a stung and the creature dies, it is more likely to be a wasp. Eddie Izzard once said it was odd that bees make honey, "Earwigs don't make chutney."
- Tangent: Termite mounds are spiral shaped, because termites keep out of the sun whilst they build them.
- Bees buzz through 14 valves called "Spiracles", which they also use to breathe through. Less than 1% of the noise comes from their wings. (Forfeit: Wings) Correction: Further research has since shown that the buzzing sound comes from a combination of both the wings and the thorax.
- Barnacles were once thought to be the embryos of a Barnacle goose. Barnacles have the largest penis of any existing creature, which is seven times the length of its shell.
- Tangent: When he was old, W. H. Auden had an incredibly lined face. David Hockney was once commissioned by him to do some paintings. Upon looking at Auden, Hockney said, "Blimey, if that's his face, what can his scrotum look like?"
- Nelson inspired his men after he died by asking them to store his body in a barrel of bandy. He did not want to be buried at sea so he was picked in it. It is rumoured that men supped the brandy through tubes of macaroni, hence the naval slang, "Tipping the admiral," when someone has a drink when they are not supposed to.
- Male anglerfish are 'so pathetic' compared to the female anglerfish, which are much more impressive. The females are six times larger, and the males latch themselves onto the body when mating, whilst they disappear until all is left are two testes leaking sperm into the female. The rod on top of the anglerfish's head is bioluminescent. It used to be thought that it was used to attract pray, although it is now also believed it is used by females to attract males.
- Chicken tikka masala comes from Glasgow. It was invented in a Glasgow restaurant when a man was having a chicken tandoori and asked for some gravy. A chef improvised with tomato soup, cream and spices. It has no real definition, can be of any temperature or colour, but according to Robin Cook is "the Great British national dish." A company called Biolume wants to make chicken tikka masala and other products that glow in the dark using properties similar to those used by anglerfish.
- Tangent: Jo was given a curry on the Isle of Man with some tea, bread and butter.
- Tangent: The Scots have the worst teeth and hearts in Europe.
- It is possible to live on a diet of smut without the neighbours complaining in Mexico, where smut is a type of edible fungus.
General Ignorance
- A cup of coffee has more caffeine in it than a cup of tea. (Forfeit: Cup of tea)
- Tangent: Pound for pound, tea has more caffeine that coffee.
- The only ball game completely invented in the USA was basketball. Originally, a peach basket was used, but there was no hole in the bottom, so someone had to climb a ladder to get the ball out every time someone scored. A woman invented netball based on some misinterpreted basketball rules. Volleyball was also invented at the same place - Springfield College. Lacrosse is also a sport originating from the area, but it was invented by Native Americans before the creation of the USA. (Forfeit: Baseball)
- Nelson's last words were, "Drink, drink, fan, fan, rub, rub." He was asking for his wounds to be alleviated. He was given lemonade, water and wine to drink. He was fanned down to keep cool whilst his chest was massaged. (Forfeit: Kismet Hardy - The actual words were "Kiss Me Hardy", but they were not his last.)
Scores
- Rich Hall: 5 points
- Fred MacAulay: 4 points
- Jo Brand: -8 points
- Alan Davies: -19 points
Broadcast details
Date

Friday 19th November 2004

Time

10:30pm

Channel

Length

30 minutes
Cast & crew
Supporters and subscribers get more
Additional content and tools are available across the site for Supporters and BCG Pro subscribers. On this page you can:
Broadcast details of 57 further repeats of this episode
This episode's inital overnight ratings
Already a donor or Pro user? Sign in