Series B, Episode 7 - Biscuits
Further details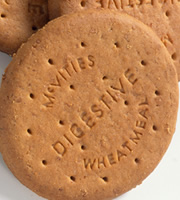 Topics
- If someone said to you that the British Empire was built on diarrhoea, they would be wrong, because the British were the first power to solve the problem of diarrhoea. Two men called Pringle (for the army) and Lind (for the navy) managed to solve the problem but for the wrong reasons. They thought that illness was spread by smell, so they got rid of anything that smelt bad like faeces. Lind also suggested that lemons should be used to get rid of scurvy. However, because every country that grew lemons hated Britain, the closest we could get was limes from the Caribbean which were only half as effective, hence the nickname "Limeys"; although British people should be really be called "Lemonys".
- Tangent: On the approach to Moscow, the French army slept in the bodies of dead horses for warmth. In the Battle of El Alamein, it was believed that 50% of German troops had diarrhoea, and even Rommel was in hospital during the first day of the battle because he too also had it. Arthur's father was at El Alamein and he thought he was the only one who did not have the runs because he was constipated. He also claimed, "I had to dig it out with a stick."
- Ballet is illegal in Turkmenistan. The former president of Turkmenistan, Saparmurat Niyazov, also banned beards and listening to car radios. He named January after himself, had pictures of himself on yoghurt pots and fired 15,000 nurses, replacing them with army conscripts. Niyazov was born in the capital city of Ashgabat. There is a city called Mary and a region called Mary in Turkmenistan.
- Digestive biscuits do not help digestion. They were originally designed to stop flatulence. In the USA, it is illegal to call them digestives. The word "Cookie" comes from the Dutch word "Koekje" meaning "Cake". The Americans have a savoury snack called biscuits and gravy. 450 digestive biscuits are made every second in the UK.
- The difference between a cake and a biscuit is that when they go stale, cakes go hard and biscuits go soft. A jaffa cake is a type of cake, but the VAT review board wanted to classify them as biscuits so that they could then be taxed. It was proven in front of the VAT review board that jaffa cakes go hard when stale, and a large jaffa cake was cooked to show it was a cake.
- Tangent: The Duke of Devonshire had two pastry cooks. During WWII, he was asked if one could be spared to serve in the war, to which he replied, "Oh damn it, can't a man have a biscuit?!" Correction: It was actually Lord Chandos, not the Duke of Devonshire who made the remark.
- Tangent: Peter Ustinov once claimed he went to a school so posh that they had a chauffeur's race.
- Tangent: The British call posh cake "Gateau" whilst the French call it "Le cake". The word "Biscuit" comes form the Italian word "Biscotti" (another kind of biscuit) meaning "Twice cooked". The French shout "Bis" rather than "Encore" when they want to see a performance again.
- Straight roads were invented in the Iron Age. Ireland has many straight roads, even thought the Romans never got as far as Ireland. (Forfeit: Romans)
- Tangent: In America, some roads in the Midwest go straight for so long that they have to make a sudden right turn to account for the curvature of the Earth, so it conforms to the map. The car was invented by the Germans.
General Ignorance
- A group of baboons is called a "Congress", although the word "Flange" (which originated from the 'Gerald the Talking Gorilla' sketch in Not the Nine O'Clock News) is beginning to replace it and is now even being used by some academics as the official word.
- Aardvarks have more bones in their noses than any other creature, with either nine or ten. Elephants have none. (Forfeit: Elephants)
- According to Anders Celsius, the boiling point of water is 0 degrees Celcius. He claimed that water boiled at 0 and froze at 100, whereas today it is the other way around. (Forfeit: 100 degrees)
- Tangent: The triple point of water (the first point where water can exist in all three states of mater) is 0 degrees. Correction: Viewers wrote into complain that the actual answer is 0.01 degrees. This is revealed in Series C.
- Tangent: -40 degrees Celcius and -40 degrees Fahrenheit are both the same. Fahrenheit was invented before Celsius. The British tend to use Fahrenheit when it is hot and Celsius when it is cold.
- "What did Mussolini do?". He made a train for himself to carry him from Milan to Rome on time to become Prime Minister, but all other improvements in Italian transport were made after him. (Forfeit: Made trains run on time)
- Lord Nelson never wore an eye patch, because he never lost an eye, just the sight. (Forfeit: Right)
- Tangent: Nelson brought shining silver stars and wore them on a sash given to him by the King of Naples. Not surprisingly, he shone out from the deck of The Victory and the French shot him 50 feet away. Lady Hamilton was vastly overweight and had a Lancashire accent.
Scores
- Dara O'Briain: 4 points (Points for his incorrect triple point answer were taken away from him in his next appearance)
- Rich Hall: 2 points
- Arthur Smith: -18 points
- Alan Davies: -20 points
Broadcast details
Date

Friday 12th November 2004

Time

10:30pm

Channel

Length

30 minutes
Cast & crew
Supporters and subscribers get more
Additional content and tools are available across the site for Supporters and BCG Pro subscribers. On this page you can:
Broadcast details of 60 further repeats of this episode
This episode's inital overnight ratings
Already a donor or Pro user? Sign in