Series B, Episode 5 - Bears
Further details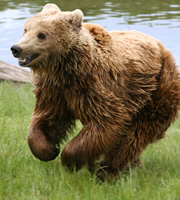 Extra Tasks
- Each panel is given a board and some fridge-magnet letters to make up some interesting expressions.
- QI is a queer idea (Stephen)
- Quim (Jo)
- Vagina doom (Alan)
- Fox (Alan)
- I love a fry up (Jo)
- Frodo lap shame (Bill)
- Sit look rub panda (Alan)
- Put Smarties tubes on cats legs make them walk like a robot (Jimmy, using all his letters)
- Gay elf romp (Bill)
- Tiberius can look mad (Alan)
- Oh bum (Jo)
- Lady bush trap (Jo, not shown in broadcast)
- Koala soup (Alan, not shown in broadcast)
- Golum kix habit (Bill, not shown in broadcast)
- Al Quaeda goose pet (Bill, not shown in broadcast)
- Sex up Fry (Alan, not shown in broadcast)
Topics
- Koalas make 'a kind of soup' in their backside. They are the only animal to make a kind of soup or pap. They are marsupials, not bears.
- Tangent: Wombats have cubical faeces.
- Tangent: Koalas, unlike scientists, can tell the age of a eucalyptus leaf. It has to be between the ages of 12-18 months. If it is too young, it has no value to the koala. Koalas sleep between 20-22 hours. "Koala" means "No water" in the Dharug language.
- For seven months, bears do not urinate or defecate. They recycle urea as protein so they do not need to urinate. They mix hair and faeces to make a sort of butt plug called a "Tappet", which blocks the anus up for the winter. She-bears give birth during the winter. They can give birth to 4 different cubs to 4 different fathers. (Forfeit: Woods)
- Toothpaste makes bears go mad with desire. You would be safer carrying a freshly butchered elk leg. Dogs also go mad for toothpaste, but dog toothpaste is flavoured with beef and peanut butter.
- The animal with huge teeth and one facial expression is the giant panda. They have the biggest teeth of any mammal. (Forfeit: Janet Street-Porter)
- Tangent: Although a bear, the giant panda was originally classified a raccoon. It also was designated a carnivore, even though everyone knows it only eats bamboo. It is the only bear that does not hibernate, because it has to eat bamboo for 12 hours a day to get all its nutrients. A panda penis points backwards.
- There are 5,000 different uses for bamboo. For example, it is used as scaffolding in Hong Kong. It has a tensile strength greater than steel and can grow up to 4 feet a day. Bamboo is a type of grass.
- Tangent: Bill once owned a cactus that flowered once every 25 years. It flowered within 2 weeks of him buying it.
- Thomas Edison invented the word "Hello". It first appears in a letter written by him, and he thought the word sounded very clear. Before, the word was "Hullo" which was an act of surprise. Alexander Graham Bell's favourite method of answering the telephone was to say "Ahoy-hoy". In a poll in the Evening Standard, Hello and Ahoy-hoy where the two most popular words to use when answering the phone respectively.
- Tangent: Edison believed that 15 tiny little people lived in the brain, and that when you died they would move into someone else's brain. He did not invent the light bulb, but he did use bamboo as a filament.
- Tangent: "Floccinaucinihilipilification" means "The act of assessing something is worthless".
- Tangent: Due to government regulations, Stephen will probably be the last "Pipe Smoker of the Year". Bill pointed out that, in an article for The Chap magazine, Stephen had claimed that the act of having a pipe gives off a sign of trustworthiness.
General Ignorance
- Dinosaurs beginning with "B" include the brachiosaurus, barosaurus, barapasaurus, bagaceratops, becklespinax, byronosaurus, bambiraptor and Barney. The brontosaurus was the misidentified body of an apatosaurus with the head of a camarasaurus, so there was no such dinosaur. (Forfeit: Brontosaurus)
- A chicken can live for two years without a head. The most famous example of this was Mike the Headless Chicken. He was fed with an eyedropper and there was a song made about him.
- Tangent: It takes a live chicken 55 minutes to become a Pret a Manger sandwich.
- Penicillin was discovered by Ernest Duchesne. He discovered that Arab stable boys rubbed mould on themselves to get rid of saddle sours. The Institute Pasteur rejected his claims, but in 1949 he was posthumously credited for re-discovering it. Ironically, he died of TB. If he has penicillin he would have lived. (Forfeit: Alexander Fleming)
- Out of Arthur Conan Doyle, Niels Bohr, Dmitri Shostakovich and Albert Camus, Shostakovich is the odd one out. He was an official football referee, although Shostakovich was for most of the time a volleyball referee. All the others were first team goalkeepers - Conan Doyle for Portsmouth (originally under the pseudonym "A. C. Smith"), Bohr for the University of Copenhagen 1st team and Camus for the University of Algiers. Conan Doyle later played right-back for Portsmouth under his real name.
Deleted Scenes
- Tangent: Jo is angry about not being filmed correctly when she tests her buzzer.
Scores
- Jimmy Carr: 15 points
- Bill Bailey: 8 points
- Jo Brand: -5 points
- Alan Davies: -35 points
Broadcast details
Date

Friday 29th October 2004

Time

10:30pm

Channel

Length

30 minutes
Cast & crew
Supporters and subscribers get more
Additional content and tools are available across the site for Supporters and BCG Pro subscribers. On this page you can:
Broadcast details of 54 further repeats of this episode
This episode's inital overnight ratings
Already a donor or Pro user? Sign in