Series J, Episode 11 - Jumpers
Further details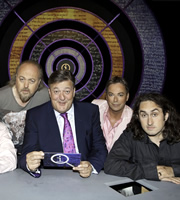 Topics
- It is technically impossible to give an impression of Mexican jumping beans as botanically speaking they are seeds. The panel was planning to demonstrate some beans jumping in the studio and had imported some online, but by the time of recording they had all died. The thing that makes them jump is a moth larva which burrows inside the seed. 20 million of the "seeds" are exported from Mexico every year. They come from Mexico's Sonoran Desert.
- Tangent: "Coleoptera" is the technical name for beetles, whereas "Lepidoptera" is the technical name for moths and butterflies.
- The unusual thing about Bailey's pocket mouse, which also comes from the Sonoran Desert, is that it is one of only four animals that consume the jojoba plant. It was thought that the mouse was the only one that could, because almost every other animal finds the oil in the plant disgusting, but three other animals has also been discovered to like it. Jojoba oil is also used by humans in cosmetics and shampoo, especially since humans have stopped using whale oil. It is also used as frying oil because it acts as a laxative.
- Tangent: The person who made jojoba famous was Billy Connolly, who did a comedy routine about the plant in which he repeated the word a lot. Stephen was got a call from Connolly where he did not introduce himself and he just kept repeating the name "Benjamin Netanyahu?!" Julian claims that sometimes Paul O'Grady calls him up and starts swearing incomprehensibly before just hanging up.
- The people who put jolly jumpers on their skyscrapers were sailors. They are sails. One of the topmost sails was the skyscraper, but above that one was the jolly jumper, which is the highest of them all.
- Bungee jumping originated in Polynesia. However, in their version tribesmen scale man-made wooden structures, attach vines to their ankles, and land in some mud. It was first observed in the Pentecost Islands in the South Seas, which came to mass attention when David Attenborough made a documentary about the area. It was then taken up by the Oxford Dangerous Sports Society who did it off Clifton Suspension Bridge. The first official bungee jump was done by A.J. Hackett in Queenstown, New Zealand. The panel are then show footage of Stephen doing the jump from the Queenstown Bridge earlier in the year (2012). Stephen claims that after the jump was completed he instantly wanted to do it again as it was the most exciting thing he had ever done. The main bungee jumping-related injury is detached retinas.
- Tangent: Alan and Bill once went scuba diving together, but Bill's diving mask was on too tight so when that his eyes bled. Alan claims he laughed after finding out he was OK, but Bill insists that Alan laughed as soon as he saw him.
- Tangent: A more extreme form of bungee jumping is doing it in the dark, where you cannot tell how far you have fallen.
- Tangent: Bungee ropes are made out latex. In 2008 a man called Carl Dionisio used a bungee rope made out of 18,500 condoms.
- Some hand-held weights can give you an extra 6.5 inches in long jumping. In the Ancient Olympics long jumpers swung weights called "halteres" in order for them to jump longer distances. This was perfectly legal at the time. (Forfeit: Hang them from your cock)
- Tangent: Until 1912 the Modern Olympics had standing long jumps as an event, in which there was no run-up. The record was 12'2", which just happens to be the diameter of the desk the panellists and sitting around.
- Tangent: Fierljeppen is a sport practiced in East Anglia, Frisia and the Netherlands, in which involves poll vaulting over dykes.
- XL: You can use jump leads and an old telephone to phone catfish. It was once a common practice, especially in America, to lure catfish using the electricity from the magnetos from wind-up phone. You place the current generated into the water and this would attract the fish to the surface. This was such a successful method of fishing that it was eventually declared illegal because they were overfishing. In Georgia, the punishment for "phoning a fish" in 1955 was 30 days on a chain gang. There is an academic study called Telephoning Fish: An Examination of the Creative Deviance used by Wildlife Violators in the United States. However, this is a practice that is still carried out elsewhere in the world (Alan claims to have seen this done in Thailand with a car battery). In Indonesia they also use cyanide and dynamite to fish.
- XL Tangent: When poaching deer, it was common practice to wait until the evening when they mingled with cattle. The poacher would crawl up behind the cow and shoot the deer with a pistol. In order to keep the deer fresh the poacher would then pump the deer full of air and float it down stream where their partner in crime would collect the body.
- XL Tangent: The Native Americans used walnuts and buckeye leaves to deoxygenate water downstream, causing fish to surface and then catch them.
- In Yemen there is the practice of jumping camels as a kind of stunt. Other than a small dirt ramp there is no other equipment. It is purely done with human power. The record jump has been over six dromedaries.
- XL Tangent: Yemen has a 50th of the average water supply of the world. Despite this 40% of all the water in Yemen is used to cultivate khat, a herb which they chew on which gives them a buzz. Khat accounts for about a third of Yemen's economic activity.
- The thing that the environmentalist said to the camel was to stop letting off so much methane. Like cows they give off a lot of greenhouse gases. The main place where this occurs is in Australia, which has the highest population of feral camels in the world, standing at 1.2 million. The Australians export camels to Arabia for meat and camel racing. Camels were first brought into the country as a pack animal but they bred out of control. A camel produces 45kg of methane a year, most as belching. An Australian company called North West Carbon allows people to offset their carbon emissions by killing camels.
- Tangent: Sainsbury's supermarkets (which Stephen jokingly says as so good because they keep the scum out of Waitrose) launched a scheme where they reduced the diameter of their toilet roll tubes from 123mm to 112mm. This meant they could fit more rolls on the same lorry. Given the scale of the loo roll market (people use on average between 45-50 rolls a year each); this results in 500 fewer lorry trips a year, reducing their carbon footprint.
- The panel are show a picture of some babies being jumped over by a man and are asked why they have nothing to fear. The answer is they have been purged of their original sin. In the baby jumping festival at El Colacho, near Burgos in Northern Spain, in the Castrillo de Murcia. Burgos has the largest cathedral in Spain. So far there no reports of any babies being injured, but the Catholic Church finds the ceremony somewhat embarrassing.
- Tangent: In Japan there is the Hadaka Matsuri ceremony, the Naked Festival, in Okayama. In this 500-year-old event, the festival culminates in 9,000 men in loincloths wrestling in mud. The last man standing is thrown a pair of sticks by a Shinto priest at around midnight, who then thrusts the sticks into a wooden box filled with rice and is granted a year of happiness.
- XL: If you wear your parachute upside down it will not work. In the early days of parachuting the parachute was unstable, so a 61-year-old water colourist called Robert Cocking designed a V-shaped parachute in 1837. It failed to work and he was first parachuting fatality. He died instantly, crashing into a pub. The landlord then charged people sixpence to look at the body, making £10, but then was forced to give the money to Cocking's widow after she sued. The first proposed parachute was by Leonardo Da Vinci in 1485, but he never tested it. The first actual parachute jump was in 1783 by Louis-Sebastien Lenormand from a height of just four metres. (Forfeit: You fall upwards)
- XL Tangent: Julian did a tandem jump, tossed through a hatch while strapped to a Red Devil, with a camel attached to his helmet.
- XL Tangent: The SAS abseil or "rappel" from helicopters because the downdraft caused by the helicopters causes the parachutes to fail.
- XL: Dubious theory - According to Czech researchers foxes prefer to pounce in a north-easterly direction. If they do they are successful 73% of the time. They are only 18% in any other direction. The researchers therefore believe they are using the Earth's magnetic field in a way that we do not yet understand. In the northern hemisphere the magnetic field tilts downwards at an angle of 65 degrees. The idea is that the fox searches for the spot where the angle of the sound hitting their ears matches the slope of the magnetic field. It can therefore tell it is a fixed distance and thus can accurately leap on its prey. For more information visit foxyschmoxy.co.uk
- XL: While there are certain things you should not do if there is a danger of an avalanche you can shout, as the idea that loud noises causing avalanches is nonsense. (Forfeit: Shout)
- A jolly jape: Stephen takes a bowl containing some soapy liquid, inside of which is a small box-shaped metal frame. By taking it out it forms a bubble, but after blowing some air into it you can make a bubble shaped like a square.
Score
- Bill Bailey: 6 points
- Ross Noble: 5 points
- Alan Davies: -4 points
- Julian Clary: -7 points
Broadcast details
Date

Friday 30th November 2012

Time

10pm

Channel

Length

30 minutes
Cast & crew
Supporters and subscribers get more
Additional content and tools are available across the site for Supporters and BCG Pro subscribers. On this page you can:
Broadcast details of 43 further repeats of this episode
This episode's inital overnight ratings
Already a donor or Pro user? Sign in