Series J, Episode 2 - Jam, Jelly And Juice
Further details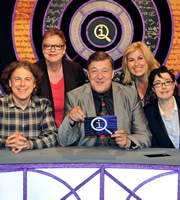 Topics
- The thing that begins with "J" and appears to be alive is jelly. If you hook a large enough jelly to an electroencephalograph it will register as being alive. This study, new neurologist Edwin Upton, shows that the jelly picks up other electrical signals from around the room and proves that electroencephalographs alone are not enough to justify if someone is alive or not. (Forfeit: Jeremy Clarkson; Jedward)
- Jellies are made from boiled-up pigskin, but what other uses are there for a pig? Turns out there are loads. Christien Meindertsma, author of the book Pig 05049 lists the following uses: Other than meat, the skin is used in safety gloves, cosmetic surgery (collagen), energy bars, low-fat butter, chewing gum, X-ray film, drug capsules, ballistic gelatine, bread-flour improver made from pig hair, and the skin is used for tattoo practice; the internal organs are used for pet food, tambourine skins (bladder), and heart valves in surgery; the bones are used to make cheap wine corks, stabilising propellant in bullet-making, inkjet paper, concrete, match heads, bone china, train breaks, yoghurt, fabric softener, beer, wine and ice-cream; from the fat they make bio-diesels, soap, shampoo and crayons; from the blood they make cigarette filters, toothpaste and paintbrushes; the ears are used in chemical weapons testing. Bloomberg claims there are 42 major areas of manufacturing that entirely rely on pork products. All not all products of this time contain bits of pig; it does bring about a problem if you are Jewish or Muslim. Apart from hunting truffles, pigs are the only farmyard animal that is useful when it is dead, because they do not provide things like eggs or milk.
- XL Tangent: Gum Arabic is the resin from the Acacia tree.
- Tangent: Jo knew a farmer that once had a heart attack in a pig pen and the pig began eating him. Sue ended in an embarrassing sexual situation with a pig.
- XL: Speech jam is when you cannot speak properly because you hear your own voice while you speak, but not in real time (around a fifth of a second delay). A Japanese team tested this by developing a "Speech gun", which consists of a speed camera like microphone and speaker which plays what it picks up after a short delay into a pair of earphones. It is used to help people with stammers. This is tested out on the panel, who all read from Mrs. Beeton's Everyday Cookery and chapter on marmalades and jams. After reading a little while Stephen turns on the gun to see how it will affect the panel. Alan is completely unaffected, Liza a little bit, and Jo and Sue cannot cope with it at all. Stephen also tried it before the show and could not work with it. The reason Alan gives for being able to defeat it is because as an actor he has to remember to say things when really odd things are happening around you. Liza thinks she can do it because she works in radio. This speech gun is similar to the act of verbal shadowing where you can predict what someone is going to say just a fraction of second in advance.
- If you have jumbo wrists and are covered in tit juice that you have probably been gutting fish. These are hazards when fishing. Jumbo wrists come from repetitive strain injury while gutting the fish. Tit juice conjunctivitis is the acute swelling of the eyes caused by the juice of tits (aka duffs), which are "marine growths that look like suet dumplings with finger-like growths protruding from them." When these are caught in nets they explode and release millions of tiny silicon needles which go into the eyes. There is also "Dogger Bank itch" and "haddock rash" (an inflammation between the fingers). More fishermen's diseases are listed on the QI website.
- Tangent: Women often swell up after giving birth. Some women find it impossible to take off their wedding ring after giving birth.
- XL: The thing that was unique about Fannie Farmer's cup size was that everyone could understand it. Fannie Farmer was the woman who created the uniform cup measurements that we now all use, as in 1 jug is 16 cups and how much is a tablespoon, and all the measurements are level, not heaped. Before Farmer cookery books were pretty hopeless in terms of measurements because no-one had any idea how big a cup was.
- XL Tangent: Alan's great grandmother was called Fanny Binks. Liza has a Fanny Carfoot and a Fanny Tarbuck in her family.
- XL Tangent: Mrs Isabella Beeton died four years after her famous cookbook came out. She was 28. Mr Beeton went on to publish a magazine called "Beeton's Christmas Annual" which in 1887 published the first ever Sherlock Holmes story, "A Study in Scarlet".
- Marie-Antoinette's breast cups were used as moulds and models for actual cups. It occurred during the phase started by Madame de Pompadour of when looking like a peasant was fashionable, and Marie-Antoinette liked to pretend to be a milkmaid with gold churns hanging off her. The porcelain works of Sevres made for her under the command of Louis XVI these cups based on her breasts. They are on display at Petit Trianon, Marie-Antoinette's play farmyard, and you can by replicas. Marie-Antoinette's breasts however were not used to make champagne glasses.
- Tangent: Jo talks about a bra maker that can determine a woman's bra size by looking at a woman's breasts. Jo went to see her and the woman who said of Jo, "Oh, not as bad as I'd imagined!" (See Fingers and Fumbs) Liza had a similar experience. She had her bra off and a woman came in with three trainees pulled back the curtain Liza was behind, looked at Liza and said: "Can't help you" then shut the curtain.
- XL Tangent: Stephen tells an old joke about a man who goes to the doctor and complains he is obsessed with breasts. So the doctor puts him through a word association test. The doctor says "newspapers", but the patient says they remind him of breasts because of Page 3. The doctor then says "tennis racquets" but all the patient says that all the women players moving around with their breasts giggling remind him of the breasts too. The doctor then says "windscreen wipers" but the patient says they too are like breasts because of their motion.
- The smallest thing that you can milk is a tsetse fly. The female keeps her eggs and larvae alive inside her uterus by feeding them a liquid rich in fats called "intrauterine milk". The female gives birth to one larva at a time. They kill about 48,000 people a year, giving them sleeping sickness. Stephen was bit by one in Kenya but did not get sleeping sickness from it. The tsetse fly hosts a symbiotic bacterium called Wigglesworthia. It has the smallest genome of any known living thing. However without the Wigglesworthia the female tsetse fly is sterile, so if we get rid of the bacterium it could save thousands of lives.
- Jolly Jape: Stephen then gives the panel made from powdered miracle berry. If you take this pill and roll it around your mouth so it coats all your tongue then for 20-30 minutes it changes your taste-buds so everything tastes sweeter. The panel show it works by eating a wedge of lemon like it is an orange.
- Tangent: Jo once knew a boy who would feed a horse lemons to see the strange expressions on its face.
- The international institution that had one man and his dog as members was the Women's Institute (nicknamed "Jam and Jerusalem"). Founded in Canada as the Woman's Department of the Farmer's Institute of South Wentworth, one fan of it was Colonel Richard Stapleton-Cotton, who became a member along with his dog Tinker, and the Colonel paid the fees for both of them. They are the only two non-female members of the WI. The WI donates 24 million hours of its time to community work every year in the UK.
- XL: According to anthropologists there is no such thing as a matriarchal society. In all societies ultimately men have the power. There are matrilineal societies like Jewish societies however. The closest is probably the Mosuo or Na people on the China-Tibet border, who do not have marriage at all. There is also the Khasi tribe of north-east India where the fathers have no rights or responsibilities within their families but they do have the political power.
- XL: The panel are then asked what is included in the following foodstuffs.
- Fish jam: Caviar - it was a nickname the British gave to it during the Crimean War. The British did not like caviar at all.
- Bacon jam: Smoked bacon, red onions, coffee, balsamic vinegar, garlic spice and whiskey. It is sold by a grocer in Walthamstow.
- Hitler bacon: A Hungarian name given to a solid block of mixed fruit. The nickname came from the fact that Germany was getting all the good food while the occupied and allied countries to Germany were getting rubbish food.
- The panel are shown a jug depicting someone's face and are asked what it is. It is a character jug, not to be confused with a Toby Jug which depicts a full person from head-to-toe. Then Stephen gives the panel some puzzle jugs, which are jugs full of holes and panel has to figure out how to drink from them without spilling. To do it, you cover a hole in the handle, then two of three holes in the rim. You then suck out of the third free hole, and the liquid flows up the handle like a straw.
Scores
- Alan Davies: 11 points (Alan's 16th victory)
- Jo Brand: 4 points
- Liza Tarbuck: -5 points
- Sue Perkins: -22 points
Notes
This episode is the first in which all the guest panellists are women.
Broadcast details
Date

Friday 21st September 2012

Time

10pm

Channel

Length

30 minutes
Cast & crew
Supporters and subscribers get more
Additional content and tools are available across the site for Supporters and BCG Pro subscribers. On this page you can:
Broadcast details of 50 further repeats of this episode
Already a donor or Pro user? Sign in