Series J, Episode 4 - Jack And Jill
Further details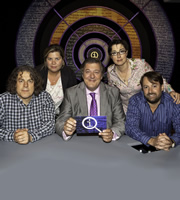 Topics
- The thing that dies if they do not have sex for a year is a female ferret, also known as a "jill". The male is called a "hob". During the summer the jill is on heat and produces oestrogen. If they do not mate she will die from an aplastic anaemia. If you have a pet jill you have to either spay her of to give it injections. The hob has a hooked penis and bites the back of the neck of the female when mating. The term "ferret" comes from the Latin "furritus" meaning "little thief". (Forfeit: Russell Brand)
- Tangent: Flatworms fight with their penises. The loser gets stabbed, becomes a girl, and is shagged by the winner.
- There are many things which made Mad Jack mad, because there were many Mad Jacks. One of the earliest was eccentric aristocrat Mad Jack Mytton. In 1819 he stood for an election in Shrewsbury and paid a thousand constituents £10 each to secure their votes, equivalent to £750,000 today. However, he found debating very boring, attended only one session of parliament, for 30 minutes, and stood down the following year. He also once tried to cure his hiccups by setting fire to his nightshirt. He liked to get up in the middle of the night and shoot at ducks naked. He later lost all his money and went to debtors' prison. Another Mad Jack was Charles Howard, 20th Earl of Suffolk, who during WWII went into Nazi-occupied Paris and rescued $10 million worth of industrial diamonds, stole all the heavy water the Germans used, and brought 50 nuclear scientists to England. Howard then trained himself to defuse bombs, with his secretary Eileen and chauffer Fred forming his own bomb disposal squad. Howard was killed by the 35th bomb, aged around 34-35. Harold Macmillan said he was a cross between Francis Drake and the Scarlet Pimpernel. Another WWII Mad Jack was Mad Jack Churchill, who went into battle with a bow-and-arrow and a sword. He said that if you smile at the enemy they were less likely too shoot you. He was taken prisoner and sent to Sachsenhausen, the VIP POW camp because the Germans thought he was related to Winston Churchill, which he was not. He died in 1996.
- Queen Jenga arranged her harem by getting men to fight to the death. The winner would have sex with her and then was killed the next morning. She was a 17th century member of the Royal Family of Angola. She killed her brother Ngola (whom the country is named after) and reportedly her nephew too, eating his heart. (Forfeit: One on top of the other)
- XL Tangent: The name of the game "Jenga" comes from a Swahili word meaning, "to build". It was invented by a woman called Leslie Scott. There are versions of the game with coloured wood, adult truth-or-dare versions and rolling dice versions. There are 54 blocks in a Jenga game.
- XL Tangent: Katy was once playing a giant version of Jenga, but made the mistake of playing it at a party where there were also lots of toddlers around. When the tower collapsed three or four toddlers were severely injured. David describes this as an extremely middle class form of neglect.
- XL Tangent: You can tell if a number is divisible by three if the digits of the number add up to 3. For example 54 is divisible because 5+4=9. This also works the number 9. For example the number 189 is divisible because 1+8+9=18 and 1+8=9.
- The best game of royal hide and seek is probably the one conducted by King James II, back when he was just a prince during the Civil War. He was imprisoned at St. James's Palace when he was 12, and he spent his time playing hide and seek. He was so good at it that the servants spent hours trying to find him. However, this game was a actually a big plan. One day he got hold of the gardener's key and during one game he escaped from the Palace, met up with a colonel and fled to Holland.
- XL Tangent: Possibly the saddest story of hide and seek (although it does have a happy ending) is Liu Wei. He is a Chinese pianist who once played hide and seek, but during which he electrocuted himself so badly that he lost both his arms. As a result he learnt to play the piano with his toes. In 2010 he won "China's Got Talent".
- If for some reason Jamie Oliver was crowned king of England, or indeed anyone else called James was crowned, their regnal number would be VIII. When Elizabeth II was crowned there was an outcry in Scotland because she was the first Elizabeth to rule Scotland. When Elizabeth I was on the throne their ruler was Mary Queen of Scots. Some early E II R pillar boxes were trashed in Scotland. Winston Churchill, who was Prime Minister in 1953, laid down a convention saying that from then on all future would be uniformly numbered according either an English or Scottish reckoning, whichever was higher. As King James II or England was also King James VII of Scotland, any future King James would become James VIII. (Forfeit: James III)
- Tangent: The QEII had similar naming issues. Some people speculate whether it is named after Queen Elizabeth II or if it was just the second ship to be called the Queen Elizabeth. When the Queen launched she named the ship Queen Elizabeth II so some speculate that Cunard had to rename it because of this remark.
- XL Tangent: Stephen was once invited to the launch of a Swan Hellenic cruise liner. He was told to say a speech and then hand over to Dame Kiri Te Kanawa who would launch it. When Stephen asked why he could not launch the ship he was told he could not because he was a man. Shipbuilders have a superstition that men cannot launch ships because it was men who launched both the Lusitania and the Titanic.
- XL: The Siberian Jay sticks his nuts to a tree using his own saliva. 90% of all the oak trees in Britain are germinated by the European Jay. They bury the seeds in the ground for storage as the European Jay can only carry nine in their gullet and one in their beak.
- XL: The first person to realise they were colour-blind knew they were colour-blind when he got his mother some red underwear for her birthday when he thought he was getting some that were blue. John Dalton, from whom were get the colour-blindness term Daltonism, was from a Quaker family, and the colour red was seen as something sinful, especially as underwear was concerned. Dalton also noticed that his brother could not tell the colour difference either, so it was discovered that the condition was genetic. Dalton thought that the actual cause was from the liquid in the eye was tinted blue, so he ordered that when he died that his eyeballs should be examined. He was proved wrong and we now know the cause is due to the cones of the eye.
- XL Tangent: Four of the top 20 snooker players currently are colour-blind, including Peter Ebdon. As a result they sometimes have to ask the referee which ball they are going for.
- XL Tangent: Traffic police play snooker with cars. They first have to book a red car for one point, then any coloured car (so a black car is seven points), then another red, another colour and so on. Alan suggests that we should all get white cars.
- XL Tangent: It is a myth that the colour-blind cannot become airline pilots. It is only true in the most severe cases.
- XL Tangent: The colour-blindness test cards with pictures of coloured dots are known as the Ishihara tests, created by Shinobu Ishihara of Japan. He worked for a military medical school and it was used by the army to wed out draft dodgers. There is an advantage of being colour-blind if you are in the army which that it is easier to spot camouflage. The tamarind monkey is colour-blind can easily spot insects disguised as twigs or leaves.
- XL: The thing that begins with "J" and was used by the first man to row across the Atlantic to commit suicide is a jaguar. John Fairfax was at the time living in a jungle in South America and went out to be killed, taking a gun with him in case he changed his mind. He did and he shot the jaguar that tried to kill him and sold the skin. As a child Fairfax was a Scout, during which time he stole a pistol from his troop leader and fired at his fellow Scouts for which he got expelled. When he was 13 he ran away from home and lived in the jungle. In his early 20s he met a pirate and pirated his way around the Caribbean. On 20th January 1969, he rowed a self-rising rowing boat from the Canary Islands and rowed to Florida in 180 days.
- The panel have to figure out who said this and what they were doing: "I thought it would be ten times as exciting as a swing boat at the fair, but it wasn't. There was no sensation, just a lot of noise and wind. My hair was blown into a tangled mess which couldn't be combed out for days." This was Amy Johnson on the subject of her first flight, which she hated. Despite this she became the first person to fly from Britain to Australia.
- The panel are given the jolly jape of making a paper plane and see who can go the furthest. Alan wins with his dart, followed by David, Sue and Katy. However, Stephen has the best design already made, which is a hollow cylinder, weighted down on the leading edge. It is held with sticky-back plastic and twisted like an American football when thrown. It can go up to 200 yards. The inventor was Mark Forti whose father worked at NASA. Some purists however would say that the inclusion of the plastic does not make it a true paper plane.
- The first dictionary in English was written by Richard Mulcaster in the 16th century, whose book Elementary was published in 1582, but his was just a list of words without definitions. Mulcaster also invented the word "football", refereeing and football teams. The first dictionary with definitions was by Robert Cawdrey and his Table Alphabetical in 1604, including 3,000 "hard words". Dr. Johnson's dictionary included 42,773 words, at a time when there were between 275,000-300,000 words in English. (Forfeit: Dr. Johnson)
- Examples of words in Dr. Johnson's dictionary which are no longer in common use:
- Tonguepad: Someone who talks all the time.
- Mouth-friend: Someone who is a friend to your face but rude to you behind your back.
- Shapesmith: A personal trainer - someone who keeps you fit and in good shape.
- Depucelate: To deflower, or lose you virginity.
- Frigorifick: Something that causes cold.
- Tangent: Dr. Johnson's definition of "sock" was, "Something put between the foot and the shoe." His definition of "oats" was, "A grain which in England is generally given to horses, but in Scotland supports the people." His definition of "to worm" was, "To deprive a dog of something, nobody knows what, under his tongue, which is said to prevent him, nobody knows why, from running mad."
Scores
- David Mitchell: 5 points
- Katy Brand: -3 points
- Alan Davies: -7 points
- Sue Perkins: -12 points
Broadcast details
Date

Friday 5th October 2012

Time

10pm

Channel

Length

30 minutes
Cast & crew
Supporters and subscribers get more
Additional content and tools are available across the site for Supporters and BCG Pro subscribers. On this page you can:
Broadcast details of 47 further repeats of this episode
This episode's inital overnight ratings
Already a donor or Pro user? Sign in