Series J - Jingle Bells
Further details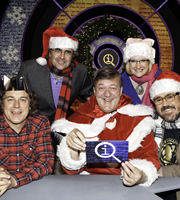 Topics
- Beethoven put his Jingling Johnny in his orchestra for his ninth symphony. It is a large wooden poll decorated with jingle bells that was originally used by Ottoman Janissaries, their elite soldiers, as they marched. It is also used in Haydn's 100th symphony, and they were used by Berlioz and John Philip Sousa. Berlioz claimed: "The shaking of its sonorous locks added brilliancy to marching music." There is also a modern Australian version called the lagerphone that is made out of bottle tops.
- XL Tangent: Other versions of the Jingling Johnny include the Dutch Kuttepiel and the Monkey Stick, while Newfoundland has the Ugly Stick. They also have the bumbass and the bladder fiddle which also have strings you can pluck.
- Tangent: Phill shows off Danny's 70s musical knowledge by asking him to name a single which uses a lagerphone. Danny does so, naming "Seaside Shuffle" by Terry Dactyl and the Dinosaurs, although they called it a zob stick.
- XL: The Minute Waltz lasts over a minute. It is actually the mi-nute waltz. The composer Chopin originally called it the "Little Dog Waltz", because it was inspired by watching a little dog watching its own tail. It is possible to play it in 60 seconds, but if you did it would be almost inaudible. Liberace did a version where he cut out "the boring bits" and played it in 37 seconds. (Forfeit: 60 seconds; About a minute)
- XL Tangent: The Guinness Book of Records lists the fastest pianist as Hungarian Balazs Havasi, who played 498 notes a minute with one finger.
- XL Tangent: Chopin believed in not releasing any "precious fluid" a day before a big performance for it damaged his creativity. He died of TB and in his last days he coughed blood onto the piano keys. Born in Poland he lived most of his life in Paris with his lover George Sand, a female French writer. Oscar Wilde said of him: "After playing Chopin, I feel as if I have been weeping over sins that I have never committed."
- The first advertising jingle was sung by members of the public. They were published in newspapers, with the music written out with the words, so you could sing it yourself. This comes from 1870s-80s. Radio jingles started in the 1920s to get around NBC's rules on not being able to advertise directly, but you could sing songs which had the sponsor's name in. The show could also be named after the sponsor. One NBC show, hosted by someone called Rudy Vallee was called Fleischmann's Yeast Hour. The first radio jingle is believed to be the Sunshine Vitamin Yeast jingle.
- Tangent: Stephen was at a party at the BBC and he sat next to Marconi's widow. Marconi married a much younger woman. Thus Stephen is proud that he eventually touched someone who touched the person who invented radio.
- Tangent: The German general Von Moltke had his voice recorded onto wax cylinder. He is the only person born in the 18th century to have had his voice recorded, as he was born in 1798.
- Tangent: Stephen once met the broadcaster Alistair Cook. Cook told Stephen to shake his hand, which he did, and Cook said: "You're shaking the hand of someone who shook the hand of Bertrand Russell, the philosopher." Stephen said it was amazing, but Cook replied: "Oh, no, no, that's no strange. What's strange is that Bertrand Russell's aunt danced with Napoleon." So Stephen had shaken hands with someone, who shook hands with someone, who shook hands with Napoleon. The panel then decide to shake hands with each other, passing on their own famous handshakes. So, Danny shakes Sarah, passing on the handshake of John Lennon; Sarah shakes Stephen, passing on the handshake of Louie Spence; Stephen shakes with Alan, passing on the handshake of River Phoenix; Alan shakes hands with Phill, passing on the handshake of Jennifer Lopez; lastly Phill returns to Alan, passing on the handshake of Alan himself.
- Tangent: Danny uses vintage advertising jingles on his radio show, such as Ovaltinies, and others from the early 1960s such as, "Sorry mate, you're too late, the best peas went to Farrows."
- XL Tangent: The first person to come up with a jingle is arguable Arius, a heretic against the Catholic Church who did not believe in the Trinity. In 324 AD, around the time of the Council of Nicaea and his doctrine was condemned. One of his jingles was: "If you want the Logos Doctrine, I can serve hot and hot. God begat Him, and before he was begotten, he was not." Logos means "The Word", and the jingle says that he believed that Christ did not exist until his Father gave birth to him. Arius is reported to have died from a rectal prolapse.
- XL: "Jingle Bells" was originally written to celebrate Thanksgiving. It was written by the uncle of the great banker J. Pierpoint Morgan, once the richest man in America. He wrote it in 1857 in Massachusetts and called it "One-Horse Open Sleigh". (Forfeit: Christmas)
- XL: The first song ever to be sung in space was "Jingle Bells". Walter "Wally" Schirra Jr. and Thomas P. Stafford who flew on Gemini 6 smuggled a harmonica and sleigh bells on the ship, which added to their payload so it was something they should not have strictly speaking done. When the ship re-entered on 16th December and they calculated their angle of re-entry they sent a message to Houston which went: "Houston, we have an object. Looks like a satellite going from North to South, probably in polar orbit. Looks like he might be going to re-enter soon. You might just let me pick up that thing. I see a command module and eight smaller modules in front. The pilot of the command module is wearing a red suit." They then took out their instruments and performed. For a second Houston was worried about what the crew had spotted.
- XL Tangent: The Voyager probe, along with all of its digital information and music, also includes the Shave And A Haircut, believing that any intelligent life should be able to give the correct knock back.
- The Jesus Christ Dinosaur Hypothesis is a theory about a dinosaur that might have been able to walk on water. There is an intermediate dinosaur between dinosaurs and birds from 150 million years ago known as the Archaeopteryx. All the fossils of it have been found in places where there was once a sea, but no evidence of any trees, so the theory is that they flew by starting to run along the water, like swans do today. Other animals that can run on water include the Jesus lizard which can travel 20 metres on the water, and the Jacana, or Jesus bird of Jamaica, which was written about by the ornithologist James Bond, (after whom the 007 is named, because Ian Fleming had a selection of books about Jamaica where he once lived, one of which was Bond's The Birds of Jamaica.
- Tangent: Ian Fleming also wrote Chitty Chitty Bang Bang. The character of Caractacus Potts gets his name from the expression "Crack-pot inventor".
- The chances are that you can remember a lot more white Christmases if you live in the north. The Elves have researched into white Christmases from where the panellists come from. For example, Danny is from London can remember one from 1970, but Alan is from the South East and thus cannot remember any. Sarah is from South Shields which has had more, and is believed to have had them when she was one, three, four, five, six and nine-years-old. In the whole of the 20th century there were only four white Christmases in London and the nearby area (1927, 1938, 1970 and 1981). However, between 1812-1820 there were eight white Christmases in a row. 1812 was also the year Charles Dickens was born, thus he always associated Christmas with snow and it always snows at Christmas in his novels. He also lived during the Little Ice Age, where at times the River Thames was so frozen you could hold fairs and even light bonfires on the ice because the ice was so thick. The last such "Frost Fair" was in 1813-14.
- XL: There is really no such thing as a typical snowflake. Not all of them are hexagonal and symmetrical. They can also be needle-shaped or more blockish.
- XL: A jolly jape - Stephen adds a small jug of water to some white powder called sodium polyacrylate, which is the stuff in nappies which absorbs fluid. It can take on water between 200-300 times its own mass. Stephen pours the water into the powder, which expands into a huge size but remains dry and becomes cold. This stuff is also used as artificial snow. The world's best artificial snow maker for the movies is a British company called Snow Business, which produces a wide range of different kinds of snow.
- The best thing to do with an old Christmas tree is to contact your local zoo and see if they want to give it to their animals for food. In Germany they often feed Christmas trees to elephants, which can eat five of them for lunch. In Dresden Zoo they also give Christmas trees to giraffes, rhinos, camels, deer and sheep.
- XL Tangent: Between a real Christmas tree and an artificial one, it is now believed that the real one would be the most environmentally friendly. The real ones can be mulched. If you keep the roots alive they can be replanted. Some artificial ones can emit chemicals. Plus conifers have fungi on their roots that support the soil in the ecosystem. While they are growing they support birdlife and improve the soil.
- Tangent: Danny does not like people who take down Christmas decorations on Boxing Day, as he always does it on Twelfth Night, but the panel are not sure if this is the 5th or 6th January.
- A quick-fire round about Jesus:
- Jesus's mum called her son Yeshua or Joshua. "Jesus" comes from "Yay-zuice" is the Greek version of Joshua.
- Tangent: The reason why the Gospel of Luke begins with so many begats (son of... who was the son of...) to prove that Jesus was a decedent of King David.
- The world's tallest statue of Jesus is in Swiebodzin, Poland. It is 33 metres tall, with each metre representing a year of Jesus's life. There is also a three metre high crown on the top. There is also a Jesus statue in Bolivia which is taller than the one in Rio de Janeiro. (Forfeit: Rio de Janeiro)
- We are not sure how many people Jesus fed at the feeding of the 5,000 because the Bible only reports the total number of men that were fed. At £The Miracle of the Five Loaves and Two Fishes", women and children were fed too, but the exact number was not mentioned. Matthew 14:21 reads: "The number of those who ate was 5,000 men, besides women and children." There was also a feeding of the 4,000, "The Miracle of the Seven Loaves and Fishes", but this too has the same problem.
- Jesus had 72 disciples, according to Luke's Gospel. Jesus had 12 Apostles, and the 72 disciples were sent "two-by-two ahead of them, going to every town and place where he was about to go." (Forfeit: 12)
- The panel pull some Christmas crackers, but instead of the normal jokes they are given the punch-lines, from which they have to figure out what the original joke was.
- Danny: "That's not funny." - Danny suggests it could be a limerick: "When the government ran out of money, and things look real bleak and not sunny, we all had a bash, using these jokes as cash, but the Germans said, 'Ein, that's not funny!'" However, the actual joke is, "How many feminists does it take to change a light bulb?"
- Tangent: Stephen tells a light bulb joke: "How many Freudians does it take to change a light bulb? Two: One to screw in the bulb and the other to hold the cock... Father, ladder!"
- Phill: "Subordinate clauses." - "What do you call Santa's little helpers?"
- Sarah: "The trifle tower." - "What's tall, wobbly and lives in Paris?"
- Alan: "Eat, drink and be Mary." - "What does a transvestite do on Christmas Day?"
- XL: Stephen - "She issues a royal pardon." - "What does the Queen do when she burps / farts?"
- XL: Stephen - "24 days." - "What did the man who stole an advent calendar get?"
- Stephen: "It's very good cold on Boxing Day, too." - "Remember a puppy isn't just for Christmas."
Scores
- Danny Baker: 4 points
- Sarah Millican: -6 points
- Phill Jupitus: -32 points
- Alan Davies: -38 points
Broadcast details
Date

Friday 21st December 2012

Time

10pm

Channel

Length

30 minutes
Repeats
Sunday 6th December 2020 at 1:00am on Dave
Cast & crew
Supporters and subscribers get more
Additional content and tools are available across the site for Supporters and BCG Pro subscribers. On this page you can:
See 4 press clippings related to this episode
Broadcast details of 42 further repeats of this episode
This episode's inital overnight ratings
Already a donor or Pro user? Sign in