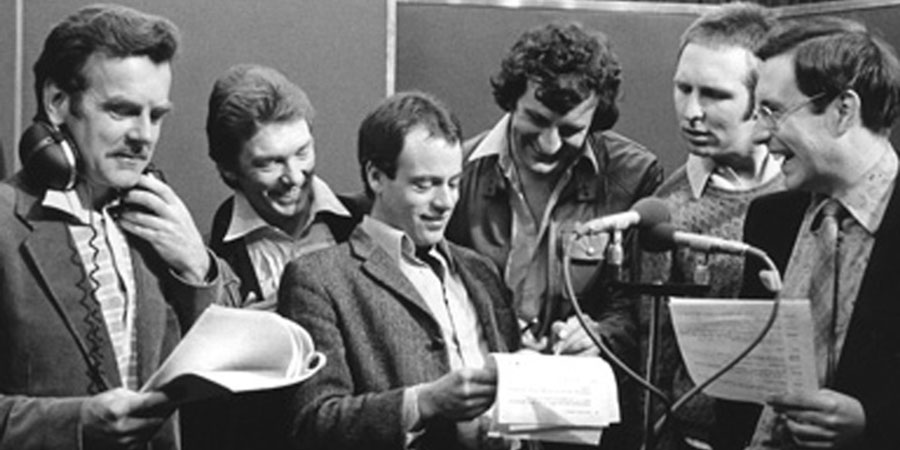 Some other comedies also have this name.
Genre

Sitcom

Broadcast

Channel

Episodes

Starring

Simon Jones, Geoffrey McGivern, Peter Jones, William Franklyn, John Lloyd, Mark Wing-Davey, Stephen Moore, Susan Sheridan and others

Writers

Director

Producers
Arthur Dent discovers his house is to be bulldozed to make way for a bypass. Later he finds that Earth is to be destroyed as well. He escapes on a Vogon spaceship with his friend Ford Prefect.
Unable to return to Earth, Arthur becomes a reluctant space tourist. He is soon traversing the universe with his friend Ford Prefect, who is employed by Megadodo Publications to write entries for The Hitchhiker's Guide To The Galaxy.
Also along for the ride is an alien with two heads called Zaphod Beeblebrox, a paranoid robot android called Marvin and Tricia McMillan (aka Trillian), the only other survivor of Earth's destruction.
The show is to return in 2018 for a sixth series... The Hitchhiker's Guide To The Galaxy: Hexagonal Phase.
Tagline

Don't Panic!

Part of

Production companies

Also known as

Soundtrack

This was the first BBC radio comedy to be recorded in stereo. The title music is Journey of the Sorcerer by The Eagles. Series 3-5 music by Paul 'Wix' Wickens.

Laugh track

None
Broadcast details
First broadcast

Wednesday 8th March 1978 on BBC Radio 4 at 10:30pm

Last new broadcast

Thursday 12th April 2018 on BBC Radio 4 at 6:30pm

Length of episodes

30 minutes

Last repeat

Monday 30th November 2020 at 3:30am on Radio 4 Extra
Website links