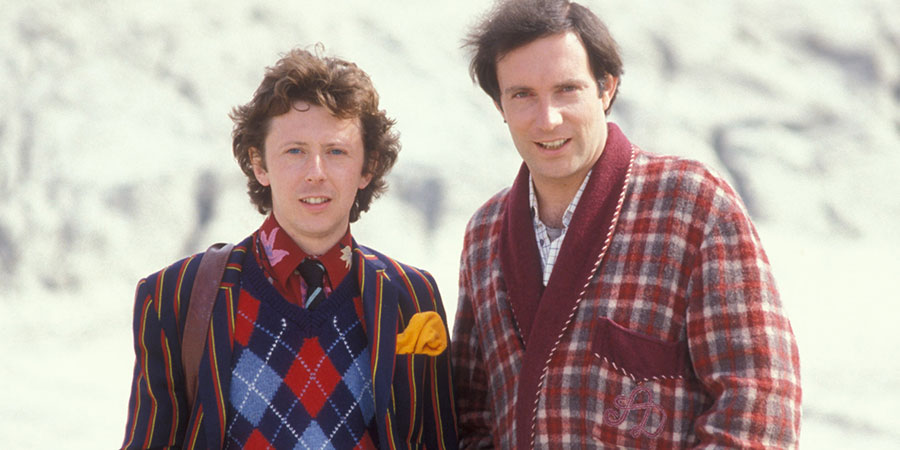 Some other comedies also have this name.
Genre

Sitcom

Broadcast

Channel

Episodes

Starring

Simon Jones, David Dixon, Sandra Dickinson, Mark Wing-Davey, David Learner, Stephen Moore and Peter Jones

Writer

Director

Producer
One Thursday lunchtime, the Earth is unexpectedly demolished to make way for a new hyperspace bypass. For Arthur Dent, who had only just had his house demolished that morning, this already seems like more than he can cope with. Hitchhikers follows the journey of a constantly bewildered Arthur through the galaxy as he is guided along by his eccentric friend from Betelguese, Ford Prefect. Along the way he encounters alien life, gets thrown off spaceships, discovers the true nature of Earth, travels through time, stretches the limits of improbability to their breaking point and searches for the ultimate answer to life, the universe and everything.
All of this is helped along by the narration by the book itself, The Hitchhiker's Guide to the Galaxy, which helps to expand on some of the finer points of galactic society, culture and history.
Tagline

Don't Panic!

Part of

Production company

Also known as

H2G2 (Other official name)

Soundtrack

The title music is Journey Of The Sorcerer by The Eagles, composed by Bernie Leadon and arranged by Tim Souster. Radiophonic music and effects by Paddy Kingsland.

Laugh track

None
Broadcast details
First broadcast

Monday 5th January 1981 on BBC Two at 9pm

Last new broadcast

Monday 9th February 1981 on BBC Two at 9pm

Length of episodes

30 minutes
Website links