See Also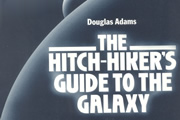 The Hitchhiker's Guide To The Galaxy is based on a comic science fiction world created by Douglas Adams.
A science fiction radio comedy series written by Douglas Adams that started off the H2G2 multi-media franchise phenomenon.
Sci-fi comedy about a troubled man who is convinced his brother Simon has been abducted by aliens.
The cast of the original Hitchhiker's Guide To The Galaxy radio series reunite for a new recording, broadcast live on Radio 4.
A programme marking the 30th anniversary of Dogulas Adams and John Lloyd's dictionary of things there should be a word for but aren't - with new liffs.
Sci-fi sitcom set on a hopeless new space colony. Nicholas Lyndhurst and Vicki Pepperdine star.
Stephen Mangan stars as Douglas Adams's holistic detective who believes he can solve crimes due to the interconnectedness of all things.
Abridged version of the sixth book in The Hitchhiker's Guide To The Galaxy 'trilogy'. Read by Stephen Mangan, with Peter Serafinowicz as The Guide.
Science fiction sitcom following the crew of a spaceship as they go about promoting Britain in the 22nd century.
Sci-fi radio detective comedy series created by Douglas Adams, author of The Hitchhiker's Guide to the Galaxy.
Movie adaption of Douglas Adams's cult sci-fi comedy novel. Arthur Dent escapes the destruction of the Earth - to make way for a new galactic bypass.