Series K, Episode 16 - Kaleidoscope
Further details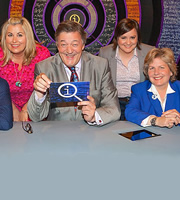 Topics
- The chances are that you are not able to tell what your kin smell like, unlike most animals. This is because animals do not raise their young as much as humans, so they see them less, thus they tell if they are related to each other by smell. This prevents relatives having sex with each other. For example, the mouse lemur is raised exclusively by the mother but can still recognise the smell of the father. Butterflies have very good sense of smell, but if they are inbred they have few sex hormones.
- Tangent: Susan claims her grandmother used to smell of a perfume called "Tramp" in the 1970s. It was named after a nightclub in Jermyn Street. Another perfume at the time was called "Charlie". Stephen recalls a Benny Hill monologue about going to a King's Road "den of ini-quiety... full of kinky boots and underwear" and that Hill could, "smell her Charlie across the room."
- Tangent: Liza once wrote a line for Paul Abbott. In it their characters entered Liza's parents' house and Liza's character said to Paul's: "Don't say anything about the smell." This automatically makes you think about the smell you should not mention.
- Tangent: Men who are anosmic - who have no sense of smell - have fewer sexual partners. Famous people who are anosmic include William Wordsworth.
- XL Tangent: Someone once said to Dr. Johnson: "You smell", to which he replied: "No, I do not. I stink."
- XL: Possible ways of blackmailing you parents include peer pressure, pester power, but the most extreme example is when the pied babbler bird threatens to throw itself out of it's nests.
- - XL Tangent: The koha bird's beak looks like a human face when it is open.
- - XL Tangent: Most cuckoos do not go in other bird's nests. Only about 50 amongst the 136 species of cuckoo do this.
- The spider went to the bathroom because they fell into the bath. House spiders do not climb up drain pipes to get into baths, but fall into them from above. Male house spiders need to mate to survive, normally around autumn. After mating the female house spider eats the male. The most famous house spiders are the redback and the black widow. The male redback appears to be the most willing to be eaten, because jumps into the female's mouth after inseminating the female. The British house spider however waits for the male to die before eating him.
- Tangent: A spider eats 2,000 bugs a year.
- Tangent: Liza once pulled a curtain while she was still in bed and spotted a spider directly above her falling downwards. However, she managed to climb over her boyfriend and get to the other side of the room before it landed.
- Tangent: Garden spider webs are symmetric, but house cobwebs are asymmetric. You can create cobwebs with a spray, which Stephen claims Alan has probably used in Jonathan Creek - but Stephen says it wrongly, saying that Alan has actually played Jonathan Ross.
- XL: The point of the game Snakes and Ladders is to teach you to be a better person. Originally from 1st-2nd century India, it taught you how to improve your karma and the finish was at Nirvana. Bad deeds dragged you down the board like disobedience (moved from square 41 down to 4), drunkenness (62 to 21), murder (73 to 1) and desire (99 to 29). Good virtues that took you up the board included faith, perseverance, compassion, knowledge and self-denial.
- XL Tangent: In the United States the game was called Chutes and Ladders.
- Knick-Knack Experiment: Stephen shows the properties of two differently shaped objects. One is a tippe top, a metal screw-like object with a ¾ spherical top and flat screw-shaped bottom. When spun so the spherical top makes contact first, the tippe top will eventually turn upside-down so it will spin the other way on the bottom. Lord Kelvin first discovered this property in the 1890s with mathematician friend Hugh Blackburn in a shell they discovered on a beach. Then Stephen shows another object, a rattleback, which is long and thin, with a slightly twisted hump. This shape will only spin anti-clockwise. If you try to spin it clockwise it will stop and spin anti-clockwise.
- The world's scariest spice is cinnamon. In the 17th century, where spice was the world's most precious commodity to the extent that the British, Dutch and Portuguese had Spice Wars, salesmen used to tell stories about how hard it was to get their spices. Cinnamon salesmen claimed that they got the cinnamon from a bird called the kinnamomon orneon. They claimed it used twigs of cinnamon to make their nests with, and that in order to get the cinnamon they would leave bits of slaughtered giant oxen around. The bird would fly down to get the oxen meat, fly back up to the nest with the meat, which would then become so heavy the nest would fall down to the ground and allow the salesmen to steal the cinnamon twigs. In fact cinnamon is just the bark from a particular tree.
- Tangent: Susan was a member of the Spice Girls fan club at the age of 20.
- XL Tangent: Stephen starred "Spice World: The Movie". He did it because his nephews were big fans of the Spice Girls at the time so he could get them the signed photos of the entire band. Indeed, it seems that most of the people starring in the film were there to get autographs.
- Tangent: The Banda island of Run in Indonesia was swapped for Manhattan between the Dutch and the British during the Spice Wars, because Run had so much nutmeg on it, which was valued more than gold. Nutmeg was used to preserve meat and at the time was considered a cure for bubonic plague.
- Tangent: In spice farms all the spices grow together as one large eco-system. Sandi went to a spice farm in Tanzania.
- Tangent: Nutmeg and mace both come from the same plant.
- XL: The panel are given some jars of allspice and are asked to identify which spices are in it. The only spice in it is allspice, which is actually just a single spice all on its own. But it does smell of lots of different spices, such as cinnamon, nutmeg and cloves. The scientific name for allspice is Pimenta diocia. (Forfeit: Cloves)
- XL Tangent: Stephen tries to throw is jar of allspice into the audience so they can smell it but he completely misses and the allspice is spilt. The panel instead pass their jars around to the audience.
- Tangent: The heat of peppers is measured on the Scoville scale. On this scale a jalapeno is 5,000 heat units. The hottest pepper, the Trinidad Maruga Scorpion, is 2,000,000 heat units. However, there are other poisonous peppers that come in even hotter than that. The hottest curry ever measured that has been eaten was consumed by radiologist Dr. Rothwell. To prepare it the chef had to wear goggles and a mask. Dr. Rothwell reported that it produces crying, shaking and vomiting. The restaurant owner claimed that Dr. Rothwell has hallucinating and that Dr. Rothwell took a ten minute walk down the street, weeping. It took him an hour to eat it.
- The Olympic sport that women should not take part in is kayaking. In the Inuktitut language the word "kayak" means "a man's boat". However they also had women's boats called an "umiak" and normally the women caught more fish than the men. Men sometimes though used umiaks to hunt walruses, but they were mainly used for transportation.
- Tangent: The picture during this question shows Olympic weightlifter Cheryl Haworth, who is capable of lifting the weight of two fridges above her head. Alan went to see women's weightlifting at the 2012 Olympics. The winner was from Kazakhstan, and Alan claims there was not a dry eye in the house. During the lift the audience must be quiet, but once they complete the lift everyone erupts with delight. There was one woman who fell down and got pinned down by the weights. It took four people to lift off the weights that were trapping her.
- Tangent: Pierre du Coubertin, founder of the modern Olympic movement, said that the Olympics should be about male athleticism, applauded by women.
- XL Tangent: In the 2012 Olympic football tournament the Japanese sent their women's team in economy class and the men's team in business class. The women won the silver medal and the men won nothing.
- XL Tangent: There are only two Olympic sports which are entirely co-ed, which are equestrianism and sailing.
- XL Tangent: While it is often claimed that in the 1900 Olympics there was a demonstration sport of poodle clipping, this is actually a myth.
- A question about going under the knife: the advantage of having an arm surgically attached to your face is that you can grow your nose back. It was a kind of skin graft, invented by 17th century Italian surgeon Gaspare Tagliacozzi, who developed this surgery for people who lost their noses, usually to syphilis. One nobleman however decided he did not want a cut made in his own arm so he a servant's arm cut instead and the servant had to follow him around all the time. However, the servant died and the nose was rejected.
- XL Tangent: The Danish astronomer Tycho Brahe had an artificial nose made out of brass.
- Tangent: Another operation is a gynecomastia, which is breast diminution. In 2012 a paper entitled "Gynecomastia in German Soliders - Etiology and Pathology", looked at the number of breast reductions amongst male members of the German army. The ceremonial buffeting of their rifles against their chest results in male soldiers growing breasts. In the last six years 212 German soldiers have had this surgery.
- XL: So many Russians took the day off in September 2005 so they could have sex. In the town of Ulyanovsk, which is named after Lenin, whose real name was Ulyanov, the mayor decided to try and increase the town population by encouraging people to have sex on "The Day of Conception". If you could prove that you did have sex then you could win prizes including fridges and a 4x4.
- XL Tangent: In the Napoleonic era there was a Russian general called Alexey Arakcheyev who insisted that all the women on his estate had a son every year. If they had a daughter, no child or miscarried they were fined.
- XL: The reason you need to talk about Kevin is because it is the least successful male name on dating websites. Other unpopular male names include Marvin, Justin and Dennis. The most unpopular female names are Mandy, Chantelle, Jacqueline and Celina. The best names for men are Jacob and Alexander and for women are Charlotte and Emma.
- XL Tangent: Last year (2012) in America there were people born with the names Krymson, Klinton, Kingsolomon, Keats and Kdrian. There were also ten people called Kindle and another ten called Kingdavid.
- XL Tangent: Alan's sister-in-law who used to work in a hospital in Sunderland came across a pair of twins named Fifa and Uefa.
General Ignorance
- You cannot tell the direction a comet is going in from the direction of the tail. The tail is solidified carbon dioxide being turned into gas by solar winds which always points away from the sun. The word "comet" comes from the Greek "comitos" meaning "long beard". (Forfeit: That way)
- The skin on a crocodile's head is best described as cracked. It is not scaly, because scales are genetically programmed to be regular. The cracks on a crocodile's skin differ between each one.
- Tangent: Sandi once canoed across Africa and she met a missionary who asked Sandi if she was worried about crocodiles. Sandi said she was and the missionary advised her that if she should see a crocodile that the best thing to do is to cut off one of her arms. That way she still has two legs and she can run away. Alternatively, as mentioned before on QI, you can also pop a rubber band over their mouth because the opening muscles are too weak to resist it.
Scores
- Sandi Toksvig: -2 points
- Alan Davies: -4 points
- Liza Tarbuck and Susan Calman: -9 points
Broadcast details
Date

Friday 17th January 2014

Time

10pm

Channel

Length

30 minutes
Cast & crew
Supporters and subscribers get more
Additional content and tools are available across the site for Supporters and BCG Pro subscribers. On this page you can:
See 2 press clippings related to this episode
Broadcast details of 32 further repeats of this episode
This episode's inital overnight ratings
Already a donor or Pro user? Sign in