Series K, Episode 12 - Knights And Knaves
Further details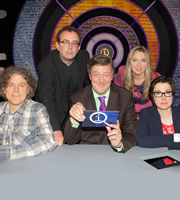 Topics
- Nobody knows for sure how the Black Prince got his name, but it was nothing to do with the colour of his armour. Some believe it may have been a reference to his mother, Philippa of Hainault, who may have been of Moorish descent. Others think that it was a reference to his sins and thus his soul was "black as pitch". While he may have been known as the "Master of Chivalry" he almost destroyed the entire population of the towns of Limoges and Caen. (Forfeit: Black armour)
- Tangent: Hainault is very near to where Alan grew up. The oldest door in Britain originally came from Hainault. The door is in Westminster Abbey and connects a cloister which the Canons of Westminster live behind to the abbey itself. The wood for the door comes from Hainault and it has been carbon-dated to around the 10th century.
- XL Tangent: Victoria was told by her husband, David Mitchell, that the Black Prince stole the motto "Ich Dien" and the three feather symbol from Blind King John of Bohemia, whom he defeated in battle and, as was mentioned on a previous QI, went into battle guided by two assistants.
- XL Tangent: St. Hugh of Lincoln once stayed with some monks in France who believed they had a the preserved relic of Mary Magdalene's arm. He bent down to venerate it and while he was down there he bit off one of the fingers. It was also claimed, doubtfully, that St. Hugh had a friendship with a swan. Lincoln Cathedral has a wonky vault built by St. Hugh which is said to suggest the flight of a swan's wing. There was a large trade in bitten-off relics.
- XL: The rules of jousting tend to vary, but one set of rules state that you win if you score three points, which is done by hitting the breastplate so that it shatters the lance.
- XL Tangent: There is an Excalibur casino in Las Vegas which holds a mock jousting contest as part of their dinner show. In it the winner is the last person to jump off their host. In the show King Arthur fights against his long lost son Prince Christopher, who is a character they made up who is in no part of the Arthurian legend. The room which holds the event contains about 200 people. While getting horses into a casino might sound difficult, Siegfried and Roy use much more dangerous white tigers and have been known to have been attacked by them. Another big cat victim was the Rector of Stiffkey Harold Davidson who became a lion tamer and got killed by his lion. Davidson tried to reform prostitutes in what Richard calls, "a very hands-on ministry kind of way."
- The first rule of Knight Club is that you may not kiss a woman. The Knights Templar, who were formed in Jerusalem after the First Crusade and folded up in 1314, despite the beliefs of many people today who think they still exist (mainly thanks to Dan Brown novels) could do almost anything as the law of Jerusalem did not apply to them. However, amongst their rules were that if you did marry you could not wear the white uniform with the red cross on it, you could not hunt animals except lions, knights are allowed only one squire each, and telling tales and lockable purses were forbidden. Their last and most important rule stated: "Lastly, we hold it dangerous to all religion to gaze too much on the countenance of women and therefore, no brother shall presume to kiss neither widow, nor virgin, nor mother, nor sister, nor aunt, nor any other woman." One of the reasons the Knights Templar were closed down was that a charge was put against them saying that they kissed one another on the mouth, on the naval, the bare belly, the anus or the backbone. (Forfeit: You do not talk about Knight Club)
- Tangent: The Temple Church in London was founded by the Knights Templar and has the bodies of its members buried there. The priest at the Temple Church has a unique title: the Reverend and Valiant Master of the Temple.
- XL Tangent: In the 20th century anti-kissing leagues were set up because people thought kissing spread disease. One old QI fact is that women on trains used to put a pin in their mouths to stop unwanted kissing in tunnels.
- The panel are shown a picture of a knight in full armour with his shield displaying his coat of arms and are asked what makes them think that the knight is a total bastard. The answer is the pattern on the shield. It includes a thick diagonal line from the top right corner to the bottom left edge, which goes across the leopards the shield displays. This is known as the "bend sinister" and indicates that he is of illegitimate birth. The shield also has a red background meaning that the knight shown is royal, meaning he is a royal bastard, also known as a Fitzroy. Charles II had five Fitzroys from his mistress Barbara Palmer. Other additions to a coat of arms to show dishonour, known as "abatements" or "stains" (hence "a stain on your character"), include the "point champaine tenne", a row of three spikes at the bottom to indicate killing a prisoner who has demanded quarter; the "delf tenne", a square in the centre of the shield to indicate cowardice, usually in the form of issuing a challenge and then bottling out; the "gusset sanguine sinister", a trapezium-shape section on the right-hand size of the shield which indicates drunkenness; and the "gusset sanguine sinister", where the trapezium is on the left-hand side and indicates adultery. It is possible to have more than one of these stains on your shield, so to have both gusset sanguine on your shield indicated both drunkenness and adultery in the same knight.
- Tangent: Members of the clergy cannot have a helmet on their coat of arms because it is related to the military. Similarly, at black-tie events members of the clergy cannot have a stripe down their trousers because this is military insignia. Instead of helmets the clergy have a hat called a galero on their coat of arms, which Richard says would put you in mind of what Bill and Ben the Flowerpot Men wore. The galero is black for priests, red for cardinals, and pointy with three tiaras if you are the pope.
- XL Tangent: You can apply to the College of Arms to have your coat of arms made, for which you have to pay for. You can apply to be a herald on Garter Day at Windsor Castle. If a new Knight of the Garter is installed you are there for hours while your coat of arms is designed, and then the finished design is held aloft by beefeaters, with the help of the College of Heralds.
- The maximum number of knight pieces that you can put on a chess board so that no one knight can capture another is 32. Because they move in an L-shape, you simply have to make sure all the pieces are on the same colour squares, because when a knight moves it always lands on the opposite coloured square.
- XL Tangent: Bishop Bill Westwood, former Bishop of Peterborough, the bishop Richard serves, is the father of hip-hop DJ Tim Westwood and was a keen knitter. Ali G is partly based on Tim Westwood.
- Tangent: There are versions of chess called "fairy chess" in which the pieces can do extra things. Victoria claims that this is pointless because the point of chess is the limitations to the game. Richard says that there are also versions of poker where they introduce wildcards too. Poker-playing Victoria counters this argument by quoting Martin Amis: "In chess, the properties of a bishop are fixed. In poker, it's all wobbled through the prism of personality." Amis said this quote after he lost a game of poker that he played alongside Victoria, Stephen and a then unknown Ricky Gervais. When Gervais got knocked out he got up from the table and said: "What am I supposed to do now?" Stephen replied: "There's a shotgun in the drawer."
- XL Tangent: Chess players often claim that the best move is not the one you make, but the one your opponent would least like you to make. People often say that at the moment Gary Kasparov sat at the table the opponent felt beaten already, because he was so virile, big, appeared to have a 5 o'clock shadow at ten in the morning, and he hunched over the board.
- Strictly speaking a knight cannot be buried anywhere because once a knight dies their title is removed and they are no longer a knight. Thus when people argued that Jimmy Saville should have his knighthood removed the argument technically made no sense because his title had already been taken away when he died. As a result, the only way a knight can be buried and still be a knight would be if you buried them alive. (Forfeit: In the ground)
- XL Tangent: L. S. Lowry holds the record for turning down the most knighthoods and honours. Alan Bennett also turned down a knighthood.
- Tangent: Because it is a military title, knighted clergy cannot be called "Sir" unless they were knighted before they were ordained.
- XL: The knight whose luggage contained cannabis, bladders, shark intestines, strychnine, chilli pepper, cocaine, heroin and Kendal mint cake was Sir Ernest Shackleton. His first aid kit included isinglass which comes from swim bladders of sturgeons and are used as a wound dressing; iron and strychnine tonic; iron and arsenic tonic; a colic treatment based on cannabis and chilli pepper; ginger carminative, which is an anti-flatulence preparation; cocaine solution eye drops for snow blindness; chalk and opium against forms of diarrhoeas; and Kendal mint cake. (Forfeit: Terry Wogan)
- XL Tangent: Sir Edmund Hillary took Kendal mint cake up to Mount Everest.
- XL Tangent: Victoria has been to Shackleton's hut in Antarctica, which you get to from Christchurch, New Zealand. You are followed all the way there by a New Zealand official who makes sure you do not drop any crumbs or litter on route. Alan has been to an exhibition in Christchurch about Scott of the Antarctic which explained what Amundsen took with him, which was different to what Scott took. Scott took ponies and horses, while Amundsen took 55 dogs, many of which were eaten by Amundsen, his crew and by other dogs in the pack. One problem with dog sledging however is that dogs poo and pee while on the move, so you have to constantly avoid their mess.
- The best way to stop your car from being stolen is to fit some good locks to it and not to bother with any alarms. If the alarm goes off you are likely to get complaints about it going off and no help at all. 1% of people asked said that if a car alarm went off they would call the police to tell them they heard the alarm go off, but 60% said they would call up to complain about the alarm.
- Tangent: Sue had a car covered in graffiti, which included a penis on the front bonnet. A friend of Richard's who was married to a vicar went to her car one morning and found that on the back of it someone had written the words: "Monk whore".
- Tangent: Car theft is almost entirely done by men. Richard saw a crime documentary in which two jailed car thieves were interviewed and one of them said: "Some car criminals, unfortunately, give the rest of us a bad name."
- The effect of Stockholm syndrome is where a kidnap victim begins to develop feelings and positive relationships with their kidnapper, but this is very rare. Most kidnap victims hate their kidnappers. The original Stockholm kidnapping occurred in 1973 where the victims defended the robbers after the event. The most famous person to succumb to Stockholm syndrome was Patty Hearst, heiress to William Randolph Hearst. She was kidnapped by the Symbionese Liberation Army. Some people think that Stockholm syndrome could be a psychological effect in which you are just conditioned to make the best of the situation you are in, and hopefully to get the kidnappers to like you so the syndrome works in reverse.
- Tangent: Back in his days with the Communards, Richard met Patty Hearst. She had become a bohemian socialite in Los Angeles when Richard met her in the 1980s.
- Tangent: One famous historical figure who hated his kidnappers was Julius Caesar. He was once kidnapped by pirates and Caesar said to them that when he was freed he would return to crucify them all. The pirates thought it was a joke, but Caesar meant it and did eventually carry out his threat.
- There are not that many good reasons to fake your own kidnapping. In fact some people have done it for very stupid reasons. For example there was an American man who faked his own kidnapping so that he had an excuse for not calling his girlfriend for two weeks. The police figured out the kidnapping was fake because the man had taped his wrists together, but was unable to cut the spool of tape off so it was still dangling from his wrists. Jennifer Wilbanks of Duluth faked her own kidnapping in order to get out of her own wedding. In 2008 Spaniard Josefa Sanchez Vargas convinced her husband to pay over £500,000 for the release of the faked kidnapping of their children, which he paid for six times over five years. There are some people who like being kidnapped. There is a French company that for €900 offers you a basic kidnapping, such as being shoved into a car, held down and blindfolded, then you can for extras like a helicopter chase.
- XL Tangent: BBC reporters who work in hostile zones are often given hostile zone training which involves being kidnapped. Alan comments that people who are kidnapped are always "bundled" into the back of a van, and no other word is used to describe it.
General Ignorance
- The length of time you should take before reporting a missing person depends on the case. If it is a child then you should report it as quickly as possible. If it is an adult the police will make their own judgment. (Forfeit: 24 hours)
- Tangent: Alan got burgled so many times in the 1990s that once when the police came to visit, Alan's cat wondered past and the constable said: "If only he could talk."
- Parliament, and for that matter the public, paid nothing to Sir Peter Viggers when he put a duck house in his garden, as Parliament did not allow him to claim it on expenses. This was one of the few things that got turned down, and even then it transpired that house was "Never liked by the ducks and is now in storage." However, Sir Peter did put in a claim for £32,000 for gardening expenses and £500 for 28 tonnes of manure. The duck house cost Sir Peter £1,645. (Forfeit: A duck house)
Scores
- The Rev. Richard Coles and Victoria Coren Mitchell: 3 points
- Alan Davies: -7 points
- Sue Perkins: -24 points
Broadcast details
Date

Friday 6th December 2013

Time

10pm

Channel

Length

30 minutes
Cast & crew
Supporters and subscribers get more
Additional content and tools are available across the site for Supporters and BCG Pro subscribers. On this page you can:
Broadcast details of 33 further repeats of this episode
This episode's inital overnight ratings
Already a donor or Pro user? Sign in