Series K - Kris Kringle
Further details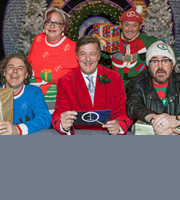 Topics
- The best way to get rid of that horrible unwanted Christmas sweater is to put it through an un-knitting machine. This machine, invented by recently graduated Kingston student Imogen Hedges, takes any woollen item, unravels it, and turns it back into balls of wool. There is one in backstage controlled by her brother Tristan and throughout the course of the show they take a scarf worn by Alan and unravel it. At one point in the show they cut back, ask if they can do the un-knitting faster, but this results in the wool falling off the machine and stopping it. However, they are eventually able to return the scarf to balls of wool, which are presented to Alan at the end of the show.
- Tangent: There was a lady in the road that Brendan grew up on who would donate three or four shirts a week to a charity shop, and then would buy these same shirts back for 50p each, because the cost of having them cleaned by the charity shop was cheaper than the cost of going to the laundrette.
- Originally those working for the Queen were able to choose whatever Christmas presents they wanted from her from a catalogue of approved items all valued between £20-£25 according to length of service, but after 2006 everyone got the same thing. Items in the past include bottles of champagne, a silver plate (although in 2008 this became a coaster to reflect the economic climate at the time), a special Jubilee themed trinket box in 2012.
- Tangent: Stephen once met the Queen at the reception following Charles and Camila's wedding. She had made a very funny speech on top of a table and later on she nudged Stephen hard in the ribs and said: "Isn't anybody going to give me cake?" During this time Stephen smoked and he was caught on camera smoking by the buttresses of Windsor Castle.
-XL: Nobody really knows what Jesus looks like because there is no description of his appearance in the Bible. The closest we can get to is a forensic reconstruction of the normal appearance of Jewish people from his time. However, we do know what St. Nicholas looked like because we have his skull. St. Nicholas is the patron saint of children, prostitutes and sailors. He was made the patron saint of prostitutes because he gave girls money to stop them from becoming prostitutes. This was the St. Nicholas from Lycia in Asia Minor, now known as Turkey. There was also a Roman St. Nicholas who would throw coins through windows to poor people, and a Russian St. Nicholas who carved figures out of firewood and left them around the village for children. St. Nicholas's forensic reconstruction shows that he had a broken nose that might have been given to him from either a heretic he fought with or the Emperor Diocletian. St. Nicholas came from the 4th century, but the Dutch call him "Sinterklaas", from which "Santa Claus" comes from. The modern depiction of Santa Clause with a big white beard and red coat comes from the 1890s, although the Coca-Cola adverts did help to reinforce the image in the 1930s.
- XL Tangent: Brendan asks if there is any truth in the idea that you can tell Jewish people by looking at them and seeing if their earlobes are higher than their noses. Stephen says that he is Jewish, but Brendan points out that it is hard to tell with Stephen because his nose is bent. Stephen's Jewish grandfather said that the reason that Jews have big noses is because air is free.
- In Germany, the bad children at Christmas are punished by another magical figure who acts as an anti-Santa called "Krampus" or "Schmutzli" who punishes them on 5th December. Punishments given out by Krampus include pulling on bad children's hair, swatting with chains, leading naughty children off cliffs, and putting them in a sack and taking them to his fiery lair. People in Germany dress up as him to scare children.
- Santa is off the rich list because he is real. Forbes Magazine produces a rich list of fictional characters, but Santa was taken off as of 2006 because the publishers ruled that Santa was real. The top five in 2012 were:
1) Smaug the Dragon from The Hobbit - $62.0 billion
2) Flintheart Glomgold, the rival of Scrooge McDuck - $51.9 billion
3) Carlisle Cullen from Twilight - $36.3 billion
4) Jed Clampett from The Beverley Hillbillies - $9.8 billion
5) Tony Stark from Iron Man - $9.3 billion (Forfeit: Because he isn't real)
- A Christmas tree can get you into trouble if you worked for the BBC. Employees at the BBC who were suspected of being left-wing or subversive had a double-arrow logo on their personnel file which looked a bit like a Christmas tree, which was put on the file by MI5. Some people thought the logo might be a Christmas tree because the tune to "O Christmas Tree" is the same as the tune to "The Red Flag", but this is just a coincidence. The two arrows just mean, "Refer upstairs", so if someone that was going to be promoted had the symbol on their record, they would have to refer to a senior person before they could do so. The last person to have to go through with this was newsreader Anna Ford because she once had a communist boyfriend. The double-arrows stopped in 1985.
- XL Tangent: Jo sings her own version of "The Red Flag" which goes: "Neil Kinnock's hair is deepest red, though most of it's not on his head."
- The thing that Baldrick has brought Stephen for Christmas is a football that made its way into the trenches in 1915. Football had been banned on Christmas Day at this point, so a solider called Rifleman Frank Edwards smuggled in a deflated football, blew it up before the Battle of Loos, and when the whistle blew to begin the offensive the soldier threw it out of the trench and shouted: "Play up, London Irish!" because that was his regiment. They found the ball again when they got to the German trench and kept it. A man from what is now called the D Company London Irish Rifles of the London Regiment called Tony Robinson, who is nicknamed Baldrick, brings onto the studio that same football. The football is now in a museum in Camberwell. The regiment is still active and some of the soldiers are in the studio, who have recently come back from Helmand Province in Afghanistan.
- XL Tangent: The soldiers from the London Irish regiment wear a form of headgear called a caubeen (and not a beret), which has a small feather column peak sticking out of it. It differs from other army headgear in that the cap badge is worn on the right.
- Tangent: In May 2012 a law was passed in Ireland to pardon all Irish soldiers who deserted the Irish army during the two World Wars to fight for the British. Most of the soldiers were already dead however. After the war the soldiers who had fought for the British were seen as traitors by the Irish government. You could get no pension and you could not work for the government.
- XL Tangent: There was a WWII cartoon of the time referring to the Irish President at the time, de Valera. Two Irish soldiers fighting for the British are in the trenches under heavy gunfire and one says: "Well, fair play to de Valera, he kept us out of this."
-XL: The panel are given different shaped glasses and are asked which ones you should use at Christmas. Charles Spence, an Oxford psychologist and assistant to Heston Blumenthal, has studied the sense of sight in relation to eating. You drink more quickly out of curved glasses because you are not aware of how much there is. Also, if you had a strawberry mousse served on a white plate, it will taste sweater than if it was on a black plate. Wine and tea taste less good coming out from mugs, probably because of the amount of air you take in.
- XL Tangent: As this question is being asked Brendan's mobile phone goes off. This results in him losing points.
- The panel are shown an optical illusion created by MIT. A picture of what looks like Marilyn Monroe from far aware suddenly changes to Albert Einstein when it is close up. Another one is shown in which the picture is of Stephen when it is far away, but turns into Alan when it is close up. This is performed by removing the fine-grained images of the far-away picture and removing the coarser ones from the close-up image. Then the two images are superimposed.
General Ignorance
- Jesus was born in 6 B.C. According to a book by Pope Emeritus Benedict XVI called Jesus of Nazareth: The Infancy Narratives, the calculation made by Dionysius Exiguous (which is Latin for Dennis the Small) on which the modern dating system is based was wrong by several years.
- The year before 1 A.D. was 1 B.C. It went from 31st December 1 B.C. to 1st January 1 A.D. We have never had a Year Zero. (Forfeit: Nought)
- Zero is an even number. Like all even numbers it is divisible by two without leaving a remainder (0/2=0); it is a number that ends in either 0, 2, 4, 6 or 8; and it lies between two odd numbers, 1 and -1. The QI maths elf believes that this question is the easiest question to ever appear on the show. (Forfeit: Neither)
- Knick-Knack Experiments: Two experiments - the panel are given a globe-shaped flask and two chemicals, including silver nitrate, which they mix around slowly for a few minutes. This creates a mirror-like bauble. This same process was used to make the lining of thermos flasks and mirrors. Stephen meanwhile creates some smoky bubbles. This is done by mixing water with dry ice, and pumping the resulting fumes into some bubble-solution. This pumps the bubbles full of smoke.
Scores
- Phill Jupitus: 3 points
- Alan Davies: -6 points
- Jo Brand: -9 points
- Brendan O'Carroll: -19 points
Notes
The XL version of the episode was broadcast first.
Broadcast details
Date

Tuesday 24th December 2013

Time

9pm

Channel

Length

45 minutes
Cast & crew
Supporters and subscribers get more
Additional content and tools are available across the site for Supporters and BCG Pro subscribers. On this page you can:
Broadcast details of 41 further repeats of this episode
This episode's inital overnight ratings
Already a donor or Pro user? Sign in