Series K, Episode 15 - Kitsch
Further details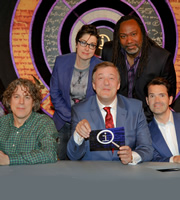 Topics
- Out of a flowery chair, a balloon animal, a Tiffany lamp and a pooing donkey cigarette dispenser only the last of these would be kitsch, according to the dictionary definition of the term. Something that is "kitsch" is strictly speaking worthless. A Tiffany lamp made in the 1890s was sold at auction for $2.8million. The balloon animal was made by the American pop artist Jeff Koons, who specialises in making artworks that deliberately look tacky. One of his pieces sold for $38million. Chintz armchairs originally come from India, entering Europe in the 1680s and were so popular that in Versailles the king ordered that no-one could own it except for himself, in order to help the French textile industry. British courts also banned it in 1720 to help their textile industry. In comparison, the pooing donkey cigarette dispenser really is kitsch and worthless. Other things that today might not kitsch include furry dice, lava lamps and garden gnomes which may be considered now to be retro or ironic. Ultimately, what is kitsch varies from person to person.
- XL Tangent: Other Jeff Koons artworks include three Michael Jackson and Bubbles porcelain figures, which sold for $5.6million.
- XL Tangent: The word "chintz" is one of only three 6-letter words in the English language which are spelt in alphabetical order. The others are "almost" and "biopsy".
- XL: You should worry about a man in fluffy slippers because he has come to tell you that you are guilty. In some Australian aboriginal tribes if someone committed a crime a figure called a "kurdaitcha" would find the perpetrator, point a bone at them, and the perpetrator would freeze and die, either through psychosomatic or shock. The slippers were made out of the blood of a young man's arm and emu feathers, and could only be worn if you dislocated all of all toes except the little toes which poked out of small holes.
- XL Tangent: Jimmy asks Stephen if he knows the boomerang joke. Stephen asks Jimmy to tell him, to which Jimmy says: "It'll come back to you."
- XL Tangent: Cow shoes were wrong by bootleggers during prohibition. The footprints they made looked like cow footprints, so they were worn to trick the police.
- XL Tangent: There was once a cattle rustler called George "Big Nose" Parrot who was hanged. He was then skinned by Dr. John Osborne, who became a Democrat governor of Wyoming, and who turned the skin into a pair of shoes that he wore during his inaugural ball. This occurred as late as 1893.
- The thing that was originally made out of shower curtains, could be used as wallpaper, works as a burglar alarm, prevents sweaty toilet syndrome, covered Farrah Fawcett when she modelled for Playboy, is good for stress relief and wraps things up so they do not break is bubble wrap. Invented in 1957 by Alfred Fielding and Marc Chavannes, they put two shower curtains together hoping there was some use for it. They tried selling it as wallpaper and greenhouse insulation, but it did not work. In 1960 they decided to use it to wrap up products sold by IBM. The Sealed Air Corporation which produces bubble wrap makes enough bubble wrap per year to cover the Earth ten times. Bubble wrap is put inside toilet cisterns to prevent sweaty toilet syndrome in tropical countries, because the cistern sweats.
- The panel and the studio audience are given each a sheet of bubble wrap and are told not to press it. They are all then shown pictures of cute animals to test "cute aggression", which is when you want to hold a cute animal that you cannot reach. In 2013 psychologists from Yale used the bubble wrap to measure the aggression. They told people it was a test of motor activity and memory, but in fact if the people wanted to pop the bubble wrap more and more because they were frustrated at not being able to cuddle the animals they looked at.
- Tangent: The last Monday in January is Bubble Wrap Awareness Day. Rhett Allain of Wired Magazine calculated that you would need to wrap yourself in 39 lays of bubble wrap in order to survived falling out of a sixth floor window.
- XL Tangent: The collective noun for a group of kittens is a "kindle".
- The panel are shown a menu and are asked what each euphemistically named item is:
- Sea kittens: Fish, as referred to by PETA (People for the Ethical Treatment of Animals), who thought that if you referred to all fish by this name it would prevent people from eating them because it sounds cute.
- Nymphs of the Golden Dawn: Frogs legs, created by Auguste Escoffier. They were first served to the then Prince of Wales who became George V in 1908. In French the name is "Cuisses de Nymphes de l'Aurore", which means "Thighs of the Nymphs of Dawn".
- XL Tangent: Sue has eaten rooster's testicles.
- Mendip Wallfish: Snails, served in the Miners' Arms in Priddy, Somerset.
- XL Tangent: While French snails are served with garlic and butter, Mendip Wallfish are served with cider, herbs and seasoning.
- Rocky Mountain Oysters: Bulls testicles, but it can also be those of sheep or pigs. Also known as prairie oysters, cowboy caviar, Montana tender groins, dusted nuts, bull fries, swinging beef, criadillas, huevos de toro (bull's eggs) or sweetmeats.
- Tangent: Sweetbreads are the thymus gland or pancreas.
- Kaninhoppning is rabbit show jumping. It is a sport mainly performed in Scandinavia and Denmark. The terms seems to come from "coney hopping". The record for the long jump is currently held by the Danish rabbit Yaboo at three metres. The high jump recorded is currently by Tosen at 99.5cm. Sweden has nearly a thousand rabbit show jumpers. Lisbeth Jansson has written two books on the subject and claims that rabbits that take part live for twice as long as other rabbits (10-12 years compared to 5 years). The rules of kaninhoppning state that the owner cannot lead the rabbit, so the owner must stay behind the rabbit at all times. Going ahead of the rabbit means they must forfeit.
- The panel are each given a muddled up Rubik's cube and are asked to solve it. It turns out that Alan and Jimmy were told in advance how to solve it in six moves, but only Jimmy is able to solve it in this amount. The total number of combinations on a Rubik's cube is 43,252,003,274,489,856,000, which is more than the total amount of inches that light travels in a century. There are also 4x4 Rubik's cubes. In 2010 it was discovered that the minimum amount of moves needed to solve any cube is 20, known as "God's number".
- Tangent: Stephen loved Rubik's cubes as a child, so Jimmy gives him a cube to solve. As Stephen tries to solve it there are points where the screen fades to black with the captions "Some time later..." and "Later still...".
- XL: The American army and navy used 100,000 View-Masters to train their soldiers to recognise different kinds of aircraft during World War II. Invented in the 1930s in Portland, Oregon, the army supplied gunnery crews with them so they could be trained to tell the difference between Allied and enemy aircraft. Six million discs were used.
- XL Tangent: Alan once visited Vietnam and fired a machine gun there, because you can pay for bullets and fire guns that were used in the war. Someone once told Alan that they also hire bazookas that you can use to fire at cows with. There is a Shropshire man who has a Roman-style ballista catapult which he uses to catapult dead cows with.
- XL Tangent: Both the internet and sat-nav were originally used by the military before being used by civilians.
- If you take a Polaroid picture and want to develop it quicker, you should stick it under your arm. Professional photographers used to do this as they took Polaroid photos as a test image. The Polaroid camera was invented by a man called Land, who also made polarised sunglasses. The Polaroid camera was launched in 1948 and is so called because the company was already named "Polaroid". (Forfeit: Shake them).
- XL: Every fourth monkey is like a search engine because it does not do evil. The Koshin monkeys are the ones who speak no evil by covering the mouth, see no evil by covering the eyes and hear no evil by covering the ears. There is also a fourth which represents "do no evil", which is represented by covering the genitals, but by the time it came to the west it was considered too rude and so was not mentioned. The reason it is like a search engine is because Google's (often mocked) motto is "Don't be evil".
- The world's most dangerous karaoke song is "My Way". At least six people in the Philippines have been killed because they have performed terrible versions of the song. However, in 2008 a gunman in Thailand killed eight neighbours because they were singing "Take Me Home, Country Roads". Most people credit the invention of karaoke to Japanese man Daisuke Inoue in 1971, but he did not make any money from it. He has however patterned a a cockroach killer to be used specifically inside karaoke machines.
- XL Tangent: The grand prize at the Karaoke World Championships in Moscow, 2010, was a million dumplings.
Scores
- Jimmy Carr: 9 points
- Alan Davies: 6 points
- Reginald D. Hunter: 0 points
- Sue Perkins: -8 points
Broadcast details
Date

Friday 10th January 2014

Time

10pm

Channel

Length

30 minutes
Repeats
Monday 1st February 2021 at 11:00pm on Dave (60 minute version)
Tuesday 2nd February 2021 at 2:50am on Dave (70 minute version)
Cast & crew
Supporters and subscribers get more
Additional content and tools are available across the site for Supporters and BCG Pro subscribers. On this page you can:
Broadcast details of 31 further repeats of this episode
Already a donor or Pro user? Sign in