Series K, Episode 2 - Kit & Kaboodle
Further details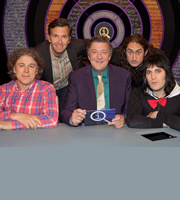 Topics
- Tangent: Colin first came to fame in Britain when he won the 1994 Perrier Comedy Award as one half of the double act Lano and Woodley. Amongst the other nominees he beat was Alan. Alan once stayed in Colin's house in Melbourne and Colin put his Perrier Award on Alan's beside table. The award itself consisted of a piece of wood with a silver Perrier bottle with a little cap on it that fell off within a few days of getting the award. The Best Newcomer award (past winners include Noel, but not in the same year) is a much grander looking prize, consisting of a Perspex oblong inside which is a Perrier bottle made out of bubbles.
- There are many uses of kitty litter that do not involve a kitty. It can absorb just about any sort of bodily substance including urine and vomit. When you drop your mobile phone down the toilet you could use kitty litter to absorb the water. The most profitable use was probably invented by the American tobacco industry, who bulked-up their small cigars using the ingredients of kitty litter to become big cigars as a way of avoiding tax. They avoided paying over a billion dollars. Kitty litter was used because it was a neutral material that burns and does not taste of anything unpleasant. You can also put kitty litter in a pair of tights, tie off the top, and leave it overnight in a pair of shoes to keep them fresh.
- Tangent: You can also use rice to absorb the water if you drop your phone down the toilet. It was used as a plot device in an episode of Elementary.
- Tangent: In one episode of Jonathan Creek, Jonathan has to wee into some kitty litter because he is trapped in a cellar for a long time.
- XL Tangent: There is a possibly apocryphal story that Winston Churchill and the American lawyer Clarence Darrow, who served in the Scopes Monkey Trial and defended a teacher who taught evolution in schools, that in order to withdraw people's attention to what they were saying and thus make them agree with them they would stick a needle or a long pin lengthways into their cigars so the ash would not fall off. Thus people would stare in amazement at the ash not falling while Churchill and Darrow made their points.
- XL Tangent: Another use of kitty litter is that if you put some in your fridge (uncovered) it will get rid of unwanted smells.
- The product that originally put Kendal on the map was a machine, built in 1750 and probably the oldest working machine in the world still in use, to make snuff. It was originally built to make gunpowder, but it came down to Kendal when it was used to make snuff. The Kendal Snuff Mill is still in existence. The panel are given snuff of differing flavours to try: Alan has Christmas pudding, Colin has champagne, Noel has whiskey and honey, and Ross has Perrier. The downsides to using snuff is that it makes your snot brown so people who use snuff use brown handkerchiefs, and it slightly increases the risk of nasopharyngeal cancer. The advantages of snuff over smoking are that it is very self-contained, there is little risk of lung cancer, emphysema or heart disease, it does not make your clothes smell and there is no second-hand smoke risk. (Forfeit: Mint cake)
- XL Tangent: Members of Parliament get a free snuff ration. A Freedom of Information request revealed that one box of snuff lasts two years and costs £6.
- The reason why there is a tiny woman in the panel's snuff tins not wearing any pants (although actually it is just a head shot in their tins) is because this said woman became the first modern celebrity by going commando. The mid-18th century courtesan Kitty Fisher fell off her horse in St. James's Park and it was revealed that she did not have any underwear on. Fisher can be claimed to be the first celebrity because she had no other accomplishments. Fisher exploited this incident hugely and there were snuff boxes produced that had pictures of her with no underwear on. There were also montres lubriques, or lubricious watches which used the clockwork to show Fisher doing various pornographic things. Casanova said that Fisher once ate a 1,000 guinea note with butter spread on it, which was enough money to buy an estate. Fisher also had portraits painted of her by Reynolds, the great portrait artist of his day, but because she had so many affairs Reynolds had to keep all of the paintings because by the time one of her lovers came to ask to have a portrait of Fisher she had already moved on to another man.
- XL: There are many features you really do not want on a submarine, most of which were on the K-Class submarines used by the British during World War One. The K-Class totally bombed in terms of terrible design and was nicknamed the "Calamity Class". Out of the 18 built, 6 were sunk in accidents and only 1 ever engaged an enemy vessel. The one that did engage fired a torpedo in mid-ships but the torpedo did not go off. The key problem with the K-Class was that it was not fast enough to keep up with surface convoys. In order to go fast enough it needed a steam engine, meaning it needed funnels that had to be kept above water at all times. When the submarine moved seawater poured down the funnels and put the boilers out. The submarine K1 once manoeuvred to avoid a sudden turn by the leader of the flotilla, the HMS Blonde, but the boilers flooded and K1 lost power. Another sub, K4, piled into K1, seawater poured in and reacted with the batteries which produced poisonous chlorine gas. The crew, consisting of 56 men, had to be transferred to HMS Blonde, and then HMS Blonde sunk K1 to avoid it falling into enemy hands. The K-Class was 339 feet long and could only dive to a depth of 200 feet, so the tail would always poke out of the water.
- An extendable window cleaning pole and a pan scourer make a useful kit for keeping an eye on basking sharks, the second largest fish in the world. They are endangered, so a couple from the Isle of Man, Graham and Jackie Hall, use these materials to scrape the slime off basking sharks to collect their DNA, which they send to the University of Aberdeen who use the DNA to keep an eye on the shark population.
- Tangent: Colin jokes that the way you can tell you are being chased by a gay shark is you hear the Jaws theme music turn into "Can't Take My Eyes Off You".
- Another kit, consisting of reels of cotton and luminescent pins, can be used to expose fraudulent mediums (although Stephen states down the camera and says that all mediums are fraudulent). Dr. Eric Dingwall used the materials to expose the mediums back in the 19th century. He would attach thread to people's legs to see how they moved in the dark, and attached the pins to people so again he could see them in the dark.
- XL Tangent: Alan knew a woman whose husband passed away and went to see a medium. The medium said: "Your husband is fine, he's with your father." The woman then told the medium that her father is still alive, to which the medium said something along the lines of "Not for long." The woman still paid £40 at the end of the session.
- XL: The thing that comes flat-packed and takes four months to assemble is a hospital ordered by Florence Nightingale when she was out in the Crimea. It was designed by Isambard Kingdom Brunel in just six days and it could easily be expanded. It was originally designed to hold 500 patients, but it grew to twice the size. (Forfeit: Anything from Ikea)
- XL Tangent: When he was 36 Brunel was performing a party trick for his children with a half-sovereign coin which he nearly choked on. The coin stayed in his throat so they tried a tracheotomy and used forceps to get the coin out. This failed, so Brunel designed a rack which would tip him upside down, and after being slapped on the back a few times the coin came out.
- XL Tangent: Flat-pack furniture was invented in 1956. The founder of Ikea is Ingvar Kamprad, which is what the "Ik" in "Ikea" stand for. One of their employees, Gillis Lundgren, came up with the idea of flat-pack furniture when he took the legs off a table to transport it in a car. Alan has an Ikea table and chairs that he claims has lasted 21 years. The largest branch of Ikea is in Sydney.
- XL Tangent: Noel did some gigs at the Sydney Opera House. He was inside the Opera House doing some press and at one point he looked out the window and wondered why he could not see the Sydney Opera House, forgetting he was already inside it.
- XL Tangent: The Australian town of Narrandera claims to have the southern hemisphere's second biggest playable guitar.
General Ignorance
- A Roman soldier's salary was in money. The word "salary" comes from the Latin for salt, but they were not paid in it. Their money was used to buy salt, but it was also used to pay for uniforms and much else. The audience get the forfeit. (Forfeit: Salt)
- British wine comes from aboard. This is because British wine is made from exported grape concentrate, whereas English wine comes from actual vineyards in England. As a result English wine gets an unfair name because people drink British wine thinking it is English wine. Britain has over 400 vineyards currently, but there were also vineyards in Roman Britain and during the medieval warm period.
- Knick-Knack Experiment - Stephen tries to impress everyone using martial arts skills with a display of karate. Firstly the panel are given a piece of paper and a ruler. The ruler is put two thirds of the way on the desk, and then the paper holds the rest of it down. The air pressure over the paper allows the panel to easily karate chop the ruler. Stephen then chops a pile of three bricks (he breaks two), and then gets Alan to nominate a brick to chop from another pile. Alan chooses the middle and Stephen does chop it, but Stephen then reveals that they were dummy bricks.
Scores
- Ross Noble: 4 points
- Noel Fielding: 1 point
- Alan Davies: -6 points
- Colin Lane: -9 points
- The Audience: -10 points
Broadcast details
Date

Friday 13th September 2013

Time

10pm

Channel

Length

30 minutes
Cast & crew
Supporters and subscribers get more
Additional content and tools are available across the site for Supporters and BCG Pro subscribers. On this page you can:
Broadcast details of 42 further repeats of this episode
This episode's inital overnight ratings
Already a donor or Pro user? Sign in