Series K, Episode 7 - Knowledge
Further details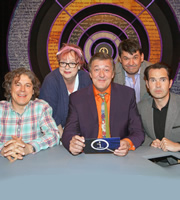 Topics
- QI's most famous question settled once and for all, for now... "How many moons does the Earth have?" It turns out there are now about 18,000 of what NASA calls "mini moons" or "temporarily captured objects". This question is related to the fact that facts are not permanent and change with new information. Back in Series A it was two, then in Series B this was revised to either one or five. One of the recently discovered mini moons is called RH120, which orbited the Earth four times between 2006-07. Academics refer to an event called the "Half-life of facts", which says that over time half of what you know will be untrue, but you do not know which half. On QI it is estimated that 7% of the things mentioned in this episode will be untrue in a year's time. If you are watching a repeat on Dave even more of the facts mentioned will be untrue. A graph is shown displaying the "Decay of QI So-Called 'Facts'", showing the increasing amount of facts that are wrong in older series, with 60% of facts in Series A perhaps being wrong. On the plus side for the panellists (except Graham as it is first time on the show) everyone else on the show is owed points for things that it turns out were right all along. Jimmy is owed 43.58 points, Jo is owed 84.73 points, The Audience are owed 23.24, and Alan is owed 737.66 points. (Forfeit: Three, One, Six, Two)
- Tangent: Jo did a course at university called "The Sociology of Science" (she got a grant for it) during which she learnt that there is no such thing as a fact. In medical colleges students are usually taught that half of what medical students are going to learn will be considered untrue in about 10-20 years.
- The following is a list of QI facts there were given in good faith but have now since been proved to have been wrong:
- In Series I, it was said that nobody knows how to tell the age of a lobster. Now Canadian scientists have discovered that you can tell the age, by dissecting their eye stalks and counting the rings.
- In Series G, it was claimed that giraffes may have evolved their long necks to fight each other, but zoologists no longer believe in this hypothesis.
- In Series A, the millipede with the most legs had 710, but now a longer one with 750 legs has been discovered.
- XL: We do not know much about the private life of Scottish Mr. Smellie, but we do know his greatest achievement - he was the first editor of the Encyclopaedia Britannica. William Smellie came from a banned Protestant sect who were so persecuted that they did not keep any records in case it was used against them. Smellie was paid £200 for heading up the team that edited the original encyclopaedia. Another editor, Andrew Bell, was four-and-a-half feet tall and had a very big nose. If someone made a joke about his nose, he would quickly leave the room and return wearing an even larger papier-mâché nose. The first edition of the Encyclopaedia Britannica took three years to complete and cost £12 for three volumes. The first volume was just A-to-B. In the first edition Kensington is defined as: "A pleasant village two miles west of London", California is spelt with two Ls and is defined as: "A large country in the West Indies, possibly an island or a peninsula", the entry for women just reads: "The female of man. See homo", and the entry for applause is: "An approbation of something signified by clapping the hands. Still practiced in theatres."
- XL Tangent: Jo hates the "Encyclopaedia Britannica" because her aspirational parents made her read it. Jimmy describes it as: "a dictionary that sort of just won't stop."
- XL Tangent: In the 1960s American Dr. Harvey Einbinder hated the "Encyclopaedia Britannica" so much that he wrote a book called "The Myth of Britannica" which listed all the errors it made.The book is 390 pages long.
- The inventor of the thermometer spent 30 years measuring his own weight. Sanctorius Sanctorius of Padua (the same place Galileo was from) measured not just his own weight, but also that of the food he ate and the faeces and urine he expelled, in order to find out why when you eat so much food your own weight does not increase by the same amount and why the matter you excrete weighs less than the original food you ate. Sanctorius wrongly believed that the rest came out of your skin and believed that it was dangerous to cover most of it up because you are not letting poison out. (Forfeit: Temperature)
- Tangent: A joke from Jimmy. A nurse finds a rectal thermometer in her pocket and goes: "Aw! Some arsehole's got my pen." Another joke from Jo goes that a nurse comes running and says to matron: "Oh dear, I think I've got something the wrong way around. You asked me to prick someone's boil." Jimmy also claims that the main difference between oral and rectal thermometers is taste.
- XL Tangent: In a weightless environment the lavatory is a hole in the wall. Also in space you do not snore.
- The thing you can find out by hiding under a students bed is what they are really saying. In the 1930s an experiment was carried out by researchers who hid under beds to record conversations amongst students without the students knowing. 40% of conversation was about the students themselves. This question is related to unethical research. Another study in 1976 called "Personal Space Invasion In The Men's Restroom" involved hiding a camera under the partitions to see how men filled space in public lavatories. In 1942, psychologist Lawrence LeShan tried to use sleep-learning at a summer camp to get boys to stopped biting their fingernails. He recorded the phrase, "My fingernails are terribly bitter" on a phonograph and played it 300 times a night while the boys slept. While one boy did appear to respond positively the phonograph broke after five weeks. Thus in order to keep the experiment going LeShan just stood outside where the boys slept and repeated the phrase himself over and over again through the night. He claimed the experiment worked, but it is now generally believed that the boys were just freaked out about the experience.
- Tangent: Jimmy used to be a shy pee-er. Graham's technique for getting around it is to imagine the most embarrassing thing he can do. For example, saying "I think love you" to the man standing next to him. There is a story about Bono going into a gents, and there is a period of silence between himself and a man next to him. The man next to him eventually says, "Bit of stage fright, Bono?"
- The Romans told their Keiths from their Kevins, and indeed anyone else of a different name, by hiring someone whose job it was to remember everybody's names and to remind you of the right name when someone came to greet you. This person was called a "nomenclator".
- Tangent: Graham jokingly claims that his technique for remembering names is to say: "Excuse me for just a second", and then go home. However, his real system is that he and his wife Helen go over to someone whose name Graham does not know. Graham stands in total silence, then Helen says, "I'm sorry, my name's Helen." Then the person will usually respond, "Oh, my name's ..." at which point Graham will say, "Oh I'm sorry, this is..." and just repeat the name mentioned.
- XL: You know you have had enough food because your brain reminds you of a past experience when you have had enough previously. In comparison people with short-term memory loss may forget that they have just eaten 20-30 minutes after a meal, and might eat three or four heavy meals one after another. One way to avoid this is to use a bowl of soup with a mechanism on it which fills or empties itself at set times.
- A question about kith and kin: the best way of avoiding talking to your mother-in-law is to use one of the avoidance languages spoken by some Australian Aboriginal peoples. This language is designed to avoid taboo subjects and it is also common to avoid looking at each other by looking at the ground. The Japanese also have a similar language when speaking to the royal family.
- Tangent: Jimmy says that your mother-in-law is like Christmas Future. If you do not like your mother-in-law, you are in all kinds of trouble many Christmases in the future because that is what you are marrying into. Alan claims his mother-in-law makes no noise when she moves. Stephen tells the old story about a boy who is pleasuring himself with his eyes closed and is so distracted that when he opens his eyes he finds a freshly made cup of tea has been left by his mother.
- XL Tangent: The panel tell some of Les Dawson's mother-in-law gags such as the one where he is walking down the street with his wife and they see the mother-in-law being beaten up by six men. The wife says: "Aren't you going to help?" and Les says: "No, six should be enough." Another says that: "My mother-in-law came round. The mice were throwing themselves on the traps."
- The thing that a stork brought to the German city of Klutz was an arrow or spear that went through its neck and head, but the bird was still alive. The arrow however came from Africa, which resulted in people in Europe finally discovering that birds fly south for the winter. This was in the 1820s and before this people assumed that birds did all kinds of things during winter, such as go underwater or change into other animals. Dr. Samuel Johnson wrote that, "Swallows certainly sleep in the winter. A number of them conglobulate together by flying around and round and then all in a heap throw themselves underwater and lie on the bed of the river."
- XL Tangent: In the Spanish Inquisition torture victims were placed on spikes, through the arsehole, right through the body and out of your shoulder, missing all the vital organs. The Inquisition lasted for 350 years.
- XL Tangent: Butterflies also disappear during the winter because they fly a kilometre up in the air when going south for the winter. Jo was once on her school bus and she managed to catch a butterfly in her hands. She opened a window and let the butterfly out, only for it to be almost instantly eaten up by a bird.
- The panel are asked to add some three-digit numbers up. However, the numbers are shown incredibly quickly. This is possible to do, especially if you are from Japan or China, where they count using abacuses. This is known as "Flash Anzan" in Japan, which involves adding 15 three-digit numbers shown very quickly. The world record holder did this in 1.7 seconds. People can do these calculations while holding a conversation at the same time because it uses a different part of the brain. However, they cannot remember the numbers they entered to get the total. One reason that Japanese and Chinese people are good at this is because of the language. If you say numbers together it automatically adds them up linguistically.
- XL Tangent: In Malcolm Gladwell's book "Outliers" it states that in Japan and China they use fewer syllables in their numbers which gives them a greater aptitude for adding them up as children.
- XL Tangent: Stephen has a composer friend who came to his house and at that time Stephen had a full orchestral score for "Don Giovanni". His friend just opened it and started playing it on the piano, while at the same time talking to Stephen. Stephen then realised what his friend was doing. He was playing a score which was written out describing all the sections, played by many other instruments, which thus has to be transposed because they are in a different key, while talking to him at the same time.
Scores
- Alan Davies: 689.66 points (Alan's 21st victory)
- Jo Brand: 85.73 points
- Jimmy Carr: 33.58 points
- The Audience: 23.24 points
- Graham Linehan: -19 points
Broadcast details
Date

Friday 18th October 2013

Time

10pm

Channel

Length

30 minutes
Cast & crew
Supporters and subscribers get more
Additional content and tools are available across the site for Supporters and BCG Pro subscribers. On this page you can:
See 2 press clippings related to this episode
Broadcast details of 34 further repeats of this episode
This episode's inital overnight ratings
Already a donor or Pro user? Sign in