Series K, Episode 13 - Kitchen Sink
Further details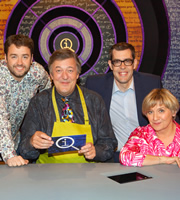 Topics
- The panel are shown a list of strangely-named dishes and are asked what they are:
- Buttocktongue: Biltong from the hind of an animal.
- Tangent: Victoria and Alan are both vegetarians.
- XL Tangent: Biltong is usually ostrich or dik-dik meat, but it can also be horse, beef, impala, wildebeest, eland, giraffe or kangaroo meat. In 2013 a survey revealed that two-thirds of biltong was incorrectly labelled, meaning that people wanting to buy horse biltong got beef instead.
- Kleftiko: A thief's dish, as in "kleptomania", usually made with lamb. It originates from Greek anti-Ottoman bandits.
- Nun's farts: Now normally called "Nun's puffs", these are deep-fried pastry balls which puff up. They are also called, "Whore's farts" and "Spanish farts", or in French, "pets-de-nonne" - "Pet's fart".
- Tangent: "Pumpernickel" comes from the German "pumpen", meaning fart, and "Nickel" as in Old Nick. So it means "Devil's fart".
- XL: Pocket Soup - A solidified, reduced soup, a bit like a stock cube, which becomes liquid when you add boiling water to it.
- Anti-venereal treacle - Originally treacle was the name given to any form of medication.
- Tangent: In America some children are called "Verruca" because they take the name from the book Charlie and the Chocolate Factory, but they are unaware of what the word means because they do not use the word "Verruca" to mean a type of wart on the foot.
- Dog and Maggot - Akin to hard tack, it is a sea biscuit eaten by British sailors during WWI with the consistency of a dog biscuit, that was often infected by maggots. There is a scene in the film Battleship Potemkin in which sailors are given biscuits crawling with maggots.
- XL: Kunga Cake - An African cake made out of midges, that are collected together in their mating swarms.
- XL Tangent: In a previous QI Stephen ate a chocolate-covered ant and lived to regret it, because it gave him indigestion and it got stuck in his teeth. While Stephen claims this occurred with an ant, Richard jokingly claims the same thing happened to him with Dec.
- The panel are now given some unusual cutlery and are asked what you would eat with them.
- Alan: A wooden square fork, in which the four prongs making up the corners of a square. It was used by cannibals on Fiji to eat human flesh. The eater does not use the fork, as it used by those very high up and who are instead feed by another person.
- Tangent: Jason tells a cannibal joke. Two cannibals are eating someone and one says, "You start at the toes, I'll start at the head." They do so and half-way through the one at the head-end says: "You all right?" The other cannibal says: "Yeah, I'm having a ball." The first says: "You're going too fast."
- XL: Alan: A pair of unusually shaped tongs which are normally used to eat snails with. The tongs hold the shell and then you use a little fork to get the snail out.
- XL: Victoria: A spoon with a large dent in the stem. The spoon is used for honey, but because it is sticky you do not want to place it anywhere else than inside the bowl you are eating out of, so the dent allows you to rest the spoon on the edge of the bowl easily.
- Victoria: A strangely pronged metal spoon/fork which is used for eating terrapins and turtles.
- Jason: A hollowed-out gravy spoon with a detachable handle. You fill the head of the spoon with hot water and you use it to keep the gravy warm.
- Richard: A type of metal straw and stirrer with one end having lots of different holes which is used to drink Argentinian mate tea. You can stir the tea and drink it without a strainer.
- XL: The attachments you would to expect to find on a Swiss student knife are not that many. There are only two blades. Pocket knives were originally imported from Germany in the 1890s, but then Swiss man Karl Elsener won the contact to make them locally. As all members of the Swiss army had to have one, and every man in Switzerland was in the army at some point, this was a good business contract to have. The original Swiss army knives were black with a wooden handle and included a screwdriver so solders could dismantle their guns. Apart from student/schoolboy knives there were also farmer's knives and then in 1897 the officer's knife was introduced which looks more like the Swiss army knife we are used to today. 65 million are made per year.
- XL Tangent: Stephen once brought a moving Swiss army knife advertising display from a shop that was closing down.
- XL Tangent: There are Swiss army fragrances for men and women. The "Classic" male fragrance is described thus: "The Classic is a fresh, aromatic fragrance for man that stands for refinement and vision. It has notes of yuzu, geranium and lavender. It radiates a disarming masculinity." The female fragrance is marketed as being for, "straightforward, uncomplicated women who enjoy asserting their femininity alongside their athleticism." It contains notes of Paraguay tea, cedar and hay.
- XL Tangent: Norfolk knives were large multi-bladed knives made with a polished metal handle and containing an even larger number of blades than the Swiss army knife.
- Probably the quickest way to cool down your kitchen is to open a window. Opening up the fridge or turning on a fan produces heat because of the mechanical operations they use, as stated in the second law of thermodynamics. Thus the fridge would only cool down the kitchen if the back of the fridge was out of the room. Air conditioning units have the machinery facing outwards of the room. (Forfeit: Open the fridge; Turn on a fan)
- XL Tangent: John Gori, one of the pioneers of refrigeration, believed that heat was one of the things that made you ill, so he would lower huge bags of ice over patients to try and cure them. Gori then invented a refrigeration machine, which so angered exporters of ice that they tried to claim that their naturally frozen ice was better for you than ice that was artificially made. The campaign worked and Gori died in poverty. Jason spotted a bag of ice in a supermarket that was sold as "Extra-slow-melting ice", but it was still just plain frozen water.
- The breed of dog which makes the best kebab is the turnspit dog. Now extinct, this dog was bred to walk in a large wheel which turned a spit around. It would do this for six days of the week and on Sundays were used to warm people's feet up in church. Queen Victoria kept retired spit dogs as pets. In 1765 there were 3,000 turnspit dogs in Bath alone. However, one William Cotesworth of Gateshead said got rid of his turnspit dog: "To keep the dog from the fire, the wheel out of the way and the dog prevented from shitting upon everything it could." (Forfeit: Sheepdog; Sausage dog)
- Tangent: There is a takeaway near to where Jason lives called "Kebabish", which makes it sound like even the owner is not sure what meat he is using.
- Tangent: Doner kebabs are one of the most unhealthy foods sold in Britain. The average doner has 1,000 calories, which is half a woman's daily allowance, but some have 2,000 calories. An average doner also has 98% of the daily allowance of salt and 148% of the recommended daily allowance of saturated fat. "Doner" is Turkish for a spit.
- Tangent: The standard kebab is the skewer or shish kebab. As a boy Stephen used to believe that you had to pull the food of the skewer with your mouth so when he would bite into the kebab and slide it off the skewer.
- Tangent: Victoria does not have dogs, saying she does not like things that do not talk.
- When the Koreans went into space the thing they chowed down on was kimchi. A special space version of this dish, which contains cabbage, radish and chilli, was made. It cost millions to make, was bacterially more sound and survived in space better. This disc is generally considered more loved by the Koreans than any other dish by any other culture. The South Koreans eat 2 million tonnes of kimchi a year. Some people make their own and bury it in a sealed jar over winter, whereas other people have kimchi fridges. In 2010 a cabbage crop failure resulted in the price of kimchi rocketing up by 400%. When Chung Il-kwon was president of South Korea during the Vietnam War, he said to President Johnson that when he was out of Korea he missed kimchi more than his wife.
- Tangent: Jason claims that the North's love of pies could rival the Koreans love of kimchi. He once spotted a baker's van in Wigan which had a sticker on it reading: "No pies kept in this van overnight."
- XL: You could get money out of the king of Scotland by having good table manners. In the 12th century King David I of Scotland gave people tax rebates if their table manners were good, according to William of Malmesbury.
- XL Tangent: Queen Victoria still came from a generation where it was consider polite to burp after a big meal. She was also a very large woman. She was only 4'11" (the same as Kylie Minogue) but weighted 12 stone and had a 50-inch waist. The MP Norman St. John-Stevas collected Queen Victoria's 50-inch bloomers. There were also rules with stated that Queen Victoria would be served first during meals, and she would start eating straight away while everyone else was being served. However she was a very fast eater, consuming a 14-course dinner in half-an-hour, and another rule stated that once she finished all the other food was taken away, including that of the other diners. One courtier, Lord Hartington, was once heard to shout to a footman: "Bring that back!" because he hadn't finished eating. Victoria's doctors, worried about her obesity, recommended that she should take Benger's Food, a type of thick, milky gruel, as a supplement to help her lose weight. She took the supplement, but on top of her normal diet so she ended up eating an extra dish.
- By looking at the skull of Richard III you can tell that he ate with his hands. This is because the use of cutlery has resulted in the development of the overbite and Richard III's teeth rest perfectly on top of each other. Before forks the incisors would be smoothed down more because wrenched food using them.
- Tangent: In the film When Harry Met Sally Billy Crystal says that dancing is the "White Man's Overbite".
- XL: The traditional ingredients of kedgeree are eggs and rice. Fish is a very recent addition. The word "kedgeree" means a "mix-up". According to the Hobson-Jobson Dictionary of Anglo-Indian Words it says: "In England, we find the word is often applied to a mess of re-cooked fish served for breakfast but this is inaccurate. Fish is frequently eaten with kedgeree but is not part of it." (Forfeit: Fish)
- The chances are that you could not name two traditional Italian breads. Ciabatta is Italian, but not traditional. It was invented in 1982 by baker Arnaldo Cavallari, who wanted to stop the threat of French baguette taking over from Italian bread. He called it "Ciabatta Polesano", after the Polesine part of Northern Italy. "Ciabatta" is Italian for "Slipper". Other people claim it was actually invented in the 1940s but there is no evidence for this. (Forfeit: Ciabatta)
- The thing that you see coming out of your kettle as it boils is water vapour. Steam is invisible. You might see a gap between the vapour and the spout. This is steam that has yet to cool down enough to become visible vapour.
- XL Tangent: In 1784 the Kettle War between the Netherlands and Austria took place. Only one shot was fired on the Austrian flagship, with the Dutch firing at a kettle. The bullet ricocheted off the kettle and the Austrians immediately surrendered.
- Knick-Knack Experiment: Stephen has a flask containing a viscous liquid called polyethylene oxide. This is a liquid which glows in ultraviolet light and when you pour it at the right angle flows upwards.
Scores
- Alan Davies: -6 point (Alan's 22nd victory)
- Victoria Wood: -7 points
- Richard Osman: -17 points
- Jason Manford: -38 points
Broadcast details
Date

Friday 13th December 2013

Time

10pm

Channel

Length

30 minutes
Cast & crew
Supporters and subscribers get more
Additional content and tools are available across the site for Supporters and BCG Pro subscribers. On this page you can:
See 2 press clippings related to this episode
Broadcast details of 43 further repeats of this episode
This episode's inital overnight ratings
Already a donor or Pro user? Sign in