Series F - Fire And Freezing
Further details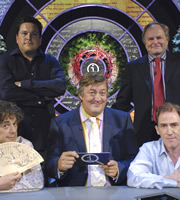 Theme
- The panel are dressed in winter clothing.
- The buzzers have a fire theme. Alan's buzzer features Sir Alan Sugar insulting him and telling him he was fired.
Topics
- In Native American smoke signals, one puff usually meant "Hello" and two puffs usually meant "All's well". However, the meaning of signals did differ from place to place.
- Tangent: Wet straw is used to make the smoke black in the Vatican whenever a new Pope has not been elected.
- Tangent: For centuries in Britain, the signals used in case of invasion were flaming beacons.
- Communicating with paper fans came about in the 19th century in France. A booklet was made of signals that users could make to each other - this was probably designed to increase fan sales. To swing the fan around means, "I love another", and closing the fan slowly means, "I promise to marry you". Fans were invented in China, and were brought into Europe via Italy by Marco Polo.
- Nothing has happened to the fireman's pole. There are many stories printed in the newspapers about poles being removed for health and safety reasons, but it is completely wrong. The main reason why there are fewer poles nowadays is because most modern fire stations are built with just one floor, so no pole is needed. The longest fireman's pole in Europe is in Birmingham, measuring 40 feet long. (Forfeit: Health and Safety Gone Mad)
- Tangent: The fire brigade was invented by insurance companies. When you took out the insurance, you got a metal plaque which you put in the wall of your house saying which company was protecting your house. If your house did catch fire, fire brigades would come from all the insurance companies, but they'd turn around and go back if you didn't have a plaque from their company. If you had no plaque, then your fire would not be put out, that is unless your next-door neighbour had a plaque, in which case your fire was put out to prevent their property catching fire too.
- Tangent: Rob explains, in a very long-winded and deliberately patronising way, that smoke tends to kill people before the fire does, This is because smoke makes it harder to breathe.
- Tangent: When striking a match, always strike it away from you, otherwise the flash point will come towards you and might cause you to catch fire. Alan was once told about an old woman who died when striking a match towards her. Dom says that one contributing factor to the death may have been urine, because a property of dried urine is that it is flammable.
- Tangent: In Australia, people say, "I wouldn't piss up his arse if his kidneys were on fire."
- The worst thing you can do if you are a fire-eater is to inhale, as this causes 'Fire-eaters lung'. Fire-eating is as bad as it looks and it causes terrible damage to the mouth. It is more akin to fire spitting than eating because the mouth is filled with lighter fluid (which is toxic) and then spat into the fire.
- During the Second World War, there was a plan to make an aircraft carrier from substance made from ice and sawdust, called 'Pykrete'. Pykrete is stronger than steel and does not melt. Lord Mountbatten convinced Winston Churchill to make a pykrete aircraft carrier after he threw some in Churchill's bath and showed him that it did not melt in his bath water. The proposed ship would have had guns on it that fired super-cooled water to immobilise the enemy, and could be repaired using seawater. However, the ship was never made because of the D-Day landings.
- Tangent: Dom correctly points out that the ship in the picture shown to accompany the question is not an aircraft carrier, but a destroyer.
- The original 12 Days of Christmas, does not contain the most famous line associated with it. A man called Frederic Austin changed the line "Five gold rings" to the version we know now, and the line is still copyrighted today, so whenever it is played you owe Novello and Co money. (Forfeit: Five Goooold Rings)
- Tangent: There are games such as, 'In my trunk' in which you say one item, and then you have to say and then another item, and then those two items and another item and so on until you cannot remember the whole list. Stephen's favourite version is called "Christopher Biggins has got up his bottom tonight", in which you say a person's name (e.g. Arnold Schwarzenegger) and then you say that name followed by another whose first name begins with the last letter of the previous surname (e.g. Rodney Bewes).
General Ignorance
- When you blow out a candle, there is a drop in temperature that causes the fire to go out. Fire needs three things to work: oxygen, heat and fuel. Trick candles use a wick that is made out of a material which burns at a low temperature, this is the reason they are hard to blow out.
- Tangent: Rob comes from Port Talbot, the same town as Richard Burton, Anthony Hopkins and Michael Sheen. Rob's father and Anthony Hopkins grew up in the same street. Stephen says that English people grew up in houses.
- Yes or no: "You know how sometimes it can be too cold to snow?" The answer is no. While it is true that you need some moisture in the air to snow and that there is less moisture when it is very cold, snow has been recorded at -41 and even -50 degrees Celsius. The only temperature where it is too cold to snow is absolute zero, where nothing happens at all. (Forfeit: Yes)
- Tangent: -40 degrees Celsius and -40 degrees Fahrenheit are the same. This is the point where the two scales meet.
Scores
- Clive Anderson: 8 points
- Alan Davies: -6 points
- Rob Brydon: -8 points
- Dom Joly: -16 points
Notes
This is the first episode of QI to be shown originally on BBC One.
Broadcast details
Date

Monday 22nd December 2008

Time

9pm

Channel

Length

30 minutes
Cast & crew
Supporters and subscribers get more
Additional content and tools are available across the site for Supporters and BCG Pro subscribers. On this page you can:
See 2 press clippings related to this episode
Broadcast details of 2 further repeats of this episode
This episode's inital overnight ratings
Already a donor or Pro user? Sign in