Series F, Episode 3 - Flotsam And Jetsam
Further details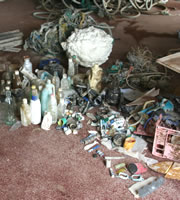 Theme
- This is the "General" show in Series F, covering a wide range of different topics beginning with "F".
Topics
- Each member of the panel has an International Maritime Flag:
- Charlie: R for Romeo, meaning "You can feel your way past me."
- Andy: Z for Zulu, meaning "I require a tug."
- Rob: J for Juliet, meaning "I'm on fire," or, "I'm leaking."
- Alan: D for Delta, meaning "Keep clear of me, I'm manoeuvring with difficulty."
- Stephen: U for Uniform, meaning "You're running into danger."
- XL: Semaphore is a similar language that uses flags. The symbol for "N" is to hold the arms diagonally downwards (one each side) and the symbol for "D" is right arm straight up and left arm straight down. If you stand them one behind the other it creates the "Ban the Bomb/Peace" symbol, because N.D. stands for "Nuclear Disarmament".
-
Tangent: On The News Quiz (which Andy regularly appears on) there is sometimes a signer for the studio audience. Because it regularly mentions people in the news, some of sign language is rather appropriate. For Prince Charles, the sign language is to stick the ears out. For Bill Clinton, the signer opened his flies. In American sign language, the letter "R" is given by making an "R" shape with your fingers. Therefore, the sign language for Ronald Reagan is to give two "R's" (one with each hand).
- The panel are shown some more International Maritime Flags and asked to guess what they mean. They are shown the flag for O (meaning "Overboard"), N (meaning "No") and F (meaning "I'm disabled, communicate with me"). International Maritime Flags and Semaphore are no almost redundant.
- XL: Lord Nelson used flag signals during the Battle of Trafalgar. Nelson wanted to say to his men, "Nelson confides that every man shall do his duty." However, there were no flags for the words "Nelson" or "confides", so it became, "England expects every man shall do his duty." It would be possible however to do it letter-by-letter, but it would take too long to do.
- XL: The people who burn the most American flags are the Americans, in particular the Boy Scouts of America and the American Legion. If a flag becomes dirty, burning it is believed to be most dignified way to dispose of it. The Americans are unusual in that they have almost a religious view of their flag, where as countries like the UK reference national pride with things like the Royal Family.
- XL Tangent: Andy was a Boy Scout and he once went to Sweden to an international jamboree of Boy Scouts. The British Scouts were next door to the Americans, and the British were getting annoyed by the "squeaky clean" Americans, in particular the fact they always flew their flag every morning. So one of the British Scouts, the very quick John Pennington, ran, stole the flag, and fled into the woods. As a result of this the Americans threatened to leave, so a delegation came to sort out the mess and the British had to hand the flag back.
- XL Tangent: The British flag is the Union Flag. It is only known as the Union Jack when flown on a boat. The only US state to have the Union Jack in its flag is Hawaii. Correction: According to a parliamentary statement, common usage of "Union Jack" when referring to the British flag is correct. Therefore, it is the Union Jack anywhere.
- The difference between flotsam and jetsam is that flotsam is debris which has washed up on shore because of a shipwreck (by accident), while jetsam is debris which has been deliberately thrown off the ship (cargo that is jettisoned). They are two of the four officially recognised kinds of debris. The other two are lagan, which is debris in the sea which can be rescued because it is normally attached to a buoy, and derelict, which is debris at the bottom of the sea which no-one can rescue.
[colour=#000080]-
XL Tangent: If you find a piece of wreckage and claim it for yourself you can be fined
Notes
This is the first episode to be given an extended repeat. See the QI Quibble Blog for the union flag and Statue of Liberty lighthouse corrections for more information.
Broadcast details
Date

Friday 9th January 2009

Time

9pm

Channel

Length

30 minutes
Repeats
View more broadcast data
Help celebrate and promote British comedy by donating to fund more content and functionality. BCG Supporters get extra features in return, including this episode's audience figures and further repeats data.
Find out more
Already a donor?
Sign in
Cast & crew
View related press
Help celebrate and promote British comedy by donating to fund more content and functionality. BCG Supporters get extra features in return, including press coverage related to this episode.
Find out more
Already a donor?
Sign in