Series F, Episode 7 - Fingers And Fumbs
Further details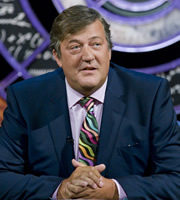 Extra Tasks
- XL: "F***ing Forfeits - A 10 point penalty is given to any member of the panel who says "F***". However, after each use of the word, the panel play "Scissors, paper, stone" with Stephen. If they win, the penalty is halved. If Stephen wins, the penalty is doubled. If it is a tie, the penalty stays the same.
Topics
- F***ing Forfeit: Jo loses 10 points. However, she does not get the chance to gamble because Stephen did not fully introduce the task.
- "Fargling" is an American word for the game "Scissors, paper, stone". The best move to open with when fargling, according to New Scientist, is scissors. This is because out of the three, stone is the one that comes to mind first. As a result, you will want to play paper to beat it. However, if your opponent is likely to play paper, then you can bet them with scissors.
- F***ing Forfeit: Phill loses 10 points after he and Stephen both play scissors.
- Tangent: Jo says that the best person to play fargling with is with a Saudi shoplifter, because cutting off limbs is a common form of punishment in Saudi Arabia. This leads to the panel talking about playing against Abu Hamza.
- XL Tangent: In India and Indonesia, they play a similar game called "Ant, Elephant, Human". In this game, the elephant kills the human, the human kills the ant, and the ant scares the elephant (similar to the old myth about them being scared of mice).
- The panel conduct an experiment using pencils. Dara and Phill take their pencils and bite them between their teeth, while Jo and Alan hold theirs between their lips. Stephen then asks them (with their pencils still in their mouths) which of the following words are funniest: "Quack" or "Moo". The answer is "Quack", because saying the letter "K" makes you smile. This was proved in an experiment which involved people putting pencils in people's mouths to make them smile. This phenomenon is called "Facial feedback".
- Tangent: The use of pencils in the panels' mouths leads Phill to suggest that Stephen would prefer them to wear ball gags, and goes on to suggest Stephen is a fetishist.
- F***ing Forfeit: Dara loses 10 points after he and Stephen both play scissors.
- It was proven by a man at Salford University that a duck's quack echoes. He did this by putting a duck in a reverberation chamber. (Forfeit: It doesn't echo)
- The ideal way to kiss a Frenchman depends on what region of France you are in. Two kisses are normal in central and southern France and four in northern France. However, in Corsica it can be as many as five kisses. In Belgium and the Netherlands, three kisses is the usual amount.
- XL Tangent: In American, only one kiss is given. In Spain, you always kiss the right cheek first.
- Tangent: When Dara asks what is the correct number of times to kiss an Englishman, Alan says the correct way to do it is to kiss while cupping their genitals. The man will want to do anything to take his mind off it. Stephen suggests that, while you cup, you should say "Carry your bag, sir?". In 1819, a German travel guide to London said that kissing as a sign of friendship between men is strictly avoided, "as inclining towards the sin regarded in England as more abominable than any other." Stephen claims that the worse sin is either sodomy... or queue-barging.
- XL: You can tell a lot about a footballer from the size of his fingers, and for that matter, any other person. The ratio between the lengths between ring and index fingers (2d:4d) has been the subject of study by Dr John Manning of the University of Liverpool for 35 years. It is mainly to do with the levels of testosterone and oestrogen. He claims that it reveals details concerning infertility, autism, dyslexia, migraine, stammering, immune dysfunction, myocardial infraction, breast cancer, and perceived dominance and masculinity (but not attractiveness) including things such as psychopathic tendencies and the ability to play football.
- XL Tangent: Alan asks if it is true that high amounts of oestrogen in water cause people to become impotent and turn gay. Jo then goes on to say that there is a woman at Rigby and Peller with a faint Austrian accent who can determine a woman's bra size by looking at a woman's breasts. Jo went to see her and the woman who said of Jo, "Oh, not as bad as I'd imagined!"
- A thorny devil drinks from his feet... and every other part of his body. Thorny devils drink from their feet when standing in a puddle. A type of Australian lizard, not only does it drink from its skin, but also from grooves and capillaries in it which go all the way to the corners of their mouths.
- Tangent: Jo claims to have coughed, sneezed and wet herself at the same time. She then asks if there is a facility for men to wet themselves when they cough. Phill claims that they sometimes poo a bit. Alan claims that you can wet yourself when you dream of going to the toilet. He once dreamed that he was on a boat with Elvis Presley when Alan asked where the toilet was. When he woke up, Alan had wet the bed. Elvis wore nappies in his final days.
- XL Tangent: There is a part of the urethra that curves down before it gets back, so some urine gets trapped at times. This is why sometimes when you go to the lavatory at night, once you get back into bed you want to go again. To solve the problem, just pull the organ in question down to release it (but not too far).
- You cannot really tell whether Alan, or for that matter anyone, was a criminal just by looking at them. There was a science called phrenology which is now discredited, in which people believed they could tell a person's personality from bumps on their head. Another similar "science" was physiognomy, which did a similar thing but instead with facial features. They were both however considered much respected sciences in the 19th century. Physiognomy was invented by Aristotle. According to him Alan would have been "dull of apprehension, soon to angry and given to lying and mischief... you are hard-hearted, envious, close and cunning, addicted to cruelty more than love." Dara is, "bold, malicious, high spirited, full of choler, apt to transgress beyond bounds, and yet with very good wit and very apprehensive." Phill is, "simple, vain, luxurious, lustful, credulous, clownish in his speech and conversation... a peaceful disposition... vain, credulous, a great supplanter of and secret in all your actions." Jo is, "proud, deceitful, detracting, venerous and full of envy."
- Tangent: Melbourne Jail has busts of all their murderers, such as Ned Kelly.
- Tangent: Stephen claims that Shakespeare knew that physiognomy was rubbish in advance because Duncan in "Macbeth" says: "There's no art to find the mind's construction in the face." Phill claims it would have been better if Shakespeare wrote about the duck's echo. As Dara and Phill act out a mock seen, they annoy Stephen by saying "doth" and "dost" wrongly.
- XL Tangent: After Stephen tells him off, Phill says that it is somewhat pointless seeing as how he got a "U" grade in English Literature and a "C" in English Language.
- F***ing Forfeit: Phill loses another 10 points. He and Stephen both do scissors again. Alan shouts out that Phill should be playing stone.
- The Thatcher effect is a phenomenon which makes it hard for people to recognise something is the wrong way up on a face when it is presented upside-down. This is demonstrated by presenting two upside-down pictures of Margaret Thatcher, one of which has her eyes and mouth facing the wrong way. This is shown again on two pictures of Alan. The Thatcher effect was discovered by Peter Thompson of the University of York.
- Tangent: Jo claims that "Lady Thatcher" sounds like a device for removing pubic hair.
- XL Tangent: Stephen has a friend who studied at the University of York who always claimed that the city has the largest plastic-bottomed lake in Europe. He goes onto say how awful it would if there was a larger plastic-bottomed lake in Europe.
- The panel are shown three different objects which appear to have faces on them. One is a face of the Madonna on Mars, second is Marlene Dietrich of the Virgin Mary on a piece of toast, and the third is Jesus on an ultrasound scan.
- F***ing Forfeit: Phill loses just 5 points when he wins by playing scissors against paper.
- XL: The eyebrows in the Mona Lisa have been worn away after years of restoration. When da Vinci painted it, there was a full set of eyebrows and eyelashes. Vasari, the great art critic of the time said that these features were brilliant. You can still see the eyebrows, but only in a x-ray. Marcel Duchamp painted a version of the Mona Lisa with a moustache and beard called "L.H.O.O.Q." When pronounced in French it is, "Elle a chaud au cul", meaning, "She has heat in the ass". 90% of all the people who visit the Louvre go straight to the Mona Lisa, look at it for three minutes or less and then leave. The University of Amsterdam used emotion recognition software to study the Mona Lisa's smile. They claim she is 83% happy, 9% disgusted, 6% fearful, 2% angry, less than 1% neutral and less than 0.25% surprised. (Forfeit: They were shaved off on her hen night)
- XL: David used 200 foreskins in order to get married. King Saul was worried that David would take over his throne, so he would only allowed him to marry his daughter, Princess Michael, if you could collect 100 Gentile Philistine foreskins. David collected 200 and so could marry. David did take over as King. (Forfeit: He made a catapult out of them)
- XL Tangent: Stephen jokes that there was a rabbi who collected foreskins, had them dried out and made into a wallet - whenever you stroked the wallet it became a briefcase.
General Ignorance
- XL: You will find the world's largest organ is in the Luray caves in Virginia, made of stalactites and is played with felted hammers. Created by Leland W. Sprinke, it is the world's largest musicial instrument. It could be argued that it more akin to a xylophone, but "Xylos" is the Greek for wood. (Forfeit: A blue whale)
- You cannot tell much about a man from the size of his feet. Most people wear the wrong size shoes. The size of your hands is in proportion to the size of your feet. It is also claimed that the size of your feet is the same as the point of your elbow to the lower half of your arm, up to the hand. In the UK, foot size is measured in barleycorns, which are a third of an inch long. Stephen and Dara both have size 13 feet. (Forfeit: The size of his shoes; The size of his penis)
- You have no muscles in your fingers - just tendons. The muscles in your hands and forearms control your fingers. You can prove this by pressing all your fingers down on a hard surface in a spider-like formation, then tuck you middle finger in. You can lift all your fingers except your ring finger, because they are controlled by the same tendon. Correction: It can be argued that there are in fact thousands of muscles in each finger, if you include the tiny muscles that cause your hairs to stand up, or your blood vessels to contract. (Forfeit: 1)
- It is easier to frown than smile. You use only 11 muscles to frown, compared to 12 when smiling. Alan pulls a big grin and claims he is using 23 muscles. He then gives the middle finger sign and says he is still using 23.
- F***ing Forfeit: Dara loses just 5 points because he plays stone to beat scissors.
- F***ing Forfeit: Alan loses just 5 points because he plays stone to beat scissors.
Scores
- Phill Jupitus: -24 points
- Jo Brand: -26 points
- Dara O'Briain: -28 points
- Alan Davies: -42 points
Notes
The "F***ing forfeits" are believed to have been omitted from the main Friday broadcast because of worries that they were not suitable for a 9pm broadcast. For the correction, see the QI Quibble Blog
Broadcast details
Date

Friday 6th February 2009

Time

9pm

Channel

Length

30 minutes
Cast & crew
Supporters and subscribers get more
Additional content and tools are available across the site for Supporters and BCG Pro subscribers. On this page you can:
See 3 press clippings related to this episode
Broadcast details of 30 further repeats of this episode
This episode's inital overnight ratings
Already a donor or Pro user? Sign in