Series F, Episode 12 - Food
Further details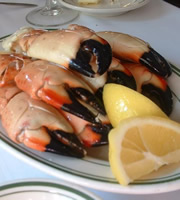 Theme
- Each member of the panel is given a tongue map, with ring sections on it. The panel are asked to label each section with each of the five main tastes, these being sweet, sour, salt, bitter and umami. However, it turns out that the idea of a tongue map is nonsense. There is not a part of the tongue which detects a certain taste. However, these maps still appear in many textbooks.
Topics
- The kind of animal that you can eat without killing is a stone crab. You can break off their claws and these claws grow back within a year, although the new pair is not of the same quality. Stone crab claws are very popular in Florida. The other acceptable answer is cows, because the Masai Mara tribe of Kenya and Northern Tanzania drink a mixture of the cow's milk and blood. They remove the blood without killing the animal by cutting the throat and binding the wound.
- Tangent: You can also argue that bacteria can be consumed without killing them. This leads to the panel attacking adverts for Yakult. Stephen goes on to talk about adverts featuring women complaining of feeling bloated or constipated.
- XL Tangent: You could also argue that tapeworms count as an animal you can eat without killing. At the turn of the 20th century, people were given pills with tapeworm eggs in them as a way of reducing weight and dieting. David and Jimmy debate about which end it is best for a tapeworm to come out of. Tapeworms clamp themselves to the wall of the stomach. David believes that when the tapeworm comes out, you roll it around a pen to drag it out, but he appears to be confusing this with a guinea worm.
- You can teach an oyster to keep its mouth shut. Oysters will stay fresh out of the water as long as they remain closed, but they live their lives opening and closing their shells in order to take in nutrients. So you have to teach them to keep their mouths shut for long periods of time so they will stay fresh. In France, this was done by hitting the oysters with metal rods, and they would learn to stay shut to avoid being hurt. When settlers first arrived in New York they found lots of oysters, some a foot long, but they could not transport them across America because they had no way of keeping them cool. So what they did was move them up river banks each tide, so the oysters had more time in the air and that would teach them to close their mouths for longer.
- The Mounties used fruit machines in order to discover homosexual civil servants. There was a worry in Canada that gay civil servants would be blackmailed into giving official secrets to the Soviet Union, so the Mounties who are the sole Canadian police force, used machines which, amongst other things, showed pictures of nude men and women and detected which group of pictures the person is aroused by. Unfortunately, if a person was found to be gay, they were fired. More advanced machines were made, including versions for both men and women. The machine itself is called a "Plethysmograph". The man who brought it to Canada, a German called Kurt Freund, originally invented it to discover heterosexuals (to catch out those who claimed that they were gay in order to avoid going into the Czech army). Correction: While the Mounties are the largest police force in Canada, they are not the only one. There are other law-enforcement agencies in the various Canadian provinces.
- Tangent: David says that using mounted police has disadvantages - for example, going on a drug bust in a small flat. He compares it to policing with Daleks. Jimmy says that now there is so much disability access, the Daleks would cope, leading David to point out that Jimmy is suggesting that disabled access is a Dalek conspiracy.
- XL Tangent: Alan had a great uncle who was a member of the Mounties. He lost his leg during the First World War, moved to Canada, and became chief constable for the Vancouver Police.
- The difference between French dinner service and Russian dinner service is that in French service you get all your courses at once, while in Russian service you get your courses one at a time. In France, the "French service" style was popular right up until the 19th century, but then a Russian ambassador then told Napoleon about their idea and it caught on, especially when it was introduced by Escoffier. Because David got the answer right, he is given a special "Teacher's pet" fanfare.
- Tangent: David knows a lot about Escoffier because he wrote about him for "The QI Annual". Alan says that Escoffier invented frogs legs, which he learned on David's radio show "The Unbelievable Truth". Escoffier's first name is Auguste, he died in 1935, worked for 62 years as a chef, working in the Ritz in Paris, the Carlton in London and as a chef at the Savoy. His most famous dish is Peach Melba, named after the Australian opera singer Dame Nellie Melba. He also invented Melba toast. Dame Nellie Melba's real first name was Mitchell and her father was called David Mitchell. Because of this information, David is given a second fanfare.
- XL Tangent: According to legend, before Dame Nellie Melba went on stage, she improved her voice by having oral sex.
- XL: You cannot turn fat back into living muscle, as they are two completely different things. Stephen introduces the question by saying he has put on weight because he has stopped playing Greco-Roman wrestling, which was invented in France. (Forfeit: Greeks; Romans)
- XL Tangent: Mae West said of all-in wrestling: "If it's all in, why wrestle?"
- XL: The worst thing to eat for tooth decay is potato starch. While sugar is bad, it dissolves quickly in the saliva. Potato starch however hangs around on the teeth. Crisps are especially bad. If you have gum disease, the chances of you having coronary heart disease doubles, as there is a direct link between the two. Bacteria from the mouth reach the heart and it becomes infected. Therefore, flossing is good for your heart as well as your teeth. Plus it can be said that chips do not just make you fat, but they can also cause your teeth to fall out.
- XL Tangent: Rich argues that the worst thing you could with your teeth is to put them in salsa and run an electric current through them. He is referring to some Mexican criminals who took six years to escape from jail, by wiping salsa on the bars. The acid in the salsa eventually broke down the steel. A current was then run through the bars and they were destroyed. Rich saw this on the television show "Mythbusters".
- XL Tangent: In America, there is "anal floss" which is used for drying out your rear.
- XL: The miracle of the herring is an usual miracle ascribed to St. Thomas Aquinas, mainly out of desperation on the part of the Catholic Church because, although he was a great writer, he did little in the way of sainthood. Therefore, they created this miracle. The story goes that St. Thomas Aquinas was on his deathbed and wanted some herring, but there was no herring where he lived (the Mediterranean) so they gave him pilchards instead. When Thomas ate them, he said they were the best herring he ever tasted. The church claimed that the pilchards turned into herrings in his mouth.
- XL Tangent: The panel talk about the feeding of the 5,000. David says that while it is good to have gotten so much food from two people, it suggests there were also 4,998 people at the speech who were idiots for forgetting to bring any food.
- XL Tangent: Stephen tells of a story of a famous French restauranter who used to say to women, "Can I smell your pussy?". When the women said "no", he replied, "Oh, it must be your feet then."
General Ignorance
- There are only two kinds of poisonous snake: the Japanese grass snake (Rhabdophis tigrinus) and the common garter snake (Thamnophis sirtalis). Technically, most snakes are venomous. A "Venomous" animal is one that kills you by injecting poison into the blood. A "Poisonous" animal is one that kills you when you eat it. (Forfeit: Piers Morgan)
- The idea that you should not eat cheese before you go to bed is an urban myth. Research in 2005 has shown that it gives you good dreams because of a kind of amino acid called "Tryptophan" which is in cheese and other dairy products. However, it should be pointed out that the study was organised by the British Cheese Board. (Forfeit: Cheese)
- XL Tangent: The panel talk about how the name of the "British Cheese Board". David rants about how they should not have made the name sound like a joke because it becomes less funny over time. David also complains about a BBC News website headline which read, "British Airways Profits Soar".
- XL Tangent: Jimmy claims that the Romantics used to eat rotten meat to give themselves hallucinations. Lord Byron wrote a poem on a lavatory wall asking "for a good stool". The poem goes:
O Cloacina, Goddess of this place,
Look on thy suppliants with a smiling face.
Soft, yet cohesive let their offerings flow,
Not rashly swift nor insolently slow.
"Cloaca" is Latin for a drain of lavatory. "Rashly swift" is a "Pathetic fallacy", in which you give an object an emotion which it is not capable of.
- The quote "Let them eat cake" was not invented by Marie Antoinette, but it may be possible that she was quoting it herself. She was born in 1755 and the phrase was first seen in print in 1760. Jean-Jacques Rousseau claimed to have since it in use in 1740. (Forfeit: Mr Kipling; Marie Antoinette)
- Tangent: Alan claims that the film "Marie Antoinette" starring Kirsten Dunst is awful, claiming it to be the worst film made since "Revolution" with Al Pacino.
- No genre of website makes up 70% of the internet. Pornography makes up less than 1% of the whole internet, according to a survey conducted by the American Civil Liberties Union. However, between 85-89% of all email traffic is spam. (Forfeit: Porn)
Scores
- David Mitchell: 10 points
- Rich Hall: -2 points
- Alan Davies: -12 points
- Jimmy Carr: -46 points
Notes
This episode was not broadcast in the expected slot (9pm on 13th March 2009) because Comic Relief was broadcast in that week.
The "Teacher's Pet" fanfare actually appeared in all of the recordings in Series F, but the fanfares in all the other episodes were edited out.
For the correction, see the QI Qibble Blog.
Broadcast details
Date

Friday 20th March 2009

Time

9pm

Channel

Length

30 minutes
Cast & crew
Supporters and subscribers get more
Additional content and tools are available across the site for Supporters and BCG Pro subscribers. On this page you can:
Broadcast details of 32 further repeats of this episode
This episode's inital overnight ratings
Already a donor or Pro user? Sign in