Series F, Episode 8 - Fashion
Further details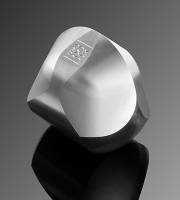 Extra Tasks
- As QI has now been going for six series, it is decided that a catchphrase should be created for the show. The panel are given a book of 19th century catchphrases and are asked to use either one of these, or one of their own. Bonus points are rewarded for best use of the catchphrases.
- Alan uses, "Has your mother sold her mangle?"
- Clive uses, "Who are you?"
- XL Tangent: Clive argues that "Who are you?" is still a catchphrase, as it is used at football grounds. When Norwich City (the club Stephen supports) got promoted into the Premiership, the ground began to sell out as more people came to support the club. The die-hard fans chanted at the new fans: "Where was you when we was crap?". Alan (an Arsenal fan) went to Norwich as an away fan and the Arsenal fans sang a song about sheep-shagging. The Norwich fans responded by singing a nine-verse song about sheep-shagging. The best chant Stephen ever heard was at an away match when Norwich were playing Brighton and Hove Albion, and the Brighton fans chanted, "You're better than us. You're better than us. We're crap, we're crap, we're crap, crap, crap!" The Norwich fans did not know how to respond back.
- Rich uses a phrase used by his grandfather: "You're dumber than a bag of wet mice."
- Reginald uses his own catchphrase, "Do what you do best", which he got from his mother. He once saw in the news his brother (a father of four or five children), in which a mother of five from Washington D.C. arguing that it was her right to have children without a man. He looked at his brother and said: "Get to D.C. and do what you do best."
Topics
- The most disastrous haircut ever was that of King Louis VII of France - it started the Hundred Year's War. He was a 13th century king who was married to Eleanor of Aquitaine. Louis VII was a deeply religious man and cut off his hair on the advice of monks. Eleanor was so angered by this that it was one of the contributing factors to her divorce from him. She then went to England and married King Henry II of England, which started the Hundred Year's War. You could also argue that another terrible haircut was Samson's haircut in the Bible. Correction: The Hundred Year's War began over 100 years after Henry II, Louis VII and Eleanor died, so it was not a direct cause for the war.
- Tangent: Rich jokingly claims that the world's worst haircut was that of the man who invented the Phillips Head Screw, because it parted in four-separate sections. This joke was previously made by Rich back in Series C.
- Tangent: King Louis VII was very abstinent and therefore rearly had sex. When he became ill, his courtiers suggested that it may be because he had not had sex. The Queen was sent for, but she was "too far away", so another woman was found. However, the King decided he would rather stay chaste than become an adulterer.
- Tangent: In "The Simpsons", the Hundred Years War was jokingly referred to as Operation Speedy Resolution.
-XL: The worst faux pas ever committed was by James Gordon Bennett - from whom the expression "Gordon Bennett" comes from. Bennett got drunk, went to his fiancee's house where she was having a party full of New York socialites, and urinated in the fireplace, thinking it was the toilet. The engagement was broken off, the fiancee's brother fought a duel with Bennett, which Bennett lost, and Bennett moved to Europe. This incident was in the Guinness Book of Records up until a few years ago as the worst faux pas ever. Amongst other things, Bennett once tipped a railway porter £341,000. He would also burn money because it was uncomfortable in his pocket.
- XL Tangent: Another faux pas was when the Queen was with the monarch of another country in the royal coach. One of the horses farted and the Queen apologised. The other monarch said, "Never mind Ma'am, I thought it was the horse."
- XL Tangent: Yet another faux pas was given by Gerald Ratner, who said: "We also do cut-glass sherry decanters complete with six glasses on a silver-plated tray that your butler can serve you drinks on all for £4.95. People say, 'How can you sell this for such a low price?' I say, 'Because it's crap.'" After saying this, half-a-billion pounds were wiped from the value of the company's shares. He also said that his jewellery was cheaper than a Marks and Spencer's sandwich and would not last as long.
- The outrageous item of clothing that got the Duke of Wellington banned from a club was trousers. Almack's (one of Stephen's favourite clubs) was THE club which determined whether you were a member of high society. Fierce women ran the club called the "Lady Patronesses". If you did not get a voucher from them, you could not enter the club. Wellington turned up wearing trousers instead of the more fashionable knee britches and was therefore not allowed in. (Forfeit: Wellington boots)
- Tangent: The conversation about the Duke of Wellington's trousers leads Stephen to make up his own catchphrase: "I can come in any trousers I like!"
- In order to deal with a shortage of trousers during wartime (especially World War Two) turn-ups were banned, it was made punishable by imprisonment to deliberately add extra cloth to trousers so that turn-ups could be made, and boys under 12-years-old could only wear shorts. Women could not wear stockings, so they stained their legs to make them looked tanned with gravy browning and then they would draw a line down the back of their legs to make it look like a seam on nylons.
XL: As a fashion accessory, you can wear a cauliflower, a rhinoceros or a pigeon's wing, because they were all types of wig won around the 18th century. It became fashionable to do so during the reign of King Louis XIII of France. Louis XIII became bald at an early age, so we wore a wig to cover his bald head. The courtiers followed suit and soon it became fashionable to wear a wig.
- XL Tangent: The law courts are one of the few courts in Britain where wigs have not been disposed of. The wearing of wigs for judges and barristers is being phased out elsewhere, but it was decided to keep them in criminal courts because it helps make the judges more anonymous. Long wigs are not worn in courts - only on formal occasions. The wearing of two pairs of tights in court comes from the reign of Queen Victoria, who was offended from seeing hairs poking out. The tights are black because the court went into mourning when Queen Anne died and they never bothered to change them.
- XL Tangent: Reginald was at a party where he said that he did not know what corduroy was. Several other people at the party, who were drunk, tried to explain to Reg what corduroy was. Eventually, a woman left the party and returned with a corduroy jacket to show him what it was. Reg claims he went along with it, because he claims that there is nothing like the expressions on a white person's face when they are trying to teach you something. Clive goes onto say that the wearing of corduroy was restricted to kings. It was "Cord of the King" or "Corde du roi".
- Tangent: Stephen leaves the fashion theme to show the panel a gömböc - the only self-righting or mono-monstatic shape in the world. Alan attempts to hide the gömböc but Stephen spots it. Alan comments that he was like Kingdom, the detective that Stephen plays in the ITV1 crime series of the same name. Stephen then interviews Gabor Domokos, Hungarian co-inventor of the gömböc. The other inventor was Peter Varkonyi. The shape of the material has to be exactly right. If it is out by one hundredth of a millimetre, it will not self-right. Technically speaking, Domokos was not first to the invention, but evolution, because animals such as turtles can self-right in a similar fashion. Other Hungarian inventions include Rubik's Cube and the Biro. Stephen's father was a Hungarian Jew who said: "A Hungarian is the only man who could follow you into a revolving door and come out first."
- The first fossil ever identified looks rather suspiciously like a pair of testicles. Called the "Scrotum humanum", Robert Plot, first keeper of the Ashmolean Museum in Oxford, recognised it to be an enormous thigh bone. However, he did not know what it was, so he claimed it was either from a Roman elephant or a giant human. We now know it was from a megalosaur.
- Tangent: If life on Earth was summarised as a single year, with 1 January being the first moment there was life on Earth, and 31 December being today, then dinosaurs appeared on 5 December and became extinct on 24 December. Humans arrived a few minutes before midnight. Of course, as Alan points out, you have to assume time is linear.
- Tangent: "Saurus", which is Greek for "Lizard", was ancient Greek slang for "Penis". "Thesaurus" means a treasure house - in the case of the book, it is a treasure house of words. Alan claims you could refer to your backside as a treasure house, which leads to Stephen coining a new catchphrase: "My bottom is a treasure house!"
- XL: A modern living fossil is the king's holly (Lomatica tasmanica), a type of plant which has not changed in millions of years. There is a living king's holly which is 43,600 years old and is next to a genetically identical fossil of another king's holly which is a Pleistocene, making it millions and millions of years old. It does not vary itself but instead just stays as it is for as long as possible. It might provide the answer to eternal life. Charles Darwin used the phrase "Living fossil" when talking about creatures like duck-billed platypuses, crocodiles and coelacanths. Another contender would be the ginkgo tree. These trees covered the Earth about 100-200 million years ago, but now there are only a few left alive. The ginkgo tree is used by herbalists as a memory enhancer.
- XL: The canals on Mars do not exist. Schiaparelli, an Italian astronomer, called these lines that he saw on Mars "canali", naming them after rivers on Earth. Then another astronomer, the British Percival Lowell drew maps of the canals as he saw them. However, what he was actually drawing was the blood vessels in his eyes. This condition is now known as Lowell's syndrome and is named after him. Pluto is named after Lowell, because it is his initials.
General Ignorance
- XL: A question for the two American guests: The reason why Yankee Doodle put a feather in his cap and called macaroni was because he looked dandy. The song "Yankee Doodle Dandy" was in fact a British song designed to insult unsophisticated Americans. The song later became appropriated by the Americans.
- The word that rhymes with "Month" is "Granth", as in the Guru Granth Sahib, the holy text of Sikhism.
- The city with the most Michelin stars is Tokyo. The city was only added to the list in 2007, but it leaped straight into the lead with 150 stars, which is two more than London and Paris combined, and three times more than New York. (Forfeit: Paris; New York; London)
- Tangent: Reginald claims that London could not be the city with the most Michelin stars because the British invented Marmite. Stephen retorts that the Americans invented spray-on cheese.
- Nicotine is colourless and so does not stain. The stain comes from tar. Nicotine is a very good poison, because not only is it very poisonous, but also colourless, odourless, invisible and untraceable. The word comes from Nicot, the "French Sir Walter Raleigh" who introduced tobacco to France. (Forfeit: Yellow; Brown)
- Tangent: There was once an educational film for children warning against the dangers of smoking. One of the characters in it was Nick O'Tine, the Irish cigarette devil. Both Stephen and Alan remember watching the advert.
- The dictator who only had one ball was Chairman Mao. "Monorchism" is the name of the medical condition where you are only born with one testicle. It comes from "Orchid", which has the same root entomology-speaking, from the Greek. Mao's doctor, Li Zhisui, wrote about this in his memoirs. Mao had a venereal disease from the 1950s, and herpes in the 1960s. Mao never brushed his teeth, but instead rinsed his mouth with tea, so his teeth were coloured green. He also slept on a wooden bed and used a bed pan. There is no justification for Adolf Hitler suffering from monochism. (Forfeit: Pol Pot; Stalin) Correction: It has since been discovered that Adolf Hitler really did have one ball. This was spotted by World War I veteran medic Johan Jambor, who told a priest who made a record of the incident. Not only Hitler, but Francisco Franco also had one ball, after he was shot during the battle of El Biutz in 1916.
Scores
- Rich Hall: 4 points
- Clive Anderson: -5 points
- Reginald D. Hunter: -6 points
- Alan Davies: -35 points
Notes
For the corrections, see the QI Qibble Blog here (haircut) and here (dictator's balls)
Broadcast details
Date

Friday 13th February 2009

Time

9pm

Channel

Length

30 minutes
Cast & crew
Supporters and subscribers get more
Additional content and tools are available across the site for Supporters and BCG Pro subscribers. On this page you can:
Broadcast details of 29 further repeats of this episode
This episode's inital overnight ratings
Already a donor or Pro user? Sign in