Series F, Episode 5 - France
Further details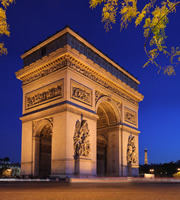 Theme
- The panel all wear berets and a garlands of garlic around their necks. The top of the set is lit in the colours of the tricolour. The theme tune is re-arranged and played on an accordion.
Topics
- Tangent: Alan removes his onions around his head or "Mon tete" as he calls it. Stephen immediately deducts five points because in the French language the head is feminine, so it should be "Ma tete". In French, "Vagina" is masculine.
- Stephen says in French that he will give bonus points to anyone who can answer his questions in French. This results in Hugh getting some points for answering with "Oui", and Jo also gets points for saying "Non". Phill is asked to comment, which he tries to do and gets some points.
- Stephen asks Jo, "Voulez-vous coucher avec moi ce soir?" Jo responds by saying, "Pas demi! Not half!"
- Stephen asks Alan, "Donne-moi un mot, s'il vous plait, un mot pour un mammifere marin qui ne peut avaler aucun plus grand qu'un pamplemousse?" Alan does not get the question right first time around, which is a shame because the answer is the one he gives the most. The question in English is, "Name a marine animal that couldn't swallow anything bigger than a grapefruit?". The answer is the blue whale. Correction: Stephen's question in French is poor grammatically and thus it is not an exact translation.
- The panel are shown a picture of Frenchmen on stilts looking for something in a swamp. The thing they are looking for is sheep ("Mouton") and the people in the picture are French shepherds, who use the stilts to help them see their sheep better. The area is 4,000 square miles. The picture was taken in Les Landes, which is south of Bordeaux in Gascony. This method of watching sheep was used up to the 20th century. Today, the people of Les Landes dance on stilts.
- XL Tangent: Alan and Phill talk about the shepherds using dogs on stilts. This goes on to talking about smaller dogs mounting bigger ones, to which Phill claims it would probably be easier for them to mount buses.
- Tangent: One shepherd walked to Paris on stilts, climbed the Eiffel Tower on them, and then walked to Moscow on them in 58 days. That is a distance of 1,830 miles. Correction: There is doubt to this story as the only account we have is by the man who did the journey, but it is debatable.
- French people in the countryside hibernated, right into the 19th century. It was not true hibernation, in that their body temperature does not fall, but they slept for most of the time, only waking up once or twice to eat a biscuit.
- Tangent: Jo met a man in the Aran Islands just of Galway. She asked him what he did in the winter and the man said, "Fishing and f***ing."
- 80% of French people in 1880 could not read, write or speak French. There at least 50 dialects and hundreds of sub-dialects used. Other languages were spoken at the time including Occitan (not to be confused with the anti-spot cream "Occitane"), Breton, Franco-Provencal, Flemish and Basque. Le bon Francais, proper French, was only spoken by 20% of French people.
- Tangent: Hugh jokes that the difference between a French kiss and a Belgian kiss is that the Belgian kiss has more phlegm.
- XL Tangent: Alan says that the show is not representing the French accurately. He points out he is being more accurate because he is wearing ladies knickers. Phill claims that they look more like the case of "The Wild Geese". The panel then reference several war films, with Alan performing "The Dam Busters" march and Hugh doing his impersonation of Flight Lt. Colin Blythe from "The Great Escape". Jo instead references "Mary Poppins" in a rude manner, leading into a description of a pornographic version of the film.
- The French language has only a quarter of the number of words the English has. As a result, the French sometimes use French words, but they are mis-translated. In French, "Les people" means "Celebrities"; "Un brushing" means "Blow dry"; "Un relooking" means "Makeover"; and "Vaselin-ay" means "To flatter". French dictionaries do not include these words, but they are used all the time.
- Tangent: A photo is shown of an Englishman and a Frenchman in stereotypical dress. Phill claims that the Frenchman looks more like Arthur Daley. The Frenchman appears to have been holding a cigarette but has dropped it. Stephen claims it might have been removed due to people's views on smoking. Jo claims that the only advert she would do would be for smoking.
- XL: The Arc de Triomphe was originally going to be a huge elephant-shaped kiosk, which could also hold balls and banquets in side it. It was designed to celebrate the achievements of King Louis XV. It was planned to have air conditioning, furniture that folded into the walls and a drainage system in the trunk that also acted as a fountain. There is a large elephant-shaped building in Bangkok. The Arc de Triomphe, placed there 50 years after this plan, is the largest triumphal arch in the world and was built to celebrate Napoleon's victory in Austerlitz. In 1919, Charles Godefroy flew his plane through the Arc to celebrate the end of World War One. Hitler marched through the Arc after invading France in World War Two. Correction: The Arc de Triomphe is not the largest triumphal arch. It is in fact the Arch of Triumph in Pyongyang, North Korea.
- XL Tangent: When Alan first sees the picture of the elephant, he plays his "Elephant in the Room" that was left over from the previous series. Alan gets 10 points for cheek.
- Paris syndrome is a culture shock condition suffered by Japanese people when they visit Paris. They are not used to the things that the French do well that but the Japanese do not do well. Almost everything in the French language is, to them, offensive and they suffer from jetlag. 12 people a year are expensively repatriated to Japan. The Japanese Embassy in Paris has a 24-hour helpline for people who are so traumatised by the terrible experience of coming to Paris.
- Tangent: Hugh claims that the French medical system is traumatising because for almost every condition, the first thing they give the patient is a suppository.
- XL: The Impressionists were described as, "A bunch of lunatics and a woman." When the art movement first came about, the critics hated it, thinking it ghastly, unfinished nonsense of no value whatsoever. The word "Impressionist" was coined as an insult. Ironically, the movement was inspired by Japanese art, in particular the ordinary wrapping paper the everything came in. Van Gogh had a huge collection of Japanese prints.
- XL Tangent: As Stephen talks about the Impressionists, Alan messes around with his beret.
- XL Tangent: When Hugh was 18, he and some of his friends went to Paris. They visited a museum full of Impressionist art and started to talk annoyingly about the art ("Oh, what a tremendous use of light.") and Hugh then started to think that he was coming across as a tosser.
- XL Tangent: Alan's art teacher was Mr. Bradshaw. During Alan's first art lesson (a double lesson), Bradshaw give everyone in the class a copy of "The Observer's Book of Artists" and told them to read it in silence. They got bored and, ironically, started doodling. Bradshaw then told the class to do a postage stamp sized drawing of something they would like to paint properly. Alan did a steam engine, which he then drew a black line around. Bradshaw told him that they would not be a black line around it in real life, so Bradshaw crossed it out. Years later, Alan went to an art gallery and saw pieces of work by a famous artist, all of which had black outlines.
- XL Tangent: Phill jokes that when he went to the Hogarth Exhibition in the Louvre, he annoyed people by pointing at the paintings and shouting, "There's Wally!". Hugh claims that Hogarth is probably most annoyed for being remembered as a roundabout on the A4.
- XL Tangent: A friend of Stephen's was at a dinner party with Anthony Burgess. He asked Burgess what he thought of Jean Genet, to which Burgess said, "Masturbator and excremental narcissist."
- XL: The thing that "comes from Paris, has short legs, a big head, a permanent grin and refuses to act its age" is an axolotl - the salamander that has never grown up. They are a sub-species of salamander that stopped metamorphosing and therefore look like a salamander halfway through its life. Axolotl will turn into salamanders if you inject them with iodine. They heal without scarring, have external gills and grow new arms whenever one gets cut off, because they are almost made out of stem cells. Originally from Mexico, six were brought to Paris to be studied in 1863. They bred and almost all the ones that are descended from them are now kept as pets by many in France and abroad (including Japan). (Forfeit: Nicholas Sarkozy)
- You would want a Frenchman on your side in a fight because the French are one at the best countries in the world when it comes to war, despite their cowardly reputation. According to historian Niall Ferguson, of the 125 major European wars fought since 1495, France has taken part in 50, which is more than Austria (47) and England (43). Out of 168 battles fought since 387 BC, France has won 109, lost 49 and drawn 10.
- Tangent: The aggressive Frenchman in the photo accompanying the question is Andre the Giant, a French wrestler. He also starred in the film "The Princess Bride".
- XL Tangent: Andre the Giant was driven to school by Samuel Beckett, who is the only Nobel Prize winner in Wisden, because he played for Ireland. Andre also had a condition which meant his growth hormone could not be stopped, so he ended up with 13-inch wrists.
- Tangent: Phill claims that with his beret and glasses, Stephen looks like Benny Hill.
- Tangent: In "The Simpsons", Groundskeeper Willie refers to the French as, "Cheese-eating surrender monkeys." There was a time when if you typed "French military victories" into Google, the search engine came back with the response, "Did you mean 'French military defeats'?" after someone added in a prank computer programme.
General Ignorance
- The Romans liked to wear sandals. They would only wear togas on special occasions, such as when in The Forum or running for it, because togas are very difficult to wear because of their size. Emperor Augustus had to pass a law ordering people to wear them in The Forum. There were several kinds of toga. The toga pulla was a dark toga, the toga picta was patterned and the toga candida was white. "Candida" is where we get the word "Candidate" from, because they were worn by Romans running in an election. (Forfeit: Togas)
- Tangent: Alan had a toga party in his house in 1982, but they wore sheets instead. His friend Danny wore a toga which had the words "Pontin's Holidays" written on it.
- Racing cyclists shave their legs is because it is easier to clean wounds, sticking plasters stick better and come off less painfully, calves are massaged better and for personal 'aesthetic purposes'. In 2003, Austrian cyclist Rene Haselbacher tore his shorts and it was revealed he shaved all over. (Forfeit: Aerodynamics)
- Tangent: Swimmers have a 2% advantage if they shave their hair off.
- Tangent: Hugh cycled the 16th stage of the Tour de France. There were 8,000 people at the start with 4,000 finishing. Hugh started in 2,400th place, he finished in 3,400th place. It took him eleven hours to complete the stage and nine hours to catch up with a man with one leg.
- XL Tangent: The man who won the stage that Hugh was in was Alexander Vinokourov who finished the stage in five hours. However, it was discovered that he was using someone else's blood and so was disqualified for blood-doping.
- Most Spanish people do not lisp when they speak. Only small areas, in places such as Castile, do they do it where it is a feature of pronunciation. It is considered bumpkinish to do so. It is no different to the way that Northern English pronounce words differently from Southerners. (Forfeit: To avoid embarrassing the King)
- Tangent: There is a story that when "The Terminator" was translated into German, Arnold Schwarzenegger asked if he could dub himself as it was his native language. He was not allowed to do so though because the people in charge said that, as he was Austrian, he sounded like a farmer.
- The man who won the Battle of Hastings was at the time called Guillaume le Batard - "Batard" meaning "Bastard", but it was not rude to call him that. The name "William" did not exist at the time. When the Bayeux Tapestry was made, the name "William" was beginning to develop and it was written as "Wilgelm". All Saxon names disappeared about 50 years after the Norman Conquest. One in seven men in England was called "William" within 50 years of the invasion. (Forfeit: William the Conqueror)
Scores
- Hugh Dennis: 15 points
- Jo Brand: 8 points
- Phill Jupitus: -2 points
- Alan Davies: -39 points
Notes
For more on the corrections, see the QI Qibble Blog here and here.
Broadcast details
Date

Friday 23rd January 2009

Time

9pm

Channel

Length

30 minutes
Cast & crew
Supporters and subscribers get more
Additional content and tools are available across the site for Supporters and BCG Pro subscribers. On this page you can:
Broadcast details of 28 further repeats of this episode
This episode's inital overnight ratings
Already a donor or Pro user? Sign in