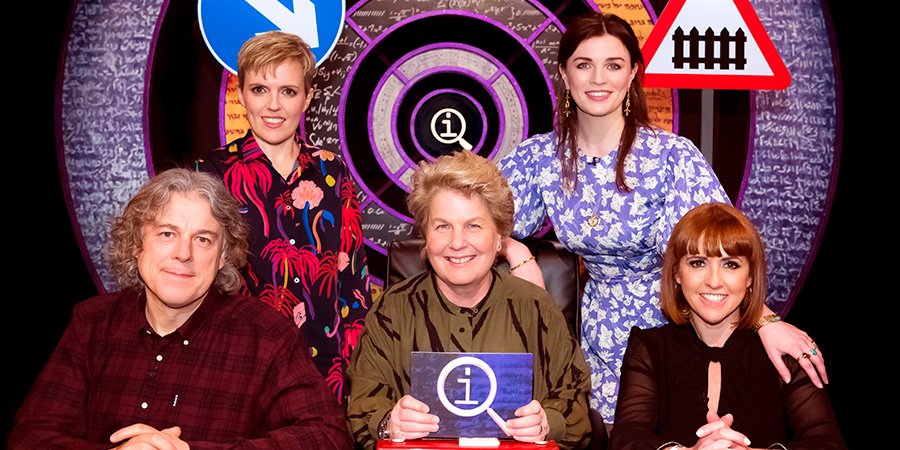 Series R, Episode 3 - Road And Rail
Further details
Topics
- The country in which you can drive from the east coast to the west coast on Route 66 is Britain. The 115 mile-long A66 can take you from Middlesbrough to Workington, passing through Darlington, Keswick and Cockermouth. In 2018, the A66 was named Motorway of the Year, qualifying due to the fact that for a single mile it does count as a motorway, being known as the A66(M). The US Route 66 never ran coast to coast, starring in Chicago which is about 700 miles from the Atlantic, and ending in Santa Monica, California. Route 66 was almost called Route 62. Route 66 was officially removed from the US highway system in 1985 and was replaced by Interstate highways, but there are signs that say "historic route" or "state route". (Forfeit: America)
- Tangent: Cally drove down part of Route 66 with her children. In Missouri, there is a fudge factory in a town called Uranus. Other things you can see on Route 66 is the ghost town of Oatman, Arizona, where you can still see a former brothel called Fast Fanny's. Also on Route 66 is Catoosa, Oklahoma, where there is a woman who collected miniatures of blue whales. Her husband, retired zookeeper Hugh Davis, decided that for their wedding anniversary to make a blue whale that was 20ft tall and 80ft long. It took David nearly 3,000 hours to complete it.
- Because so many Route 66 signs were stolen as souvenirs, signs were painted on the road. However, the best way to stop people from stealing road signs is to make them out of solid stone. This has been done in Shittington, Dorest and Fucking, Austria. Shittington's sign weighs a tonne-and-a-half. Elsewhere, in Colesville County, Maryland, they have removed the vowels from signs so "Stoner Drive" now reads as, "ST N R DRIVE". Also, to stop people stealing mile markers that read "69" the markers now read "68.9".
- The panel play a game called "What's That Sign?" and have to identify some British road signs. In fact, all of the signs are correctly recognised by the Audience rather than the panel.
- A yellow sign with a red tringle, in which is the rear-view of a lorry with the load tilting to the left. - Adverse camber: A survey by Kwik Fit of 45,000 drivers showed that 26% could not identify this sign.
- A circular sign, with a red border and cross going through it and a blue background inside the circle. - Clearway: A sign that means no waiting, that according to the same Kwik Fit survey 33% failed to recognise.
- A red triangle, with an image of a fence. Below the triangle is a white rectangle with a black border, with two red stripes across it. - Level crossing in 200 years: The rectangle is counting down the distance, with each red stripe marking 100 yards each.
- The pose of the Colossus of Rhodes did not feature the legs far apart. If that statue had been built so that one foot was on each side of the harbour, they would have needed to close the harbour for 12 years. The statue fell down in an earthquake in 225 BC, just 50 years after it was built. It was made of bronze sections with an iron and stone framework. If it had been built with the legs apart the statue would have collapsed under its own weight. Also, a Colossus was a particular type of statue that was found in Asia Minor, and the legs were always close together in these statues. The idea for it straddling the harbour came from an Italian visitor called Nicolas de Martoni, but it was second-hand information that was 1,500 years out of date. (Forfeit: Manspreading)
- Built in 1912, the world's oldest model railway, created in Britain, was first used to train railway signallers. Until 1995, this model railway was used by the Lancashire and Yorkshire Railways Signalling School at Victoria Station, Manchester. Models are still used to train staff, with Transport for London having a place called Ashfield House in Kensington. There, tube staff train on a mock-up station called West Ashfield, which is on the building's third floor. 1,500 to 2,000 drivers and operational staff are trained there every year.
- Tangent: Rod Stewart has a gigantic model railway system which he has been working on for 26 years. He has handcrafted all the buildings in the system. When he is on tour, he has a special room set aside where he can build his railway. Sandi meanwhile has her own model railway, with a train that goes around the skirting boards of her office.
- Tangent: The first model railway was built in 1859 for the three-year-old son of Napoleon III.
- The secret to catching the invisible rail is looking on the ground in marshy places. Rails are the smallest flightless birds in the world, and one of the smallest of these is the invisible rail, so called because of its ability to hide in the long grass. German biologist Gerd Heinrich, the first person to catch an invisible rail said: "I am solidly confident no European has ever seen this rail alive, for that requires such a degree of toughening and such demands on oneself as I cannot so easily attribute to others." Heinrich went to Halmahera, an island in Indonesia full of dense, bug-ridden thorns. To toughen himself up he rolled naked in beds of nettles.
- The people who would not been seen dead in first class are poorer people on the London Necropolis Railway. Running from Waterloo to Brookwood, Surrey, home of the UK's largest cemetery, this railway was built in the 1850s to transport bodies out of London. The trains has first, second and third class carriages for the dead. The main sell of the first class was that your loved dead person did not have to be near a dead working class person. It ran between 1854 and 1941, and an estimated 203,000 people made the trip. The train consisted of a hearse carriage and a mourner's carriage. First and second class passengers also had their own waiting room. Anglicans and non-Anglicans had separate stations at the cemetery. Actors would always get off at the non-conformist stop, because it was the only one that performed funerals on Sundays, which was the only day actors got off.
- Tangent: Cally once dated a former Red Arrows pilot, and she tried to make him do a sexy pilot's voice during lovemaking. He didn't play along.
General Ignorance
- The world's most expensive metal is rhodium. At the time of recording, gold costs about $50,000 a kilo, platinum is about $27,000 a kilo, and rhodium is $350,000 per kilo. Rhodium is both rare and useful, hence the value. 80% of rhodium is used in catalytic converters. The amount of rhodium used in a car weighs about the same as one quarter of a postage stamp, but still adds £70 to the price of the car. Rhodium is also used as a plate for white gold and in heart pacemakers.
- Heathrow Airport has four terminals: Terminals 2-5, because Terminal 1 closed in 2015. All of Terminal 1's flights have since been diverted to Terminal 2. When Terminal 1 opened in 1969 it was the biggest passenger terminal in Western Europe, but by the end the terminal had about five shops and 20 planes. (Forfeit: Five)
- Tangent: Supposedly Heathrow has a Terminal 6 that is reserved for famous people, royals and heads of state. It is reportedly a posh lounge behind an unmarked door in Terminal 5. It costs £2,750 plus VAT. Terminal 6 has no shops, but big brands like Dior will bring you things, and you get taken to the plane by a BMW.
Scores
- Holly Walsh: 9 points
- The Audience: 3 points
- Alan Davies: -9 points
- Aisling Bea: -25 points
- Cally Beaton: -30 points
Broadcast details
This episode is currently available on BBC iPlayer
Date

Thursday 11th June 2020

Time

9pm

Channel

Length

30 minutes
Cast & crew
Supporters and subscribers get more
Additional content and tools are available across the site for Supporters and BCG Pro subscribers. On this page you can:
Already a donor or Pro user? Sign in