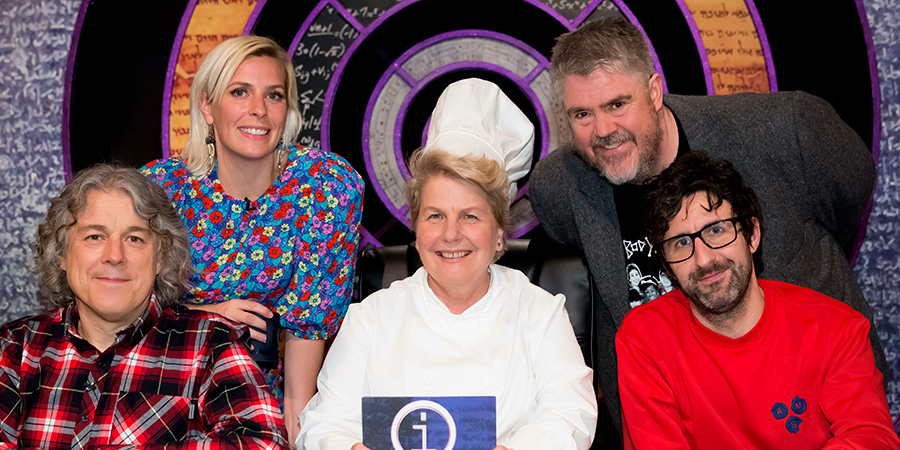 Series R, Episode 4 - Restaurants
Further details
Topics
- You would want to eat in a restaurant with a heavy fork and nothing fresh on the menu if you were willing to pay more for your meal. Computer scientist Dan Jurafsky looked at the description of dishes on 6,500 menus, and he found that higher-end restaurants tend not to describe food as "fresh", "tasty" or "ripe", because customers in those restaurants expect it to be those things. Posh restaurants often use sexy terminology, using words like, "sensuous" or "silky". Another thing discovered is that people enjoy their food more if they use heavy cutlery. Charles Michel, chef in residence at Oxford University's Crossmodal Research Laboratory, which researches how our different senses modulate any appreciation of flavour, gave people the exact same meals. He found that people who use heavy cutlery were willing to pay 15% more for their food.
- Tangent: Another way restaurants trick people into making them spend more money is by removing the pound sign from menus. A study at Cornell University showed that if menus only show the numbers, people don't associate them with money. There are also restaurants with "ladies' menus", which are menus which have no prices listed in them because men are expected to pay for the meal.
- Sandi gives each of the panel a bread roll and asks them why bread and potatoes were rationed during the 1940s. It was because of bad weather in the latter half of the decade. They, along with all other vegetables, were never rationed during World War II. There were even subsidies from the government to make sure all of these foods were kept on the table. But in 1946-47, there were very heavy rains and very bad frosts which resulted in bread and potatoes being rationed. This was followed by a bumper crop in 1948, which resulted in the restrictions being removed. (Forfeit: The war)
- Tangent: Before the war, Britain imported about half its meat, more than half its cheese, and about a third of its eggs. In 1939, they did a test to see if Britain could deal without all of this protein. Eight human guinea pigs were sent for three months to live in the Lake District on a special diet, consisting of as much wholemeal bread and potatoes as they liked. They also spent their time walking, cycling and mountaineering. The end result was a huge increase in flatulence, and a lot of time eating because it takes a lot longer to get your calories from potatoes than in meat. One report said: "Thanks to all the extra fibre, there was also 250% more voluminous faecal matter amongst the participants."
- Your cellar would be riddled with Frenchmen because they would be busy rotating all your wine bottles. Riddlers are people who rotate bottles of wine to stop the sediment building up, and are key to champagne as well as other wines. Champagne requires a secondary fermentation, so the yeast is left in the bottle as the wine matures. This is was makes the bubbles appear. The sediment thus has to be slowly removed. The yeast has to be sent to the neck of the bottle, so the riddler rotates each bottle 90 degrees, then pushes it slightly further into its cradle and tips it slightly. Professional riddlers can rotate between 40,000-70,000 bottles a day (three or four per second). Riddlers however are now being replaced by robots. It is a deeply skilled job and before them making champagne was a very explosive process. In 1792, the canon of Reims Cathedral reported that 345 out of 594 bottles had exploded in their cellars. The pressure in the bottle of champagne is five times greater than that of a lorry tyre and the cork can fly out at 55mph. The wire cage covering the cork is called the "muselet", which comes from the French for "muzzle", but in the first stage of fermentation they have caps in the bottles instead.
- Tangent: Sandi introduces a man called Julian the Magnificent, who demonstrates how to open a bottle of champagne using a sword. Julian is the ambassador emeritus of La Confrérie du Sabre d'Or, and can with a single strike of a sabre cut off the glass annulus and cork from the bottle, rather than just remove the cork. You obviously cannot touch the neck of the bottle because it is sharp glass, but you can drink it perfectly because the force of the champagne is so great that any small pieces of glass are fired away from the bottle and drink. Sandi then cuts off the top of a bottle herself, which she does by taking the bottle in her left hand (she is right-handed) with her thumb up the punt. She holds the sabre in her right hand, and she performs a shaving motion, never taking the sabre off the glass, and she moves up bottle and following through. Julian then "knights" her with his sabre, and presents her with a velvet bar to put the cork in. Sandi says afterwards: "I'm not exaggerating, that is one of the most exciting things that's ever happened."
- Sandi starts to ask a question about using rice, but as she does Phill's mobile phone goes off. Sandi takes it and dumps it in a jug of water. If you want to dry it out, it is a bad idea to put it in a box of rice. If you put a phone in a closed container with rice, less water is lost than if you just left it out in an open room. Also, you can little bits of rice stuck up the sockets. (Forfeit: Yes)
- The panel are shown a picture of a clown in a fast food restaurant and are asked what he eats. The clown is the original Ronald McDonald, but he never ate a McDonald's meal. The company were keen to ensure that he was just their mascot for their particular charity, and avoided showing him eating their food to avoid children from getting obese. The very first person to play Ronald was a man named Willard Scott, who was eventually fired for being too fat. Scott was famous in the USA, working as a weather forecaster, and he later did adverts for Burger King. (Forfeit: Children)
- Tangent: Sara's first job was at McDonald's. McDonald's staff tend to do every job in the restaurants, including cooking, cleaning and serving food. There are also less drive-thrus because the staff serving there are inhaling all the car fumes.
- Tangent: Probably the most dangerous restaurant in the world is the Heart Attack Grill in Las Vegas. Customers can eat there for free if they weigh over 350lbs (25 stone), which is about three-quarters the weight of a blue whale's heart. Your weight is verified by being weighed at a cattle weighing station, and if you are over the target weight you are led to your table by your personal nurse (a waiter/waitress). Their signature dish is the quadruple bypass burger, which is just under 10,000 calories. It is made out of four half-pound beef patties, 20 strips of bacon, eight slices of American cheese, a whole tomato, half an onion, and is served in a bun coated with lard. If you finish it, your nurse will deliver you to your car in a wheelchair, and if you fail to finish it the nurse will spank you in front of the other diners. In 2013, the Heart Attack Grill's unofficial spokesman died of a heart attack aged 52. Three other people have died on site. There is only one vegan option at the grill: cigarettes.
General Ignorance
- You do gain calories by eating celery. A medium stalk contains six calories, but a University of Alabama study on a type of lizard called a bearded dragon, which have similar diets and digestive systems to humans, found there is a net gain when eating celery. This is because chewing and digesting are very low energy pursuits. (Forfeit: Negative calories)
- The panel play a game of "Beer Hunter", where Sandi shakes one of four cans of beer up, shuffles them around and then hands one out to each panellist. Whoever gets the shaken-up one loses. Sara, Alan and Mark all survive, so when Phill opens his can he covers the hole up with his mouth. All of the cans had the same amount of pressure, about three atmospheres, no matter how much you shake them. An unshaken can has a small amount of gas in it which kind of floats on the top of the liquid, but when you shake it, it all gets mixed together. When you open the can, the bubbles rush to the surface.
- Tangent: The idea of tapping the top and bottom of the can to stop it exploding is false. Instead, you should tap the sides of the can, as this dislodges the bubbles and makes then rise to the top.
Scores
- Alan Davies: 3 points (Alan's 37th victory)
- Sara Pascoe: -4 points
- Mark Watson and Phill Jupitus: -18 points
Broadcast details
Date

Thursday 18th June 2020

Time

9pm

Channel

Length

30 minutes
Repeats
Saturday 26th September 2020 at 9:00pm on BBC2 (45 minute version)
Cast & crew
Supporters and subscribers get more
Additional content and tools are available across the site for Supporters and BCG Pro subscribers. On this page you can:
Already a donor or Pro user? Sign in