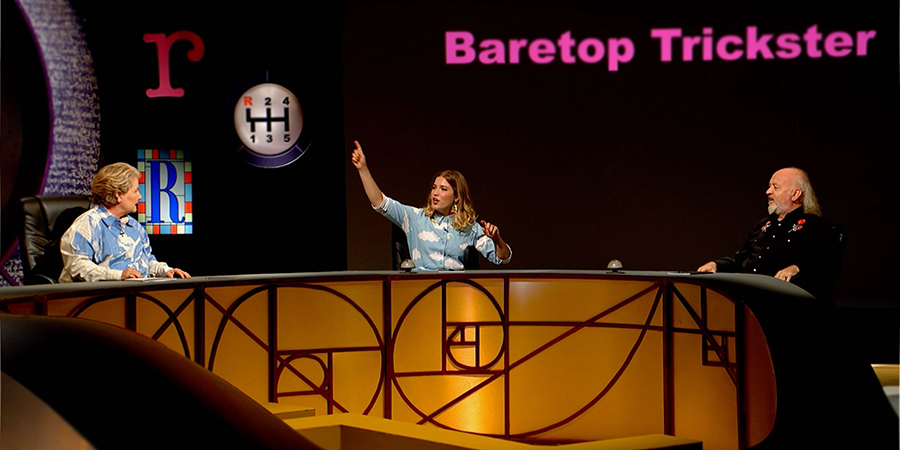 Series R, Episode 14 - Rogue
Further details
Themes
- This is a "General" show in Series R, covering a wide range of different topics beginning with "R".
Topics
- The panel are shown a list of terms from the reign of Elizabeth I and are asked what they mean. All of them are terms for different kinds of rogues in Tudor times, recorded by Robert Greene in his book A Notable Discovery of Cozenage, which started a craze for people having guides to beggars and vagabonds. It became known as "rogue literature".
- Hedge priest: An itinerant preacher who could carry out ceremonies if you could not pay the tithe for a proper priest. The vow: "Till death us do part" was reinterpreted and couples could separate if they stood over a dead animal in the road.
- Counterfeit crank: Someone who pretends they have something wrong with them. A particular counterfeit crank was a clapperdudgeon, who created superficial wounds by rubbing a mixture of lime, soda and iron rust to make blisters. You could also cut off the festering arm or leg from a corpse, and pretend the limb was yours.
- Nips and foists: Types of pickpocket. A nip used a knife to cut open a purse and catch the contents. A foist dips their hand into the pocket.
- Crossbiter: Someone who poses as a prostitute's drunken husband.
- Baretop trickster: A woman who flashes her breasts to distract someone, and then a gang of men would rob the distracted victim.
- The best way to make running easier is not to move your arms. In 2019, Andrew Yegian at Harvard discovered that walking with straight arms was more efficient than walking while moving your arms. Running with straight arms rather than bents arms makes no difference in speed or efficiency. Walking with straight arms however uses 11% less oxygen than walking with bent arms. Thus, we don't know why we run with bent arms. It just seems that people think that running with straight arms is harder.
- Tangent: At school, Bill won the 400m backwards running race. Bill runs faster backwards.
- Tangent: Alphabet/Google's AI company, DeepMind, was challenged to see if it could larn a different way of running. It came up with many bizarre suggestions, and every time the programme failed it had to start again.
- Olga, or rather St. Olga, used pigeons to wreak her revenge by using them to destroy a town. St. Olga was the woman who brought Christianity to Russia, coming from the town of Pskov. St. Olga's husband was killed by the Drevlians tribe by bending two birch trees and tying his legs to each tree, then letting the trees go and thus ripping him in two. To get her revenge, she laid siege on the Drevlian capital, Iskorosten (now in the Ukraine), and she would only accept surrender in the form of a tribute of a pigeon and some sparrows from every single household. The Drevlians agreed, but then St. Olga ordered that a piece of sulphur should be tied to each bird's leg, and the sulphur was to be lit. When the birds were released, they all flew home, and burnt the city to the ground.
- Tangent: Pigeons should avoid hairdressers. A study at the University of Lyon showed that pigeons who live near hairdressers have fewer toes, as they lose them after getting their toes entangled in hair that has been incorrectly disposed of.
- The most powerful drink in history is Pepsi. For a very brief time, in 1990, Pepsi had the sixth largest military fleet in the world. In 1972, Pepsi executive Donald Kendall successfully negotiated an entire monopoly of cola in the USSR. At the time, the rouble was not worth very much money, and the Kremlin forbid the foreign sale of roubles anyway, so a deal was struck initially where Pepsi Cola syrup was swapped for large amounts of Soviet vodka. This deal lasted until 1990, when Pepsi decided this was not enough. Russia then agreed a $3 billion deal that would mean everything would be paid in Soviet warships. Pepsi was given 17 submarines, a frigate, a cruiser and a destroyer, which meant the company briefly had the sixth most powerful navy in the world. Pepsi however sold the entire flotilla to a Swedish company for scrap. (Forfeit: Vodka)
- Tangent: Olga says she liked vodka because it says so much about the Russian people, saying: "Russian people but into a raw potato and really were like, 'This is amazing, but can we make it liquid AND ruin our lives?'"
- Tangent: Russia also once offered New Zealand MiG fighter jets, tanks and a nuclear submarine to wipe out a $100 million debt for dairy imports.
- Tangent: "Vodka" literally means, "small water". "Voda" is the Russian word for "water". Russians will sometimes hide some vodka in the house as "bathroom vodka", for cleaning. In Russia, it was not until 1st January 2013 that was beer was classified as an alcoholic beverage. Anything under 10% alcohol was characterised as a foodstuff.
- Tangent: The strongest beer ever made according to Guinness World Records was The End of History by Scottish company BrewDog. It was 55% alcohol, and they sent ten of their investors a bottle of it mounted inside a taxidermy road-kill squirrel. Bill comments that someone tried to sell him a Theremin made out of a badger. Also, someone knitted a praying mantis for Bill once. Sandi says she wants a Theremin beaver.
- The most extreme way anyone's ever avoided having sex is to pretend that they are dead. A study by Rassim Khelifa, a zoologist from the University of Zurich, showed that female common hawker dragonflies pretend to be dead while being pursued by a male, to avoid amorous attention. This is known as "thanatosis". After mating, most male dragonflies will guard their partner, but the Aeshna juncea species instead just flies off and thus allow the female to be harassed. However, if another male tries to mate with her, then her reproductive tract might be damaged or she could even be drowned by an aggressive male as they spend a lot of time on the water. To avoid this, the females lie motionless on their backs, and the male gives up.
- Tangent: On a previous QI they talked about a male arachnid who gives a gift to a female so that he can mate, only for the gift to be fake. Another spider, pisaura mirabilis, goes even further. The male initiates sex by presenting the larger female a tasty snack. As the female eats, the male begins to mate. However, if the female tries to make off with the gift, the male plays dead and holds onto the present, so she has to drag him with it. When the female stops, the male stops pretending to be dead and tries to mate with her again.
General Ignorance
- The River Thames is brown because of silt and sand. There was a time when a lot of waste flowed directly into the Thames. In 1957, the Natural History Museum declared the Thames was biologically dead. However, a new sewage system built in the 1960s, and the Thames is now one of the cleanest rivers in the world. In 2018, 138 seal pups were found in it.
- Tangent: Sandi did some filming on top of the O2 Arena, and from there she took a photo on her phone of a seal on the banks of the Thames. Sandi could see about six seals from her position. There is a seal colony at Teddington Lock, and the Thames has also been home to porpoises, dolphins and whales.
- Tangent: Rubbish still appears in the Thames. A corpse a week appears in the river. The Port of London Authority removes about 200 tonnes of rubbish from the river every year. In one day in 2019, the PLA removed 70 tangled shopping trolleys that were all clumped together. 60% of the rubbish in the river is single-use plastic.
- The panel are shown a picture of a large wave and are asked what it is called. It is a "rogue wave". Tidal waves occur in shallow water and are caused by the gravitational interactions between the Sun, the Moon, and the Earth. Tsunamis are giant waves caused by undersea earthquakes or volcanic eruptions. Rogue or freak waves are mountainous swells of unknown cause, that are twice the height of more than a third of the waves in the area. These waves appear really suddenly and are very dangerous to shipping. For centuries, people thought that sailors exaggerated stories of these waves, but on New Year's Day 1995, an enormous wave smashed into the Draupner oil platform, just off the coast of Norway, which was 85 feet tall, from trough to peak. The assumption was that these waves occurred once every 10,000 years, but analysis of about 30,000 satellite images over a three-week period in 2003 showed ten waves around the world had reached that height. According to Peter Challenor of the National Oceanographic Centre in Southampton: "People have been working actively on this for the past 50 years at least. We don't even have the start of a theory."
Scores
- Jack Carroll: 4 points
- Olga Koch: -6 points
- Bill Bailey: -8 points
- Alan Davies: -29 points
Broadcast details
This episode is currently available on BBC iPlayer
Date

Thursday 14th January 2021

Time

9pm

Channel

Length

30 minutes
Cast & crew
Supporters and subscribers get more
Additional content and tools are available across the site for Supporters and BCG Pro subscribers. On this page you can:
Details of when and where this episode was recorded
This episode's inital overnight ratings
Already a donor or Pro user? Sign in