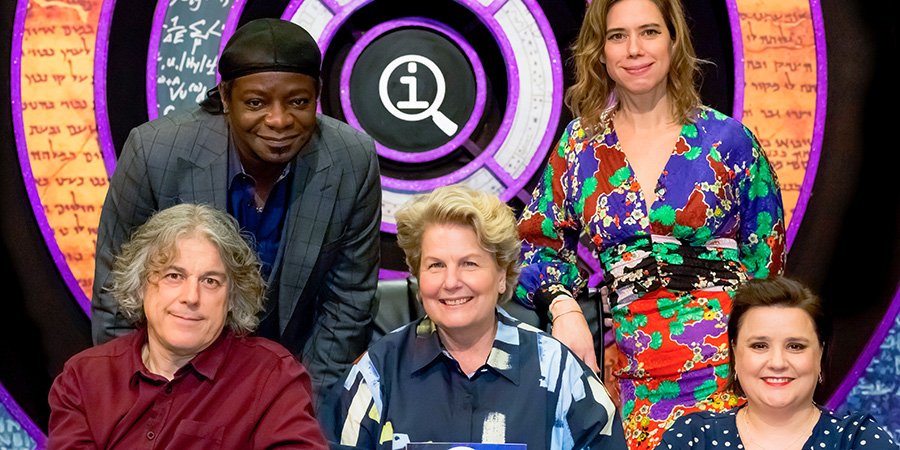 Series R, Episode 10 - Rest & Recreation
Further details
Topics
- Tangent: Sandi asks the panel for their favourite ways to relax. Lou used to mediate. Once, after coming out of a long period of mediation, she honestly thought she could speak Portuguese. Sandi asks if Alan goes to the football to relax, but he doesn't relax there. He says that if he wants a nap, he'd go for a drive. Susan says that she would relax with brandy and a game of bridge, but Sandi knows that Susan would count her Smurf collection. Alan asks if it is more relaxing to be in a locked or unlocked room. Sandi was once at a hotel, slept naked, woke up, couldn't remember where the toilet was and accidentally locked herself out of her room. Alan asks why Sandi couldn't just go under the door.
- The panel are each given something to help them relax.
- Alan - A dummy cow: Mountain Horse Farm in Upstate New York allows you to cuddle cows to help you relax, for $75 an hour. The farm assures customers that all cuddling sessions are private.
- Susan - Oranges: People pay to sniff oranges and lemons in order to relax. The Mayo Clinic in the USA use it as part of their aromatherapy.
- Lou - A dummy hand: If you close your lips around your thumb, blow on it hard and exhale, tis stimulates the vagus nerve, which is responsible for the body's relaxation response. This is known as the Valsalva manoeuvre. It lowers your heart rate and clams you down.
- Tangent: When Lou gets the dummy hand, she immediately thinks the answer is something rude. She tries to resist making any rude jokes because her mother did not like it the last time she said something rude on QI, but Lou then starts to put the fingers of the dummy in her mouth and lick then sexually.
- Stephen - The ingredients to make slime: In 2017, "How to make slime" was the most popular "how to" Google search in the entire UK that year. Slime was responsible for a glue shortage in the USA. People relaxed by watching other people playing with it, it being an example of Autonomous Sensory Meridian Response or ASMR. One woman, 26-year-old Karina Garcia, has nine million subscribers on YouTube that watch her play with slime, as well as videos of her trying to fit as many chicken nuggets as possible into her mouth. She makes $200,000 a month.
- The thing that is rotund and makes a royal retch is a rotunda in Leicester Square. Next door to the Leicester Square Theatre is a purpose-built, gigantic building, that was originally created to display enormous paintings. The paintings were by artist Robert Barker, who coined the term "panorama". He began with a view of London which cost three shillings to see, and he made a fortune. The rotunda was perfectly round and had a lower and upper circle, so one panorama could be displayed above another. The paintings were so large that you needed to have a map in order to find your way around. The building is now the Notre Dame de France Catholic Church, and a brick front prevents you from seeing the original design, but when viewed from above you can see how large the original rotunda was. In 1794, just before it opened, King George III and Queen Charlotte were given a private viewing of a naval scene that was so realistic and overwhelming that it made Charlotte retch, because it made her seasick.
- Tangent: Susan says she knows how Charlotte must have felt, because she went to see the film Gravity at the IMAX cinema. However, as there only a few seats available so she had to sit right at the front, and it was so realistic that Susan vomited on herself.
- Tangent: Another artist, John Banvard, painted moving panoramas of the Mississippi Valley in the 1840s. Instead of you moving to look at all the pictures, the pictures were on rollers that were cranked around, and someone would explain a story to you as the action unfolded. They were eventually brought over to Britain where Queen Victoria was given a private viewing.
- Tangent: You can be sick while looking at optical illusions. Prof. Akiyoshi Kitaoka from Kyoto creatures illusions online, and they come with warnings that if you look at them you can actually be sick, even if the picture is not moving. If you do feel sick, you should immediately cover one eye with your hand, but don't close your eyes as that can make the attack worse. The panel are shown one of Kitaoka's pictures called "Irrigation", which is a completely static picture, but it looks like a set of rollers moving. Another of his pictures shown is called "Rotating Snakes", where several circles appear to be moving even though the picture remains static.
- There are a few examples of what can be considered to the least sportsmanlike thing you can do on a rugby pitch. Alan says that at school, as a joke people would put Deep Heat in the jockstraps. However, in terms of professional matches, one example of unsportsmanlike behaviour occurred in a game between England and the fairly new formed New Zealand team in 1889. At a game in Blackheath, English player Andrew Stoddart was tackled and his shorts were accidentally ripped off. Thus, the Kiwis surrounded Stoddart to allow him to get back his modesty, but while this was happening another English player, Frank Evershed, picked up the ball and scored a try unopposed. The try was allowed by the referee, Rowland Hill, who just happened to be the Secretary of the English Rugby Football Union. Three Kiwis went off the pitch in protest, England won the game 7-0, and the Kiwis were later forced to apologise for their players leaving the field. However, even worse than this was another match involving New Zealand in 1986, playing against France. Wayne Shelford, who would later go on to be captain of the All Blacks, in one of his first games ended up at the bottom of the ruck. He lost four teeth and a French boot ripped open his scrotum, causing a testicle to hang out of it. The scrotum was sown back together on the sidelines, and Shelford played on until into the second half when he was knocked unconscious. Today, Shelford says he has no memory of the game.
- The world's first roller-coasters were made out of wood and ice. In 15th century Russia, "ice-slides" or "flying mountains" were built in several towns, including St. Petersburg. Some were 80 foot high. They were on wooden supports, coated with water which quickly froze to create an icy surface. Hollowed blocks of ice lined with straw were used as the cars. Catherine the Great had one specifically built for herself at the Oranienbaum Palace on the Gulf of Finland. They became so popular that they were called "Russian Mountains". The Spanish still call roller-coasters "Montana Rusa".
- Tangent: The pioneering American roller-coaster engineer Ron Toomer, the designer of 93 roller-coasters by the time he died in 2011, admitted that he didn't like going on them.
- Tangent: In June 1911, the owner of Boston's Derby Racer roller-coaster stood up in one of the cars to give a speech about roller-coaster safety. He fell out of the car and died.
- Tangent: In 1999, Fabio, the male model who starred on the cover of many romance novels, was once on the inaugural ride of a Virginian roller-coaster, but during the ride a goose flew by and they collided while Fabio was in the mid-ride, badly injuring Fabio's face. No-one is really sure if the goose flew into Fabio, or if the roller-coaster hit the goose which then hit Fabio. Afterwards, Fabio said that roller-coasters were dangerous, this was not a freak accident and it would happen again. So far as we know, no-one else has even been hit by a bird while riding a roller-coaster.
General Ignorance
- Car thieves start cars using scanners. It is almost impossible to hot-wire a modern car. Since the mid-1990s various precautions have been created to stop this from happening. For example, the car key now has a chip in it, and if the car doesn't detect this chip the car won't start. Today, modern car stealing methods including using scanners to clone the radio signals from car keys. This can be done from outside somebody's house. The best advice is to keep the car keys far away from the front door as possible, or put them in a biscuit tin where the signals cannot be detected. (Forfeit: Hot-wiring)
- Tangent: The first car theft ever was committed by a woman, namely Bertha Benz, the wife of Karl Benz, the inventor of the first practical automobile. Bertha thought that Karl wasn't doing his best to sell it, so she took the car on the very first long-distance journey, on 5th August 1888. She drove 90km from Mannheim to Pforzheim, with her two teenage sons, and went to visit her mother. At one point she stopped at a cobbler's and asked him to put some leather pieces onto the breaks to stop them from wearing out. Thus Bertha Benz invented brake pads.
- The cat that got the cream is probably ill. While kittens drink their mother's milk, adult cats are lactose intolerant, so cannot drink cream. They do not have the lactase enzyme in their digestive system.
- Tangent: Human beings made cheese for a thousand years before they became lactose tolerant.
Scores
- Susan Calman: 9 points
- Stephen K. Amos, Lou Sanders and Alan Davies: -6 points
Broadcast details
Date

Thursday 30th July 2020

Time

9pm

Channel

Length

30 minutes
Cast & crew
Supporters and subscribers get more
Additional content and tools are available across the site for Supporters and BCG Pro subscribers. On this page you can:
Already a donor or Pro user? Sign in