Series L, Episode 11 - Lumped Together
Further details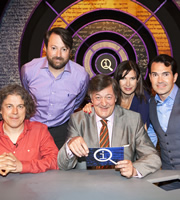 Themes
- The panel are all asked which of their buzzers was investigated by the FBI. Jimmy's buzzer is "Lola" by The Kinks; Ronni's is "Lay Lady Lay" by Bob Dylan; David's is "Louie Louie" by The Kingsmen; and Alan's is "Little Willy" by The Sweet. The answer is David's buzzer, which was investigated by the FBI because they thought the lyrics were sexual. According to the FBI the lyric: "Ah, on that ship; I dream she there; I smell the rose; Ah, in her hair" actually went: "And on that chair; I lay her there; I felt my boner; In her hair." If you listen to the song does sound like it can fit the FBI's version.
Topics
- The thing that the inventor of the lava lamp did for leisure was directing nudist films (rather than porn films). Edward Craven Walker (1918-2000), said of his lava lamp that: "It starts from nothing, grows possibly a little feminine, then a little masculine, then breaks up and has children. It's a sexy thing." One of Walker's nudist films was the first such film to be on public release.
- Lab Lark Experiment: Stephen and the panel make their own lava lamps. They use a tennis ball tube containing a mixture of vegetable oil and water, then inject some colouring into this mixture, and then add Alka Seltzer. You then just put this tube on top of a lamp. Stephen only adds one pill, but the panellists add more to make it fizz more. Stephen's lava lamp however falls over so he has to mop up the mess.
- XL Tangent: Walker founded one of the largest nudist colonies in Britain. The company which sells lava lamps is Mathmos, which is a reference to the film "Barbarella", where Mathmos was a boiling lake in the city of Sogo. The band "Duran Duran" also got their name from "Barbarella". At David's school people who were good at maths were nicknamed "math-mos". David claimed they used the nickname as a badge of pride, and indeed they wore badges. David collected badges as a child.
- XL: One way you can make sure you dream about scantily clad women is to paint a picture of one all day while chewing on an orris root (which is used in perfumes and potpourris), and then get someone to place orris root in your mouth while you slept. French Victorian aristocrat Marie-Jean-Leon Lecoq, the Marquis d'Hervey de Saint-Denys did this, and would have lucid dreams, which is a dream that you have control over and are aware of. However, according to psychologist Richard Wiseman you can also have lucid dreams by checking your watch as often as you can, making sure to look at the numbers throughout the day. This results in dreams in which you are looking at the watch, but you will not be able to focus on the numbers. This forces you to realise that you are in a dream. Of course, this does not work if you looking at a watch that does not have numerals. 50% of people have had lucid dreams, and you are more likely to have them if you are a computer gamer.
- The chances are that if you are European then your great-great-great-great-grandmother threw their underwear at Franz Liszt. Aside from being a great pianist and composer he also had an affair with Lola Montez, an Irishwoman who also had an affair with Ludwig of Bavaria that caused a revolution in Bavaria; Liszt then became an abbe. One of the people that Liszt had an affair with, former pupil Olga Janina, pursued Liszt all over Europe and became so hysterical that she tried to stab Liszt and commit suicide.
- XL: The panel are shown a picture of some leaves and are asked which of them are actual leaves. The answer is five of the six leaves there are real, and one is an insect disguised as a leaf. It is a Phylliidae, which has evolved to look like a leaf in order to avoid being eaten by birds. On the downside they look so much like leaves they get nibbled on by caterpillars. They are found in Southeast Asia and Australia. There is also the satanic leaf-tailed gecko which looks like an autumnal leaf. There are also leaves that taste nice which have evolved to look like leaves that taste unpleasant. (Forfeit: Six)
- XL: The 40 shoplifting elephants hid their loot in specially made clothes. The Forty Elephants were a gang of shoplifters working between the 1700s-1950s, and came from the Elephant and Castle area of London. They worked using specially made muffs and false hands, would often attack loads of different shops all at the same time, and then hold lavish parties at the end of the day to celebrate. (Forfeit: In their trunks)
- XL Tangent: Alan says that putting tinfoil in your coat helps you get away with shoplifting.
- XL Tangent: A journalist friend of Stephen's wrote an article about a current gang of shoplifters called the "Oysters", and when he interviewed some gang members he asked about the origin of the name. It turns out the journalist had misheard because they got their name because they 'oist stuff - they were the "Hoisters".
- XL Tangents: Elephants have been known to commit crimes. In 2013 the second tallest elephant in India was arrested for murder and hanged. Jimmy tells a story about a smuggler who brought illegal goods between Pakistan and Afghanistan. Every time he got to the checkpoint the customs officers inspected the smuggler and his elephants, but could see nothing wrong and would let him through. Eventually he retired and the customs officers asked the smuggler how he got away with his crimes and what he was smuggling. It turned out that he was smuggling elephants.
- The owner of the world's largest love handles is the beluga whale, and it uses its love handles to swim in the sea using special muscles. Beluga whales have no dorsal fins. They are hunted by various Arctic peoples because their blubber is rich in vitamin C. (Forfeit: Eric Pickles)
- What is this all about: "All that we caught, we left behind, and carry away all that we did not catch." The answer to this riddle is lice. This riddle is famous because it was given to Homer. The Oracle of Delphi told Homer that he would die on the island of Ios and that he should beware the riddles of young children. However, Homer according to legend (indeed Homer is a legendary figure and we do not know if he even existed) did go to Ios for Homer was a travelling minstrel who sang his poems. Homer was told this riddle by some native fisher boys, but then remembered what the Oracle had told him, and was so distracted by the Oracle's terrible yet accurate prediction that Homer slipped, cracked his head and died.
- Tangent: Alan jokes that Homer should have gone to Argos. David then jokes that the staff in the Argos shops are known as Argonauts, but Stephen believes him at first.
- XL Tangent: The Exeter Book is a 10th century Anglo-Saxon book from Exeter which contains 90 riddles which are filled with innuendo. One is: "My stem is erect. I stand up over the bed, hairy somewhere down below. A peasant's daughter lays her hand on me, seizes me, red, plunders my head, confines me in a stronghold. Wet be that eye." The answer is "onions". Another is: "A curiosity hangs by the thigh of a man under its master's cloak. It is pierced through in the front, it is stiff and hard, and when the man pulls up his own robe above his knee he means to poke with the head of his hanging thing that familiar hole of matching length which he has often filled before." The answer is "keys".
- XL Tangent: Jimmy tells a riddle based in the county of Essex: "How do you turn the lights on after sex? Open the car door."
General Ignorance
- The number of Spartans who died at the Battle of Thermopylae was 299. There were 300 Spartan soldiers defending a narrow coastal pass, plus their king Leonidas, so there were 301 Spartans fighting. The Spartans were also allied to Athenians who were fighting in the battle too against the Persians. The two who survived never took part in the battle. One was Pantitties, who went off to deliver a diplomatic message at the embassy. When he returned he thought he was the only survivor and hanged himself in shame. However, there was another survivor, Eurytus, who could not fight due to an eye infection. The closest to a contemporary account of the battle is from Herodotus, the father of history, who was born four years after the battle. Herodotus estimated that there were 5,000 Greek soldiers.
- Tangent: There was an MP who was introduced to Winston Churchill called Bosom, to whom Churchill said: "Neither one thing nor the other."
- Tangent: Jimmy says that Herodotus must have had an easy job because there was less history to write about. Stephen then corrects Jimmy's grammar because he should have said "fewer things to write about".
- The Birdman of Alcatraz did not keep any birds in his cell while he was imprisoned in Alcatraz because it was not allowed. Robert Franklin Stroud was allowed to keep canaries in his previous prison, but then was transferred to Alcatraz and was not allowed to keep them. Stroud was an expert on both canaries and swallows. The name of "Alcatraz" is a Moorish word. (Forfeit: Canaries)
- Tangent: Alan once visited Alcatraz, and they used to put visitors in the cells which had sliding doors. However, one day the doors got stuck and a bunch of tourists were locked in the cells for 10 hours. Other tourists kept coming in on tours however.
- Tangent: While it is quite easy to escape from the cells in Alcatraz, the currents around the island are so strong that no-one who did escape survived the swim to the shoreline.
- XL Tangent: The Spanish word "Alcatraz" means "gannets", but before that it used to mean "pelicans", which is what the prison name means. But in Arabic the word means "the sea eagle". In Alcatraz you were allowed hot showers but not cold ones as cold water would help you acclimatise to the cold water around the prison if you managed to escape from your cell. It is also possible that some people may have escaped but were never caught because their bodies were never discovered.
- No-one knows for certain who was the first person to put stuff between two slices of bread and eat it. Bread however has been around for 30,000 years, so it is inconceivable to think that someone did not come up with the idea before the fourth Earl of Sandwich back in the 18th century. The earliest known sandwich dates back to Hillel the Elder, a rabbi from the 1st Century BC, who started a Passover custom of putting chopped nuts, apples, spices and wine between two flat breads. According to the Earl of Sandwich's official biographer, his idea of the sandwich was not due to his gambling, but his Ministerial work, because he was Postmaster General and First Lord of the Admiralty. (Forfeit: The Earl of Sandwich)
- Tangent: Alan tricks Stephen into thinking that the current Earl of Sandwich is now on Gogglebox.
Scores
- Alan Davies: 3 points (Alan's 25th victory)
- David Mitchell: -7 points
- Jimmy Carr: -11 points
- Ronni Ancona: -29 points
Broadcast details
Date

Friday 19th December 2014

Time

10pm

Channel

Length

30 minutes
Cast & crew
Supporters and subscribers get more
Additional content and tools are available across the site for Supporters and BCG Pro subscribers. On this page you can:
Broadcast details of 28 further repeats of this episode
Already a donor or Pro user? Sign in