Series L, Episode 9 - Ladies & Gentlemen
Further details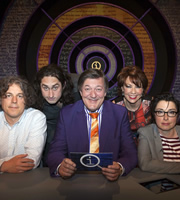 Topics
- A question for the ladies first: "Why shouldn't you have the vote?" Reasons given for not giving women the right to vote were first put forward by socialists. At the time the suffragettes only wanted the vote for women who owned property, so socialists through that expanding to the vote to more property owners would fill Parliament with more bourgeoisie. Also, lots of women did not want to vote, probably because they had been "brainwashed" into thinking they should not have. For example, because women thought that they were not involved in politics, engineering and such; it was thought that they should not vote because they knew nothing about it. The suffragette movement was also divided amongst itself. There was the "suffragists" who followed the Liberal Party, and the "suffragettes" who were the ones who smashed windows, chained themselves to railings etc.
- Tangent: Constance Wilde, wife of Oscar Wilde, was a leader of a movement that was a precursor to "Votes for Women" which was the "Rational Dress Society" which was against things like the extreme corseting of women.
-
XL Tangent: Ross jokes that Constance Wilde should have said that in the future, leggings should approached with caution, with Ross adding that you should stay away from spandex unless you are fighting crime. Spanx, which is a form of women's clothing designed to make you look slimmer is becoming more fashionable. Ross says that at weddings, women who wear spanx at the start of the wedding look wonderful, but as the day goes on boobs start appearing in odd places.
- Tangent: No-one knows for sure whether Emily Davidson had planned to kill herself by throwing herself under the king's horse, or if she just wanted to stop the horse. The British Library has Davidson's purse, which includes a return ticket to the racecourse.
- XL: Women first got the vote in 1867. The first known woman to vote was Lily Maxwell of Manchester. She was a ratepayer, and the law at the time said that ratepayers were allowed to vote. At the time there was no law saying that a woman could not vote. Such a law was brought in the following year. (Forfeit: The 1920s)
- Tangent: One anti-suffragette professor argued that women should not be educated because their brains would grow too much, and then their wombs would shrink. One person in 1905 said: "Nothing would induce me to vote for giving women the franchise." That person was Winston Churchill.
-
XL Tangent: Churchill did not say the famous quote: "Golf is a good walk spoiled." Stephen always believed it was Mark Twain who said this quote, but this too is false. This is known as "Churchillian drift", where a witty quote is wrongly attributed to Winston Churchill or a similarly famously witty person like Mark Twain, Oscar Wilde, Noel Coward or George Bernard Shaw. Ross comments that this phenomenon always the highfalutin quotes that get attributed to them, and that a really witty quote never gets attributed to some like, for example, Cannon and Ball.
- Spending-a-Penny Bonus: The panel are given some small handheld electronic devices that make the sound of water flowing. The device in question is a "Sound Princess" or "Eco Otome" and these are used in Japan to disguise the sound of you going to the lavatory without the need of having to constantly flush and thus saving water. This is because traditionally the Japanese are rather pee-shy. It comes in three colours: pink with a little heart "for the inner girl in every woman", baby blue with a ribbon "for that free and fresh feeling", and a white Save The Earth form that is unisex.
-
XL Tangent: Ross claims that the Sound Princess actually sounds more like Godzilla, which would cause Japanese people to panic even more.
- Tangent: Earlier on the day of the recording Alan took his children (aged two and four) to the toilet at the O2 Centre on Finchley Road. Someone else went to the next cubicle and did some "serious business". After about four minutes of this Alan's daughter shouted: "Oh, oh that stinks!" Alan could hear the man in the next cubicle laughing.
- Tangent: The architect Sir Edmund Beckett, the 1st Baron Grimthorpe, considered the best locksmith of his time, hated it when people did not flush his lavatory, so to get around this he designed his lavatory to lock once you entered it and it would only become unlocked once you flushed.
- Tangent: George Bernard Shaw was one of the people who argued for women's public lavatories to be built. Most early theatres did not have women's lavatories, hence why today many women's lavatories in theatres have long queues.
-
XL Tangent: Sue moans about the lack of lavatories in theatres, saying that in the end you just wet yourself in our seat during the show and then go home with a wet bottom on the night bus. Stephen jokes that "Wet Bottom on the Night Bus" will be the title of Sue's autobiography.
- You can catch various diseases from lavatory seats. These include hepatitis, dysentery, fungal infections, puerperal fever and viral gastro-enteritis. You can only catch them however from touching the loo-seat with your hand and then for that unwashed hand to touch a "soft entry point" like your nose or mouth. The easiest way to avoid it is simply washing your hands. The myth that you can catch STDs from lavatory seats was spread by doctors, because they thought that more people would come forward with STDs if they thought that they caught it from a lavatory than from a sex worker. (Forfeit: Nothing)
- Tangent: Ross once noticed he had some strange welts around his groin and went to the doctor as he was worried he might have got an STD. Actually his underpants were just too tight.
- XL: Your mother-in-law can help you run things a tiny bit better by dying. A study of 6,753 deaths among CEOs and their families found that they cause a statistically significant and economically large decline in their profitability of their companies, with the exception of mothers-in-law which had a slight positive, but statistically insignificant effect. If you really want to be a successful CEO in the USA, the feature you should have is to be tall. Only 14.5% of US men are over 6ft, but 58% of US CEOs are over 6ft. CEOs, no matter how much they are paid, have no effect on the performance of a company: the idea that they are worth what they are paid, which is gigantic compared to the average member of their workforce, is nonsense. A report in 2013 found that between 1993-2012 40% of the USA's highest paid CEOs had either their companies bailed out by the taxpayer, had their companies charged with fraudulent activity, been fired for poor performance, or have overseen the death of their companies.
-
[colour=#000080]XL Tangent: In the UK women get 58p for every
Broadcast details
Date

Friday 5th December 2014

Time

10pm

Channel

Length

30 minutes
Repeats
View more broadcast data
Help celebrate and promote British comedy by donating to fund more content and functionality. BCG Supporters get extra features in return, including this episode's audience figures and further repeats data.
Find out more
Already a donor?
Sign in
Cast & crew
View related press
Help celebrate and promote British comedy by donating to fund more content and functionality. BCG Supporters get extra features in return, including press coverage related to this episode.
Find out more
Already a donor?
Sign in