Series L - No-L
Further details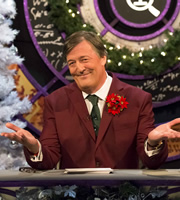 Theme
- Stephen has gifts for all the panellists under a Christmas tree, which itself is very special because it is the oldest artificial Christmas tree in the world. It was valued by Christie's at £1,000 (although it is unique so the price is anyone's guess), and was originally brought for 6d in 1886 by Lou Hicks. This tree belongs to the same family and Hicks's descendant Paul Parker, a mathematician from Bath, inherited it in 2008.
Topics
- XL Tangent: The person who brought the Christmas tree to Britain was Prince Albert. Sales of artificial Christmas trees have since overtaken sales of real Christmas trees. One thing you can do with the old pine needles is put them in a bag and you can use them to scent your bath. Carrie asks if this idea comes from Prince Albert. It does not, but Stephen jokes about other "traditions" and claims that he does not know why he grabbed his groin when he said that. Alan says it is because Stephen couldn't grab Alan's groin.
- Tangent: Carrie has a Christmas tree which she keeps all the year-round. Her house is very odd. It is over 100 years old (which Carrie describes as prehistoric in terms of American history), and previous owners included Bette Davis and Robert Armstrong. Carrie's mother Debbie Reynolds lives in Carrie's garage. Debbie Reynolds performed in Singing in the Rain when she was just 19, and claims that co-star Gene Kelly rehearsed with her until her feet bled, and that she vomited when Kelly French-kissed her. She and Donald O'Connor were "not wild" about Kelly.
- Tangent: Jimmy asks Carrie what Chewbacca is like, which leads Stephen to impersonate Chewbacca. Jimmy mocks Stephen's impression, and in return Stephen impersonates Han Solo saying: "Laugh it up, fuzzball!" Harrison Ford, who played Han Solo, said that he had a problem with the dialogue, saying: "You can type this stuff, but you can't say it." Carrie has trouble remembering one of her lines from the film, but then says: "I've placed information vital to the survival of the rebellion into the memory system of this R2 unit. My father will know how to retrieve it." Stephen then asks Carrie, in the style of C-3PO, why C-3PO can speak 2 billion languages, but not speak English without a proper intonation.
- Carrie's Present: Carrie is asked to identify what her gift is and which imperial princess gave it. It is a brass tin, of which millions like it were sent to troops from all over the British Empire during Christmas 1914 by Princess Mary, daughter of George V. She wanted to send these tins, which included Christmas cards signed by herself and the king. The tins included tobacco for those who smoked pipes; cigarettes for those who smoked cigarettes; sweets and spices for the Indian army; and sweets and silver pencils in the shape of a bullet for troops who were too young to smoke and for non-combatants. Mary originally wanted these presents for every troop that was afloat or at the front on Christmas, which was 335,000 presents successfully delivered by the deadline. But then the eligibility was extended to everyone who was wearing the king's uniform on Christmas Day 1914, which took the figure up to 2,620,019 servicemen. This resulted in a brass shortage, so they had to import brass from Canada and the USA. One of the largest consignments of brass was on the Lusitania, which was sunk and held up production.
- XL Tangent: Jimmy asks if Darth Vader sent a gift to his storm troopers. Carrie says he sent strippers. She then tells Jimmy to say: "Virtual strippers to the troopers" fast three times.
- The thing that St. Bernard got from the Virgin Mary was not just for Christmas that was the Virgin Mary's breast milk. She lactated into his mouth according to the Catholic Church, and this has been painted. The milk is supposed to represent wisdom. This was one of the few ways that painters could get away with painting more sexual scenes. The options open to them were either religion or myth. Three artists: Rubens, Vermeer and Caravaggio, all painted the legend of Roman Charity, which features Cimon who was sentenced to death by starvation, but was secretly breastfed by Pero, his own daughter. (Forfeit: A St. Bernard)
- Tangent: In reference to the painting and Star Wars, Jimmy says that things can be worse than being breastfed by our own daughter, such as getting off with your brother.
- XL: The least imaginative Christmas present that you can think of, and indeed the most popular one that women want in the USA is the gift certificate. $30billion of gift vouchers are brought in the USA, but only 75% are ever used. The original gift certificates were book tokens, which were invented in 1932 by a publisher named Raymond who was disappointed to see people giving each other Christmas presents but only three were books. He discovered that the problem was that people are not confident with buying books as presents because the recipient may not like it that book, so he came up with the book token so the recipient can get any book they like.
- XL Tangent: Alan claims he has lost a gift certificate for a day driving around Brands Hatch. Bill jokes that he had one which was to be in a helicopter for an hour - just to sit inside it, with no-one else and not to fly it.
- XL: The best way of finding out that someone is drunk without using a breathalyser is to do sobriety tests such as walking in a straight line or getting them to say a tongue twister. Examples include: "The Leith police dismisseth us", "On a lazy laser raiser lies a laser ray eraser", "Pad kid poured curd pulled cod" and "Are you copper-bottoming 'em, my man? No, I'm aluminiuming 'em, Mum."
- XL Tangent: Bill suggests a tongue twister about a wicked cricket critic. Stephen says a tongue twister: "Imagine an imaginary menagerie manager managing an imaginary menagerie."
- Bill's Present: Bill's present is the most popular tool ever made: a flint axe-head / cutting tool, which is the oldest tool in the world, made by Homo Erectus, which is known as an "Acheulean" or "Acheu-layin". Bill's is a "Mode 2" which is more advanced version of it. The original "Mode 1" is called "Oldowan" and comes from the Olduvai Gorge in Tanzania, but similar axe-heads have been found in Clacton, Essex.
- Tangent: The panel makes jokes about people on The Only Way is Essex, and people who bleach their arseholes. Alan has never seen TOWIE. Carrie asks what anal bleaching is, to which Alan says it is to make sure you don't have a "rusty sheriff's badge".
- Spending-a-Penny Bonus: The luxury that the Sybarites brought to dinner parties was chamber pots. The Sybarites, from whom we get the word "sybaritic" from, loved dining so much that they did not want to leave the room in order to use the lavatory, so they invented chamber pots so that they could stay in room where the dining was but still do their business. (Forfeit: Ferrero Rocher)
- Tangent: Smyndirides, one of the Sybarites most luxurious leaders, was said that he slept on rose petals, and could tell if he was not able to sleep if one of the petals he slept on was folded over.
- Tangent: As Stephen goes to get the next present, he accidentally knocks over the oldest artificial Christmas tree.
- Jimmy's Present: Jimmy is given a glass with a long beaded metal chain inside it, which he is able to siphon. Jimmy is told to stand up on the desk, and jerk one end of the chain out of the glass. When he does so, it appears as if the chain rises up from the glass and then falls back down onto the ground. This was discovered in 2013. Because the beads are so close together they act like a sequence of little rods. They try to rotate around their centre of gravity but they cannot because the bottom of the glass is in the way.
- XL Tangent: The chain trick was first demonstrated on YouTube by a science presenter called Steve Mould. The video has had 1.5 million hits.
General Ignorance
- XL: A detective is most likely to tell if someone has fired a gun due to powder that has come off from clothes. Fingerprints only work 5% of the time because guns are oily anyway, partly because guns are put in people's pockets so the prints get smeared off, and partly because the people firing them are normally very careful. (Forfeit: Fingerprints)
- XL: If you open the oven door while cooking a soufflé the soufflé will not collapse. It will fall if it gets cold, but it will re-rise if you heat it up. (Forfeit: It will sink)
- XL Tangent: Carrie claims to be very good at making soufflé. The best one that she makes contains ham, cheese and chocolate. 28th February is National Chocolate Soufflé Day in France.
- XL Tangent: Alan says that if you were a British kid growing up in the 1970s you would be sent into gas ovens with matches.
- You should take down your Christmas decorations on Candlemas Eve, which is 1st February. This is because Christmas is a much larger feast than many people realise, and the length is due to the fact that people had so much stored, preserved food to last the winter. The Christmas season originally began on Martinmas on 11th November. (Forfeit: 6th January)
- XL Tangent: In "The Unbelievers", a documentary film about atheism, it is said that Britain has become a more secular culture despite religion and state mixing together, whereas in American they have secularised their religion, so churches are more like self-help groups, concerned about this life rather than the next life.
- Tangent: In the USA the church and the state are separate. As a result Christmas Day is not as special a day because it is a church celebration rather than a state one. A religious festival cannot be a commercial one, so cinemas and shops remain open on Christmas Day in the USA. Despite this, 60% of Americans believe that angels walk among people, to which Alan asks why angels are walking when they have wings. Alan mimes wings with his arms, but Bill thinks Alan just looks cockney. In another question Americans were asked where Copenhagen was and most of them thought it was in Canada. Jimmy asks Carrie where the rebel base is, to which she says it is in his pants.
Scores
- Jimmy Carr: 5 points
- Carrie Fisher: 3 points
- Bill Bailey: -6 points
- Alan Davies: -46 points
Almost Forgot...
- Alan's Present: Alan is given a load of Ping-Pong balls, with which he and Stephen conduct an experiment so dangerous that the audience have to wear earplugs and the panel all wear ear defenders (Carrie's have been styled to look like Princess Leia's hair). Stephen places a bottle of very cold liquid nitrogen into an oil barrel full of hot water. The moment the bottle goes in Alan and Stephen pour in loads of Ping-Pong balls into the barrel and run away. The heat of the water causes the liquid nitrogen to turn into gas at such a speed and at such force that it causes the bottle to explode, firing the Ping-Pong balls high into the air and fall down as Ping-Pong snow.
Broadcast details
Date

Thursday 25th December 2014

Time

10:30pm

Channel

Length

30 minutes
Cast & crew
Supporters and subscribers get more
Additional content and tools are available across the site for Supporters and BCG Pro subscribers. On this page you can:
Broadcast details of 27 further repeats of this episode
Already a donor or Pro user? Sign in