Series A, Episode 6 - Antidotes
Further details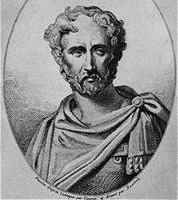 Topics
- When asked why he had a horseshoe on his door, physicist Niels Bohr answered, "Of course I don't believe in it, but I understand it brings you luck, whether you believe in it or not."
- When asked in a radio interview if she thought the barriers of the British class system had broken down, Barbara Cartland answered, "Of course they have, or I wouldn't be sitting here talking to someone like you."
- When asked by a priest, "Do you forgive your enemies," the dying Spanish general Ramon Blanco y Erenas answered, "No, I don't have any enemies. I've had them all shot."
- The antidotes of QI's patron saint - Pliny the Elder:
- To cure epilepsy, eat the heart of a black jackass, outside, on the second day of the moon. Alternatively, eat lightly poached bear testes, a dried camel brain with honey, or drink fresh gladiator's blood.
- Tangent: It is impossible to lick your own elbow. According to legend, if you can, you live for ever. Correction: This was proven wrong in Series H, Episode 3 (Hoaxes) when a member of the audience did lick their own elbows.
- To cure incontinence, touch the tips of the genitals with linen or papyrus. Alternatively, drink a glass of wine mixed with the ash of a burned pig's penis, or urinate in your or your neighbour's dog's bed.
- To cure haemorrhoids, use a cream made from pig lard and the rust of a chariot wheel. Alternatively, use swan fat or the urine of a female goat.
- To cure headaches, tie some fox genitals to your head.
- Tangent: The British bee died out during World War One. Modern bees come from bees introduced from Mexico.
- To cure choking on a piece of bread, take a piece from the same loaf of bread, and put it in each ear.
- Tangent: Pliny the Elder was killed when Mount Vesuvius erupted and destroyed Pompeii. He went to investigate the eruption, wearing a pillow tied to his head to protect him.
- 24 people are killed every year by members of the Swiss army, due to the high availability of guns, and that Switzerland has national service.
- In the Vietnam War, U.S. medics prevented wounded soldiers from swallowing their own tongues by fastening them to their cheeks with safety pins.
- The army of Costa Rica is attractive because it does not exist. It was disbanded in 1949. The constitution forbids a national army - the only country in the world to do so.
- There are no Alsatians in the Spanish army because they have an IQ of 60, and the minimum IQ for the army is 70.
General Ignorance
- The largest frog in the world, the Goliath frog of Cameroon and Equatorial Guinea is mute. (Forfeit: Ribbit)
- Tangent: Only one frog in the world goes, "Ribbit", - the Southern Pacific Tree frog. This is the frog that lives in Hollywood. Recorded locally, it has been used in hundreds of movies, leading people to think that all frogs make the same sound.
- An acre is 40 poles long by 4 poles wide. (Forfeit: The Polish army)
- The Chicago World's Fair of 1933 was opened by light from Arcturus, the brightest star in the Northern Hemisphere.
Deleted Scenes
- Tangent: In China, there is a tribe called the Dong who sing to each other rather than talk. The government gave them a telephone box, but because everyone knew each other, it was used to keep chickens in.
- Tangent: The word "Hello" was decided to be the standard way to answer the telephone, after a New York Times competition. Before, the word used was, "Ahoy, hoy".
- George III's last words were, "I think I'll shall have another of Mr. Bellamy's pork pies." He, like Elvis Presley, died on the toilet.
Scores
- Danny Baker: 19 points
- Howard Goodall: 17 points
- Jo Brand: 13 points
- Alan Davies: 8 points
Broadcast details
Date

Thursday 16th October 2003

Time

10pm

Channel

Length

30 minutes
Cast & crew
Supporters and subscribers get more
Additional content and tools are available across the site for Supporters and BCG Pro subscribers. On this page you can:
Broadcast details of 43 further repeats of this episode
This episode's inital overnight ratings
Already a donor or Pro user? Sign in