2012 results
Comedy.co.uk Awards 2012 - Results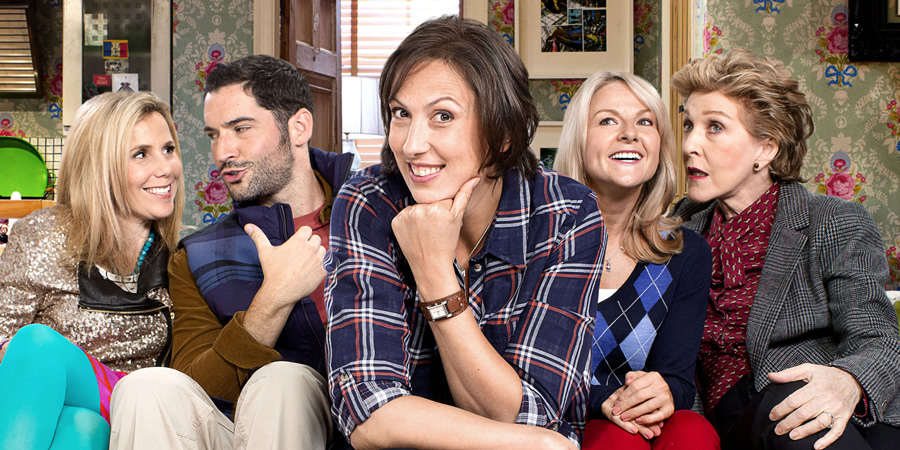 The results of the Comedy.co.uk Awards 2012 are in - and it was a great year for British sitcom. To remind you, these are the awards that are 100% based on a public vote.
Best New British TV Sitcom 2012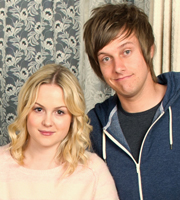 Hebburn
Sitcom is not only the most popular comedy genre, but also the most difficult to get right. That makes this award, for the best brand new television sitcom of the year, a particularly prestigious one, indicating that the winner has instantly captured the public's imagination and should have a long, healthy future ahead of it.
Previous winners include The Inbetweeners and Gavin & Stacey - and this year it's the turn of BBC Two hit Hebburn to take the crown.
Written by stand-up comic Jason Cook, the north east-set sitcom drew in viewers up and down the nation when it launched in October, telling the story of Jack Pearson (Chris Ramsey, pictured) and his family - in particular his new wife Sarah (Kimberley Nixon, pictured), whom he wed in Las Vegas without his parents' knowledge. Fans of the show will be delighted to know that a second series is now being written.
Other new sitcom to score highly include Bad Education, Cuckoo and Moone Boy. The most-loved pilot was Milton Jones's House Of Rooms, suggesting that Channel 4 made a mistake not to order a series.
The Comedy.co.uk Awards also allow the public to cast negative votes: reality show spoof Lemon La Vida Loca was the most disliked new sitcom title of the year.
Best Returning British TV Sitcom 2012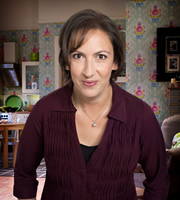 Miranda
Miranda Hart's sitcom is picking up amazing ratings on BBC One at the moment. Over 7 million viewers tuned in to the most recent episode. It's a perfect antidote to these times of financial struggle, with its permanently feel-good, upbeat, escapist and high-energy comedy.
Mrs. Brown's Boys, Not Going Out and the return of Red Dwarf were also very popular - a clear sign to critics and commissioners that the public love nothing more than a good, gag-packed, traditional studio sitcom. Non-audience hits Outnumbered, Peep Show and The Thick Of It also scored well.
Interestingly, despite being the second most popular returning sitcom of the year, Mrs. Brown's Boys was also voted the worst returning TV sitcom of 2012 - highlighting just how much it divides public opinion.
Best British Radio Sitcom 2012
Bleak Expectations
We love radio comedy here at British Comedy Guide - it's a chance to be transported to worlds that TV budgets just can't achieve. Bleak Expectations is the perfect example of this - in its most recent series the madcap sitcom set in the Victorian era visited India, the Antarctic and tackled a threat to the whole universe. We've yet to find someone who doesn't love the show, so it's no major surprise to learn it's been voted top in this category.
Count Arthur Strong's Radio Show!, Party, Ed Reardon's Week and Fags, Mags And Bags also proved popular.
Best British TV Sketch Show 2012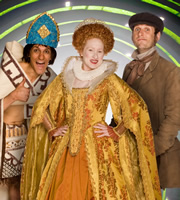 Horrible Histories
Once again childrens' comedy Horrible Histories has been voted as the favourite sketch show from the year. Proving that if you simply write funny rather than pander to an audience demographic you'll be rewarded, this CBBC series puts other TV sketch comedy to shame - can it continue its dominance in 2013?
BBC Three pilot Dawson Bros. Funtime also proved very popular with our voters, suggesting that the channel's bosses should be commissioning a full series as soon as possible.
In terms of negative votes, Noel Fielding's Luxury Comedy was the least popular sketch show of the year. Perhaps not a surprise considering how disappointed people said they were when this surreal series appeared on screens last January.
Best British Radio Sketch Show 2012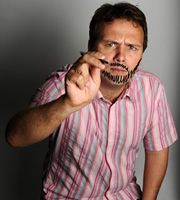 John Finnemore's Souvenir Programme
John Finnemore is quickly becoming Radio 4's golden boy. His hit sitcom Cabin Pressure is currently raking in praise by the bucketload, and whilst that sitcom didn't broadcast any new episodes in 2012, his sketch show did return for a second, equally celebrated series.
The Radio Times called Souvenir Programme "the best sketch show in years", and it seems the public had no argument with such an assessment - for the second year running!
Best British TV Panel Show 2012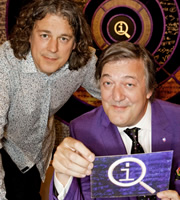 QI
The TV panel show category is, to say the least, hotly contested. Each year multiple newcomers jostle with established favourites such as Mock The Week and QI - and when all the votes were tallied, the brainy panel show just clinched the win. Proof that you don't need to dumb down to the lowest common denominator to be popular. Where else could you learn that the Epomis beetle larvae eats frogs inside-out?
QI was closely followed by ratings winners Celebrity Juice, HIGNFY, 8 Out Of 10 Cats, Would I Lie To You? and Mock The Week. Meanwhile, Chris Moyles Quiz Night achieves the dubious honour of attracting the most negative votes.
Best British Radio Panel Show 2012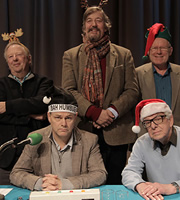 I'm Sorry I Haven't A Clue
It's one of radio's longest running comedies, and it seems Jack Dee has been truly accepted by listeners now as the new host of the popular panel game. It's an incredibly popular category against fellow long-runners such as Just A Minute, but ISIHAC came out on top.
Radio 4's other established formats The News Quiz, Just A Minute and The Unbelievable Truth were also popular in this category.
Best British TV Entertainment Show 2012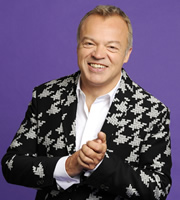 The Graham Norton Show
Affable Irishman Graham Norton has, it's fair to say, taken over Jonathan Ross's mantle of most popular chat show host with ease. Now in its 12th series and heading fast toward the 200 episodes mark, the comic continues to get high ratings for his Friday night series, and a host of A-List Hollywood names on his sofa.
Other popular shows in this category include Alan Carr: Chatty Man, BBC Three topical smash hit Russell Howard's Good News, and for its final ever series, Harry Hill's TV Burp.
Best British Radio Entertainment Show 2012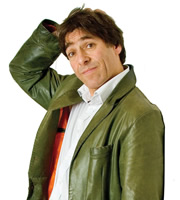 Mark Steel's In Town
This stand-up show, in which Mark Steel visits various towns and then performs a stand-up set to the locals, won a Sony Gold Award last year. It seems voters in our awards agree with the Sony panel, as they've voted it their top audio entertainment show of 2012.
Musical series Alex Horne Presents The Horne Section was also popular, so fans will be relieved to hear that it is coming back soon for another series.
Best British TV Comedy Drama 2012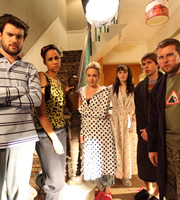 Fresh Meat
The British Comedy Awards have dropped their Comedy Drama category, which means the programmes which can tread that tricky line of being both dramatic and funny (something few succeed, normally they end up the worst of both worlds) don't get many chances to be recognised.
For the second year running, however, voters in the Comedy.co.uk Awards have named Channel 4 comedy drama Fresh Meat, starring Jack Whitehall, Joe Thomas, Kimberley Nixon, and Greg McHugh amongst others, as the single best comedy drama of the year.
Sky's gag-packed detective spoof A Touch Of Cloth was also very popular in the voting, as was hit new BBC show Last Tango In Halifax, and Ruth Jones's comedy drama Stella.
Shameless picked up the most amount of negative votes in this category, suggesting that its good news that this forthcoming series will be the last. Ricky Gervais's Derek was also very unpopular.
Comedy Of The Year 2012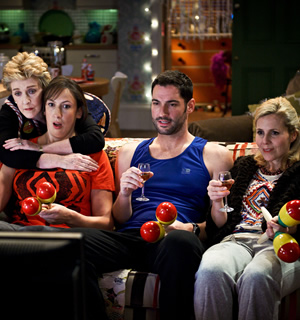 Miranda
Miranda, Miranda, Miranda. There's no doubt that the British public love a good sitcom, and there really can be no doubt that this is one.
The third series of this super-successful comedy is currently achieving amazing ratings on BBC One, having transferred from BBC Two for its first two series, last broadcast in 2010. In that year it also scooped this same title, and audiences continue to proclaim their love and adoration for the series in droves.
With this hit TV series to her name, an upcoming arena stand-up tour, a best-selling book and near astronomic national popularity, is there anything Miranda Hart cannot do?
British Comedy Guide Editors' Award 2012
Each year we reserve one award to be given out to something, or someone, that we think deserves a little extra attention, a pat on the back, or perhaps just a reminder of their achievements.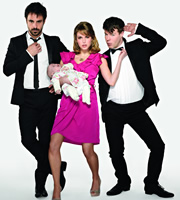 Threesome
You mightn't have heard of this one? Tucked away on digital channel Comedy Central, this very modern sitcom focusses on the novel living arrangements of a loving couple and their gay best friend. After a drunken 30th birthday party the three end up in bed together - and it doesn't take a genius to work out who the father of the baby is!
Featuring witty, inventive, and very funny scripts; a fantastic regular cast; top quality guest appearances from the likes of Robert Webb (Peep Show), Bill Bailey, and Father Ted's Pauline McLynn, the second series of this sitcom, broadcast in the Autumn, was a sheer delight.
We congratulate production company Big Talk and Comedy Central for giving this unique series the chance to grow. It seems to have boosted the channel's confidence in ordering more original comedy: look out for The Alternative Comedy Experience and Big Bad World later this year.