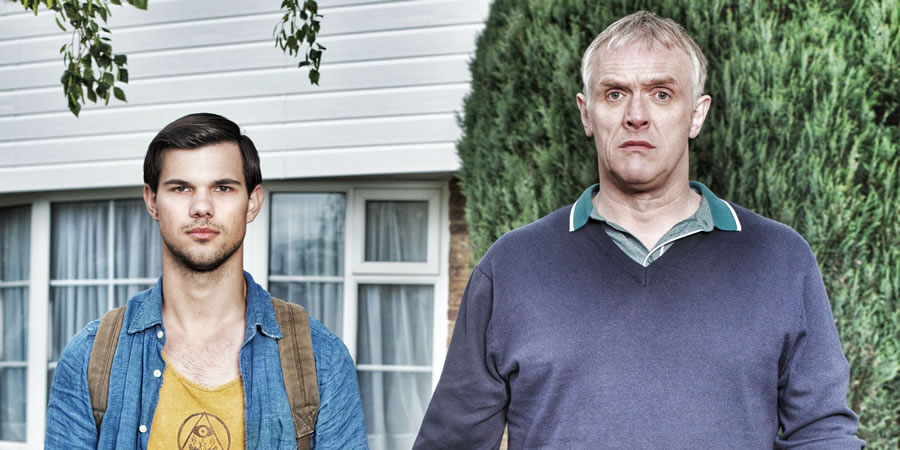 Genre

Sitcom

Broadcast

Channels

Episodes

Creators

Starring

Greg Davies, Taylor Lautner, Andy Samberg, Esther Smith, Tamla Kari, Helen Baxendale, Tyger Drew-Honey, Selina Griffiths and others

Writers

Directors

Producers
Cuckoo is set in the Midlands, home to the Thomas family. When Ken and Lorna collect their daughter from the airport, they're horrified to learn that she's returned from her gap year with more than just a henna tattoo and braids in her hair.
At the arrival gate, she promptly introduces them to her new husband, Cuckoo - the squared-jawed, self-appointed spiritual ninja who is now their son-in-law. Cuckoo is every parent's worst nightmare - a slacker full of outlandish, New Age ideas.
Ken and Lorna have no choice but to welcome him into their family home - and if every Englishman's home is his castle, then this hippie has stormed Ken's fortress and plundered everything, most unforgivably, his princess.
In Series 2, Cuckoo seems to have died in a travel accident. Set two years later, the episodes see the Thompsons having to handle another imposter in the family nest, when a mysterious figure from Cuckoo's past arrives to mess up their lives that little bit more. It turns out that Dale is Cuckoo's son (don't ask).
Series 3 re-joins the Thompson family six months after Dale's dramatic departure at Christmas. Ken and Lorna are preparing for the birth of their new baby.
Dylan, much to Ken's delight, is getting ready to fly the nest as he prepares to leave for university. Rachel is heartbroken and pining for Dale, but has managed to salvage a questionable friendship with jilted 'bestie' Ben.
Life is slowly getting back to normal in Lichfield when a transformed Dale returns to throw more spanners in the family works...