"A humorous radio or television series featuring the reactions of a regular cast of characters to unusual situations, such as misunderstandings or embarrassing coincidences; a sitcom."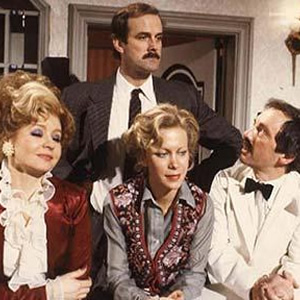 A sitcom ("sitcom", "sit com") or, to give it its full name, 'situation comedy' is a genre of comedy performance in which recurring characters take part in humorous storylines centred on a common environment, such as a family home or workplace. Sitcoms were originally devised for the radio but today are found on television too.
'Situation Comedy' entry on Wikipedia
A British sitcom is a situation comedy which is produced for viewers in the United Kingdom. Our list of British sitcoms contains the name of almost every British situation comedy programme broadcast on television and radio.
British sitcoms are normally arranged into six episode series - with one half-hour episode being broadcast each week. The reason each season is typically only six episodes long per season is that, unlike in America, sitcoms in the UK are normally written by just one or two people instead of by a team of writers. Also British TV stations prefer just six episodes per series as it means they can change their schedules more frequently and it is not such a risk investing in a new programme.
British sitcoms are normally first broadcast on one of six TV channels - they're either shown on one of the four main BBC channels, ITV1 or Channel 4. BBC1 shows mainstream sitcoms (like My Family), BBC2 shows more cult sitcoms (such as The Office), BBC3 broadcasts comedies aimed at young adults (like Coming Of Age), whilst BBC4 broadcasts mainly 'high-brow' intelligent comedy (like The Thick Of It). Meanwhile ITV shows sitcoms aimed at a mass-market (although hasn't commissioned much comedy recently), and Channel 4 creates more cutting edge and controversial sitcoms, like Nathan Barley and Peep Show. For a complete breakdown of all the channels and what they show see our channel guide
Below we run through the key sitcom developments from each decade...
1950s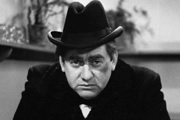 The fifties was when the British sitcom first appeared on television. Hancock's Half Hour is considered by many to be one of the first big British sitcoms, it ran simultaneously on BBC Radio and television throughout the 1950s and was seen and heard by the majority of the population. Early 1950s 'sitcoms' were very different from what we now recognise as a sitcom in that they were focused around comedians playing extensions of themselves, rather than playing totally fictional characters. The Army Game was another programme which was very popular with audiences in this decade.
1960s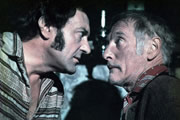 Steptoe and Son, created by Hancock writers Ray Galton and Alan Simpson, burst on to the BBC in 1962 and made an instant impression with audiences. Later in the decade Johnny Speight's Till Death Us Do Part brought some interesting political issues to the screen whilst Dick Clement and Ian La Frenais created The Likely Lads, the first of their many sitcom hits. Also Jimmy Perry and David Croft's Dad's Army started in this decade and, little did they realise at the time, it would run throughout the 1970s and in the process become one of Britain's top rated sitcoms.
1970s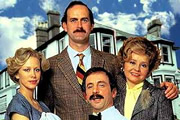 The 1970s is where things really started to hot up. This decade is now looked upon by some as 'the golden age of British sitcom' because, looking back, many famous sitcoms were created in these ten years, many of which are still regularly repeated all over the globe!
New series during this decade included the massive smash hits Fawlty Towers, The Good Life, Are You Being Served?, Last of the Summer Wine, Rising Damp, George & Mildred, Porridge, Some Mothers Do 'Ave 'Em, Open All Hours and To The Manor Born (the latter of which smashed all ratings records at the time).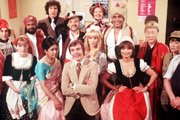 The seventies was a particularly successful era for commercial station ITV. The majority of the sitcoms produced in this decade were broadcast on ITV making the channel very popular. ITV have had very few successes since and is now in a bit of a comedy 'crisis'.
This was also a decade in which a number of sitcoms which would now be considered politically incorrect were broadcast - Mind Your Language and Love Thy Neighbour being the two most well known examples.
1980s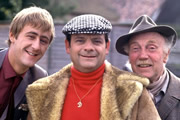 The political and social revolutions of 1980s Tory-led Britain caused the typical sitcom to change somewhat. More anarchic and less-traditional comedies like The Young Ones and Red Dwarf popped up and pushed 'old fashioned' sitcoms off the screen. It was also the era of more sophisticated and intelligent sitcoms like the brilliant Blackadder and ever so clever Yes, Minister.
It was also during the eighties that John Sullivan first started writing Only Fools and Horses - a programme which, by the 90s, would become the country's top rated sitcom.
1990s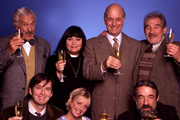 The new sitcoms created in the 1990s continued the trend set in the 80s - Men Behaving Badly, Drop the Dead Donkey, The Vicar of Dibley, Absolutely Fabulous, Father Ted, The Royle Family, Alan Partridge and One Foot in the Grave all broke new ground and, in the process, changed what audiences expected of a 'typical' sitcom.
2000s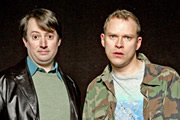 By the start of the millennium the popular, traditional mainstream mass-watched sitcom format seemed to be over. Instead cult sitcoms, watched by smaller audiences but very much loved by fans, took to the airwaves - Spaced, Phoenix Nights, Black Books, Coupling, Peep Show and Early Doors being some examples.
In 2001 Ricky Gervais' ground-breaking new sitcom The Office was broadcast to great critical acclaim and hype. Whilst it has been hailed as the biggest sitcom success story of the decade (having spawned multiple versions around the world, including a long-running US format), it should be pointed out that it is still didn't manage to achieve the audience figures seen of the 'golden seventies'.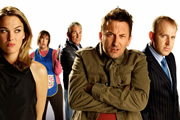 In the mid-naughties, following a number of terrible sitcoms - like Doctors And Nurses, According to Bex and Mad About Alice - the comedy industry began to publicly mutter about "the death of the British sitcom".
However, within a year of people declared the mainstream sitcom over, the genre bounced back. The latter end of the decade saw a boom in studio-based sitcoms again, with the likes of Not Going Out, My Family and The IT Crowd attracting multiple re-commissions.