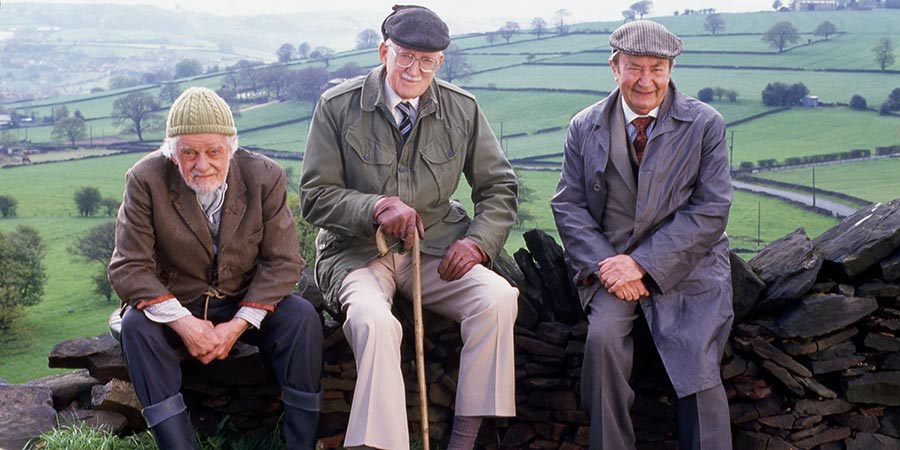 Genre

Sitcom

Broadcast

Channel

Episodes

Starring

Bill Owen, Peter Sallis, Frank Thornton, Brian Murphy, Michael Bates, Brian Wilde, Michael Aldridge, Keith Clifford and others

Writer

Directors

Producers
Sitcom following a group of male pensioners looking for adventure. With characters entering and leaving the series over its lifetime, trios have included Compo, Clegg and Foggy; Clegg, Truly and Alvin; and Hobbo, Entwistle and Alvin.
The 'gang' are ageing delinquents who carry out boyish pranks in a quiet Yorkshire village. Their japes revolve around daredevil stunts aimed at wooing their lady friends or getting male chums out of trouble.
Part of

Production company

Laugh track

Yes, but type varies
Broadcast details
First broadcast

Thursday 4th January 1973 on BBC One at 8pm

Last new broadcast

Sunday 29th August 2010 on BBC One at 8pm

Upcoming repeats

Series 29 Episode 2: Tomorrow at 10am on Gold
Series 29 Episode 3: Tomorrow at 10:40am on Gold
Series 29 Episode 2: Tomorrow at 4:40pm on Gold
Series 29 Episode 3: Tomorrow at 5:20pm on Gold
Series 25 Episode 4: Tomorrow at 7:20pm on Drama
Series 29 Episode 4: Tuesday at 10am on Gold
Series 29 Episode 5: Tuesday at 10:40am on Gold
Series 29 Episode 4: Tuesday at 4:40pm on Gold
Series 29 Episode 5: Tuesday at 5:20pm on Gold
Series 25 Episode 5: Tuesday at 7:20pm on DramaShow all repeats
Series 29 Episode 6: Wednesday at 10am on Gold
Series 29 Episode 7: Wednesday at 10:40am on Gold
Series 29 Episode 6: Wednesday at 4:40pm on Gold
Series 29 Episode 7: Wednesday at 5:20pm on Gold
Series 25 Episode 6: Wednesday at 7:20pm on Drama
Series 29 Episode 8: Thursday at 10am on Gold
Series 29 Episode 9: Thursday at 10:40am on Gold
Series 29 Episode 8: Thursday at 4:40pm on Gold
Series 29 Episode 9: Thursday at 5:20pm on Gold
Series 25 Episode 7: Thursday at 7:20pm on Drama
Series 29 Episode 10: Friday at 10am on Gold
Series 29 Episode 11: Friday at 10:40am on Gold
Series 29 Episode 10: Friday at 4:40pm on Gold
Series 29 Episode 11: Friday at 5:20pm on Gold
Series 25 Episode 8: Friday at 7:20pm on Drama
Series 30 Episode 1: Monday 2nd August at 10:20am on Gold
Series 30 Episode 2: Monday 2nd August at 11am on Gold
Series 30 Episode 1: Monday 2nd August at 4:40pm on Gold
Series 30 Episode 2: Monday 2nd August at 5:20pm on Gold
Series 25 Episode 9: Monday 2nd August at 7:20pm on Drama
Series 30 Episode 3: Tuesday 3rd August at 10am on Gold
Series 30 Episode 4: Tuesday 3rd August at 10:40am on Gold
Series 30 Episode 3: Tuesday 3rd August at 4:40pm on Gold
Series 30 Episode 4: Tuesday 3rd August at 5:20pm on Gold
Series 25 Episode 10: Tuesday 3rd August at 7:20pm on Drama
Series 30 Episode 5: Wednesday 4th August at 10am on Gold
Series 30 Episode 6: Wednesday 4th August at 10:40am on Gold
Series 30 Episode 5: Wednesday 4th August at 4:40pm on Gold
Series 30 Episode 6: Wednesday 4th August at 5:20pm on Gold
Series 26 Episode 1: Wednesday 4th August at 7:20pm on Drama
Series 30 Episode 7: Thursday 5th August at 10am on Gold
Series 30 Episode 8: Thursday 5th August at 10:40am on Gold
Series 30 Episode 7: Thursday 5th August at 4:40pm on Gold
Series 30 Episode 8: Thursday 5th August at 5:20pm on Gold
Series 26 Episode 2: Thursday 5th August at 7:20pm on Drama
Series 30 Episode 9: Friday 6th August at 10am on Gold
Series 30 Episode 10: Friday 6th August at 10:40am on Gold
Series 30 Episode 9: Friday 6th August at 4:40pm on Gold
Series 30 Episode 10: Friday 6th August at 5:20pm on Gold
Series 26 Episode 3: Friday 6th August at 7:20pm on Drama
Website links
Supporters and subscribers get more
Additional content and tools are available across the site for Supporters and BCG Pro subscribers. On this page you can:
View location details
See ratings for 6 episodes
Already a donor or Pro user? Sign in