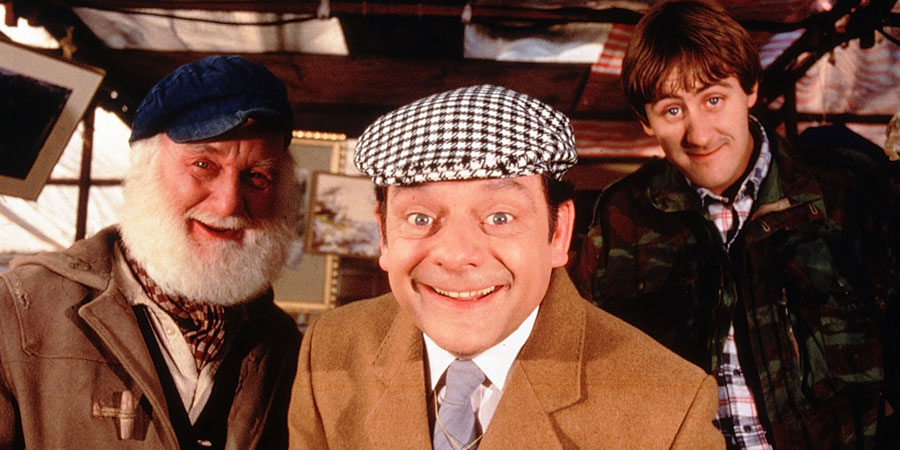 Genre

Sitcom

Broadcast

Channel

Episodes

Creator

Starring

David Jason, Nicholas Lyndhurst, Buster Merryfield, Lennard Pearce, Roger Lloyd Pack, Patrick Murray, Paul Barber, John Challis and others

Writer

Directors

Producers
Sitcom about of two streetwise south-Londoners: Derek 'Del Boy' Trotter and the younger brother he raised since their mother's death, Rodney.
Through the initial series, the brothers shared their high-rise council flat in Nelson Mandela House with their Grandad. When he died his estranged brother, WWII Navy veteran Uncle Albert, moved in.
In later series, Rodney married Cassandra and moved out to live with her, whilst Del began dating one-time magician's assistant Raquel, who eventually moved into the flat; in due course they were joined by a son, Damien.
Production company

Also known as

OFAH (Acronym)
Only Fools And Horses.... (Other official name)

Soundtrack

The theme song was written, composed and lyrics performed by John Sullivan.

Laugh track

Live audience
Broadcast details
First broadcast

Tuesday 8th September 1981 on BBC One at 8:30pm

Last new broadcast

Friday 21st March 2014 on BBC One at 9:40pm

Upcoming repeats

Series 7 Episode 6: Today at 2:10pm on Gold
1996 Christmas Trilogy Episode 1: Today at 3:20pm on Gold
1996 Christmas Trilogy Episode 3: Today at 4:40pm on Gold
The Final Specials Episode 1: Today at 6pm on Gold
The Final Specials Episode 2: Today at 7:30pm on Gold
Series 5 Episode 5: Tomorrow at 8:45am on Gold
The Final Specials Episode 1: Tomorrow at 12pm on Gold
Series 2 Episode 6: Tomorrow at 1:40pm on Gold
Series 5 Episode 5: Tomorrow at 3:20pm on Gold
Series 5 Episode 5: Tomorrow at 6pm on GoldShow all repeats
Series 2 Episode 6: Tomorrow at 8pm on Gold
Series 2 Episode 2: Tomorrow at 8:40pm on Gold
Series 1 Episode 2: Tomorrow at 9:20pm on Gold
Series 5 Episode 6: Tuesday at 9am on Gold
Series 2 Episode 6: Tuesday at 1:20pm on Gold
Series 2 Episode 2: Tuesday at 2pm on Gold
Series 1 Episode 2: Tuesday at 2:40pm on Gold
Series 5 Episode 6: Tuesday at 3:20pm on Gold
Series 5 Episode 6: Tuesday at 6pm on Gold
Series 3 Episode 3: Tuesday at 8pm on Gold
Series 3 Episode 7: Tuesday at 8:40pm on Gold
Series 1 Episode 3: Tuesday at 9:20pm on Gold
Series 3 Episode 3: Wednesday at 12:20pm on Gold
Series 3 Episode 7: Wednesday at 1pm on Gold
Series 1 Episode 3: Wednesday at 1:40pm on Gold
Series 2 Episode 5: Wednesday at 8pm on Gold
Series 1 Episode 7: Wednesday at 8:40pm on Gold
Series 1 Episode 4: Wednesday at 9:25pm on Gold
Series 2 Episode 5: Thursday at 12:35pm on Gold
Series 1 Episode 7: Thursday at 1:15pm on Gold
Series 1 Episode 4: Thursday at 2pm on Gold
Series 2 Episode 6: Thursday at 2:40pm on Gold
Series 3 Episode 8: Thursday at 8pm on Gold
Series 2 Episode 7: Thursday at 8:40pm on Gold
Series 1 Episode 5: Thursday at 9:20pm on Gold
Series 2 Episode 6: Friday at 12pm on Gold
Series 3 Episode 2: Friday at 12:40pm on Gold
Series 3 Episode 8: Friday at 1:20pm on Gold
Series 2 Episode 7: Friday at 2pm on Gold
Series 1 Episode 5: Friday at 2:40pm on Gold
Series 2 Episode 7: Friday at 8pm on Gold
Series 4 Episode 2: Friday at 8:40pm on Gold
Series 3 Episode 2: Friday at 9:20pm on Gold
Series 4 Episode 1: Saturday at 9:20am on Gold
Series 4 Episode 2: Saturday at 10am on Gold
Series 4 Episode 3: Saturday at 10:40am on Gold
Series 4 Episode 4: Saturday at 11:20am on Gold
Series 2 Episode 7: Saturday at 12pm on Gold
Series 4 Episode 2: Saturday at 12:40pm on Gold
Series 4 Episode 5: Saturday at 1:20pm on Gold
Series 4 Episode 6: Saturday at 2pm on Gold
Series 4 Episode 7: Saturday at 2:40pm on Gold
Series 4 Episode 1: Saturday at 3:20pm on Gold
Series 4 Episode 2: Saturday at 4pm on Gold
Series 4 Episode 3: Saturday at 4:40pm on Gold
Series 4 Episode 4: Saturday at 5:20pm on Gold
The Final Specials Episode 3: Saturday at 6pm on Gold
Series 3 Episode 1: Saturday at 7:40pm on Gold
Series 3 Episode 2: Saturday at 8:20pm on Gold
Series 3 Episode 3: Saturday at 9pm on Gold
Series 4 Episode 5: Sunday 3rd October at 8:40am on Gold
Series 4 Episode 6: Sunday 3rd October at 9:20am on Gold
Series 4 Episode 7: Sunday 3rd October at 10am on Gold
Series 3 Episode 1: Sunday 3rd October at 10:40am on Gold
Series 3 Episode 2: Sunday 3rd October at 11:20am on Gold
Series 3 Episode 3: Sunday 3rd October at 12pm on Gold
Series 3 Episode 4: Sunday 3rd October at 12:35pm on Gold
Series 3 Episode 5: Sunday 3rd October at 1:20pm on Gold
Series 3 Episode 6: Sunday 3rd October at 2pm on Gold
Series 3 Episode 8: Sunday 3rd October at 2:40pm on Gold
The Final Specials Episode 3: Sunday 3rd October at 3:20pm on Gold
Series 3 Episode 4: Sunday 3rd October at 5pm on Gold
Series 3 Episode 5: Sunday 3rd October at 5:40pm on Gold
Series 3 Episode 6: Sunday 3rd October at 6:20pm on Gold
Series 3 Episode 8: Sunday 3rd October at 7pm on Gold
Series 6 Episode 7: Sunday 3rd October at 7:40pm on Gold
Series 6 Episode 7: Monday 4th October at 2pm on Gold
Website links
Supporters and subscribers get more
Additional content and tools are available across the site for Supporters and BCG Pro subscribers. On this page you can:
View location details
See ratings for 66 episodes
Already a donor or Pro user? Sign in