Channel 4 at 30: A look back at its comedy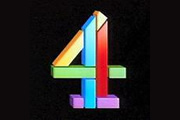 1982 was a big year. First, there was the Argentine invasion of the Falklands Islands, then there was the birth of Prince William. The 2nd November 1982 also witnessed the launch of Channel 4 and a decisive new era for British comedy.
Chris Hallam takes a look back at a thirty year struggle for comedy supremacy...
A Kick Up The Eighties...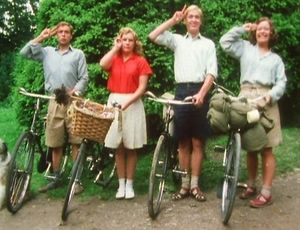 Thirty years ago, on its opening night, Channel 4 broadcast the very first edition of The Comic Strip Presents.... Starring the likes of Dawn French and Adrian Edmondson, Five Go Mad In Dorset (pictured) parodied Enid Blyton but also marked out the new channel's territory. The first editions of Countdown and Brookside had barely finished going out and the new channel was already carving out a niche as a groundbreaking arena for the new wave of alternative comedy.
Or was it? In fact, the BBC launched a broadside to steal the new channel's thunder. The Young Ones, the anarchic sitcom that (perhaps more than any other) defined the new alternative comedy era, launched on BBC2 a mere week later. Co-written by rising stars Ben Elton and Rik Mayall, the series featured appearances from virtually everyone who would become a comedy star in the following decade. To name a few: Alexei Sayle, French & Saunders, Robbie Coltrane, even (ahem) Hale & Pace. Many of these would of course appear in later editions of The Comic Strip, too.
In fact the Beeb had started down the 'alternative' road a full three years earlier. Not The Nine O'Clock News had effectively launched the alternative scene on TV back in October 1979.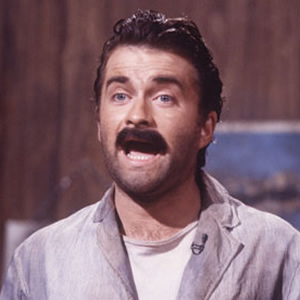 But the confrontation of Autumn 1982 marked the shape of things to come. Channel 4 would prove a major force in the comedy scene but would never dominate it. This was especially true in the Eighties.
Yes, Harry Enfield (pictured) and Ben Elton would get their stand-up breakthroughs on Channel 4 courtesy of Friday Night Live, Saturday Live and Who Dares Wins.... So would the young Jonathan Ross on The Last Resort. By the end of the decade, Vic Reeves Big Night Out was also securing a cult following for Vic & Bob, which has since turned out to be permanent.
The main channels never entirely lost their edge though. On the one hand, the BBC broadcast Hi-De-Hi! and Last Of The Summer Wine. But they also showed French & Saunders, Alas Smith & Jones, Alexei Sayle's Stuff and Victoria Wood As Seen On TV. By 1990, they were even broadcasting The Comic Strip itself.
Odd as it seems now, even ITV was a comedy force to be reckoned with. True, they did continue to broadcast a lot of stuff that Channel 4 would never have touched with a bargepole. Shows like Fresh Fields and Duty Free or, even worse, Robin Askwith milkman sitcom Bottle Boys, and Jim Davidson's Up The Elephant And Round The Castle and its sequel Home James!. But they also did put out The New Statesman, one of the most vigorous anti-Tory satires of all time, and Midlands franchisee Central helped launched the careers of everyone from Steve Coogan to Ian Hislop with Spitting Image.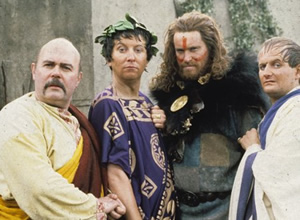 Worse still (though it was admittedly a minority channel), Channel 4's failure to score any home-grown hits didn't help. Blackadder, featuring the efforts of Not The Nine O'Clock News alumini Rowan Atkinson and Richard Curtis, was probably the best British sitcom of the Eighties. Channel 4's limp response was the Roman-era sitcom Chelmsford 123 (pictured).
In one area, however, Channel 4 has always excelled: importing US comedy. Cheers, Roseanne - and into the 90s - Frasier, Friends, Will & Grace: virtually every great US sitcom of the past thirty years was brought to the UK on Channel 4. Tellingly, most of the others were either squandered by the Beeb by being put on in a graveyard timeslot (The Larry Sanders Show, Seinfeld) or bypassed network TV completely (Curb Your Enthusiasm, 30 Rock, Modern Family). Channel 4 has a great record in this regard.
1990s: Channel 4's golden age?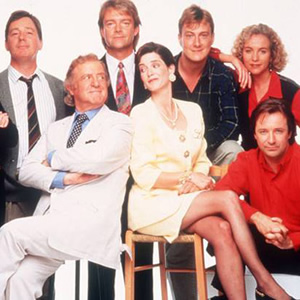 As far as nurturing home-grown talent was concerned, the Nineties began unpromisingly for Channel 4. Harry Enfield, Vic & Bob and even The Comic Strip itself defected to the Beeb and new series from Radio 4 graduates - The Mary Whitehouse Experience, The Day Today and its spin off Alan Partridge series - seemed to place the BBC at the head of at least one wave of rising comedy talent.
Despite this, the Nineties would be the decade when Channel 4 comedy came into its own. Partly this was because the channel finally launched three hit sitcoms...
Newsroom comedy Drop The Dead Donkey (pictured) played heavily on its topical aspect (episodes were filmed the day before broadcast so last minute topical jokes could be added). It was lucky enough to launch during the 1990 Gulf Crisis and during the Thatcher Government's final throes, but it was the strong characters (sleazy executive Gus Hedges, wimpy editor George, malevolent war correspondent Damien) that really placed the show in the nation's hearts.
Ethnic barber shop sitcom Desmond's, though never a critical success, also enjoyed high ratings and ran for a now near-incredible 71 episodes over 6 series. But it was the popularity of Father Ted that seemed to prompt some sort of internal crisis of confidence at the BBC. The corporation launched such disasters as The Glam Metal Detectives and Sunnyside Farm: all pitiful attempts to emulate Father Ted's zany but far superior humour.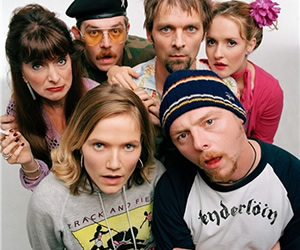 With ITV by now declining in quality fairly disastrously, the Nineties ended on a high note comedically for Channel 4. Simon Pegg and Jessica Stevenson's Spaced, directed by Edgar Wright, received critical praise and an enduring cult following - although was never a popular hit. The 11 O'Clock Show, meanwhile, although critically maligned at the time, unleashed Sacha Baron Cohen's Ali G onto the world and saw small roles for future stars of The Office, Mackenzie Crook and Ricky Gervais.
In retrospect, perhaps the Nineties was just a great time for comedy all round with Have I Got News For You, Men Behaving Badly, The Fast Show and The League Of Gentlemen on the BBC all providing effective counters to Channel 4's Smack The Pony, Bremner, Bird And Fortune and Brass Eye. If the Nineties was a golden age though, it was not to last...
The Noughties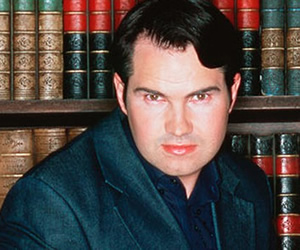 The 21st century has not been kind to Channel 4. Whereas in the Nineties it had established a reputation for bold, alternative TV, this was actually the result of Channel 4 being subsidised by ITV. In 1998, as a delayed consequence of the Thatcher Government's 1990 Broadcasting Act, this subsidy came to an end. The network has not been the same since.
The channel that scandalised The Daily Mail with its Banned season in the Nineties now became, out of commercial necessity, the one that actually broadcast footage, for hours on end, of people asleep (Big Brother).
But perhaps that's not entirely fair. Yes, Channel 4 has been slightly swamped by Top 100 countdowns, plus quiz, panel and chat shows hosted by Carrs (Jimmy and Alan), but E4 began in 2001, and the crude but enjoyable The Inbetweeners was one of the biggest comedy hits of the decade.
There's been bolder stuff too - the Brass Eye special of 2001 was broadcast twice, despite a wave of somewhat hypocritical tabloid uproar after the first showing.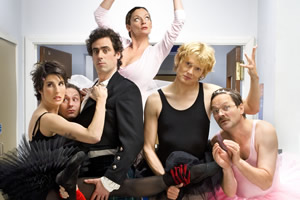 Nathan Barley, Garth Marenghi's Darkplace (the opening itself something of a homage to early Channel 4) and Black Books all developed cult followings even though none of these seem to have been designed with the aim of attracting ratings and adverts.
Channel 4 also continued to demonstrate how commercial success and quality could go hand in hand. Green Wing (pictured) showcased a wealth of comedy talent and The IT Crowd secured a strong following too.
In Summary...
To conclude, we should all be grateful to Channel 4 for the following things: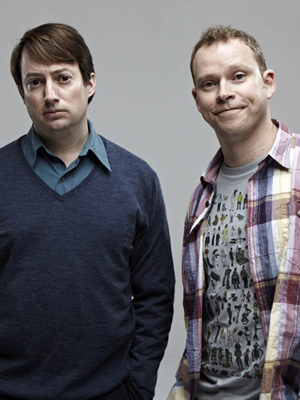 1) Raising the game: As we have seen, Channel 4 never monopolised the radical comedy field but, by attempting to do so, other channels tried harder too.
2) US imports: Yes, I know this is British Comedy Guide. But Channel 4 has an exceptional record in bringing US quality comedy to British TV.
3) For not going down the pan completely: The most striking feature of the last thirty years has been the remarkable decline of ITV, from the channel that once broadcast Brideshead Revisited and Jeeves & Wooster to its current state. Were it not for Harry Hill's TV Burp, it is doubtful comedy fans would have watched ITV at all in the last 10 years.
4) For never showing anything as anodyne as My Family or Last Of The Summer Wine.
5) And finally, for continuing to recommission Peep Show (pictured), despite it never scoring big ratings. Although - in your author's humble opinion - consistently the best sitcom around, Peep Show has never enjoyed mainstream success. Stars David Mitchell and Robert Webb have in fact become comedy A-listers in the meantime as a result of their BBC sketch show, a number of adverts, and their own appearances on panel shows - rather than for the best thing they've ever done! Yet next year will mark the tenth anniversary of Peep Show's first broadcast, making it one of the longest running British sitcoms still on air.
The future has many challenges, not least from an increasingly assertive Sky. But for Peep Show alone, I'd happily raise a glass to Channel 4's next thirty years. Here's to 2042!