Once again, competition for a Comedy.co.uk Award was fierce in 2009. With every new British comedy programme broadcast in the year competing through just 8 categories, there were more than 250 individual titles fighting for a winning spot. Thousands of votes were cast (remember, these awards are 100% based on a public vote), and now here are the results...
Best New British TV Sitcom 2009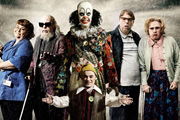 Psychoville
In a year of ups-and-downs for new TV sitcoms, this was a particularly close-run category, with Psychoville jostling Miranda right up until the close of voting, for the coveted 'Best New TV Sitcom' award. We're aware that some controversy has been stirred in the past over the classification of Pyschoville as a sitcom at all, but in the end the comic-thriller did edge ahead to grasp the title. Its many fans will be glad to hear it is to return for a special in 2010, and a 2nd series in 2011.
Worst New British TV Sitcom 2009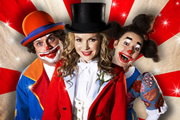 Big Top
On the other end of the scale is the award for 'Worst New Sitcom' - not one that many writers or producers are too keen on receiving; but nevertheless, it's only fair that the public have their say on the comedies they didn't like as well as those they did. Most readers will be unsurprised to learn that this year the 'winner' of the Worst New TV Sitcom award was circus-set Big Top, running away with 4 times the number of votes as the next-least-popular.
Best Returning British TV Sitcom 2009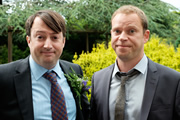 Peep Show
2008 saw Peep Show lose out on the 'Best Returning TV Sitcom' spot to the equally brilliant Outnumbered - and by only 6 votes! But with Outnumbered offering only a single Christmas special in 2009, Peep Show took its chance and ran to the finish line once again, having previously taken the title in 2007. Political satire The Thick Of It came in a rather close second place, with E4's hit sitcom The Inbetweeners 3rd in the voting.
Worst Returning British TV Sitcom 2009
Two Pints Of Lager And A Packet Of Crisps
Susan Nickson had two shows in the running this year with both Grownups and Two Pints Of Lager And A Packet Of Crisps having new series broadcast, but the latter grabs the questionable accolade by a reasonable margin. Your votes put the 9th series of BBC One stalwart My Family as the second worst sitcom, with massive hit Gavin & Stacey picking up a surprising number of negative votes here too.
Best British Radio Sitcom 2009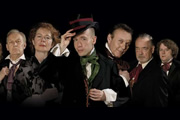 Bleak Expectations
Having claimed our Editors' Award in 2008, we're thrilled to see Mark Evans' excellent Bleak Expectations grab the 'Best Radio Sitcom' gong. The superb cast and sharp writing in the 3rd series evidently captivated you as much as it did us! Coming in second place was Andy Hamilton's long-running Hell-set series Old Harry's Game, and the often befuddled Count Arthur Strong's Radio Show! in a very close third place.
However, the peculiarity of Count Arthur Strong's Radio Show! evidently doesn't do it for all of you, as the show gained more 'worst' votes than any other radio sitcom too. Although we happen to like it, it's clearly quite a 'Marmite' series!
Best British TV Sketch Show 2009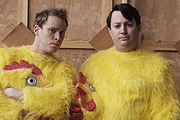 That Mitchell And Webb Look
Perhaps unsurprisingly, That Mitchell And Webb Look tickled you most in 2009. The powerhouse pairing of David Mitchell and Robert Webb continues to be a winning formula, with a third series more or less maintaining the same level of quality as the first two. Fans will be glad to know that the show will be returning for a fourth run, expected toward the end of 2010. The Armstrong & Miller Show was voted as the second best TV sketch show, and that is also set to return in 2010. The three episodes of BBC Four's Cowards grabs third place - an impressive achievement for the low-key comedy.
Worst British TV Sketch Show 2009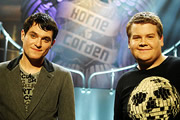 Horne & Corden
Few eyebrows will be raised in surprise when hearing that Horne & Corden, BBC Three's sketch vehicle for James Corden and Mathew Horne (both of Gavin & Stacey fame), was voted the worst sketch show of 2009 by a very large margin. Despite the promise shown in some of the sketches, most of it was terribly disappointing and resulted in some of the worst press reviews we read all year. At the time of writing, all indicators suggest that the series will not return.
Best British Radio Sketch Show 2009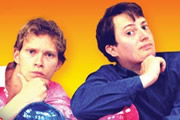 That Mitchell & Webb Sound
It would appear you couldn't get enough of Robert and David in 2009! Series 4 of their radio show introduced some great new sketches (for example, an office with a portal to an alien world), so we're now very much looking forward to seeing some of these ideas transfer to the TV version in 2010. In 2nd place (although it was a way behind) was the high-speed and often inspired Bigipedia, which made its debut in 2009. A close third place went to last year's winner, Laura Solon: Talking And Not Talking.
The least popular radio sketch series of 2009 was Ayres On The Air; however it should be pointed out that the show's target demographic was probably a few generations older than the majority of the voters.
Best British TV Panel Show / Satire 2009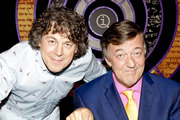 QI
The intellectual juggernaut that is all things 'quite interesting' took an early lead in this category, and maintained that momentum right through the close of voting - despite only broadcasting a handful of new episodes during 2009. Charlie Brooker's Screenwipe strand grabbed second place (it should be noted that this also includes the Gameswipe and Newswipe spin-offs), with Harry Hill's TV Burp and Mock The Week coming third and fourth in the poll.
Worst British TV Panel Show / Satire 2009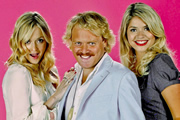 Celebrity Juice
Keith Lemon's ITV2 pop-culture based panel show Celebrity Juice - a programme which splits the BCG editorial team down the centre in terms of love it/hate it - grabbed the 'Worst TV Panel Show/Satire' title, but just a miniscule 5 votes ahead of Reeves and Mortimer's resurrected surreal panel show Shooting Stars.
Best British Radio Panel Show / Satire 2009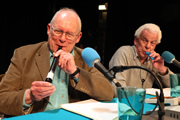 I'm Sorry I Haven't A Clue
Broadcasting both its 51st and 52nd series in 2009, the long-running and always-popular 'antidote to panel games' is perhaps an unsurprising recipient of this award. This award comes following its hiatus from the airwaves after the death of the beloved original host Humphrey Lyttelton, suggesting fans are happy with new host Jack Dee. The News Quiz was voted as second best, with The Unbelievable Truth and last year's winner, The Now Show, in an equal third place.
The worst of the lot was voted to be The Christian O'Connell Solution... but then something broadcast live on a Sunday morning isn't likely to catch the panel taking part at their best!
Worst Comedy Of The Year 2009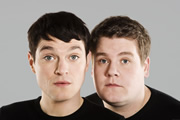 Horne & Corden
Matching up with its TV Sketch Show placing, BBC Three's Horne & Corden proved to be a particularly unpopular series, and was voted as the worst British comedy on TV or radio in the whole of 2009. As we said above, there were some good sketches in the series, but it was overwhelmingly disappointing. Such a shame. Big Top, starring Amanda Holden and John Thomson, was also picked out by voters as one of the worst shows of 2009. There wasn't much between the two, but Horne & Corden nudged it.
Comedy Of The Year 2009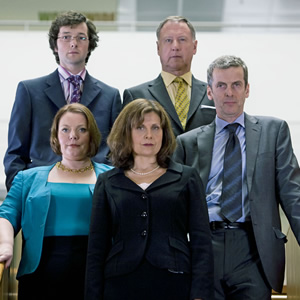 The Thick Of It
At the end of our poll we presented voters with a list of every comedy which had at least one new episode transmitted on TV or radio in 2009. There were 252 different shows to choose from! We can now reveal that Armando Iannucci's political satire The Thick Of It was the show that more people picked than any other in this overall category as their top favourite, thus we name it here 'Comedy Of The Year' for 2009.
Returning for its third - and first full-length - series in 2009, the political satire sitcom gained widespread approval from critics and audiences alike (a fairly rare occurrence these days, it seems), so was clearly going to be many people's overall favourite. The sweary antics of PR monster Malcolm Tucker (played to perfection by Peter Capaldi) clearly appealed to many, as the frustrations of the Government's spin-machine played out to a highly appreciative nation in sitcom format. Whether the series will be recommissioned for a fourth series may not be known until after the General Election in Spring 2010, but evidently you - and certainly we - hope that it does make a return to our screens. So kids, in summary, don't listen to your parents; it seems that swearing is big and clever after all (or, at very least, it'll win you a Comedy.co.uk Award)!
British Comedy Guide Editors' Award 2009
Every year we keep an extra award aside to present to someone, or something, which we believe is deserving of special recognition. In the 2008 awards we highlighted the cult radio sitcom Bleak Expectations, which went on to garner more mainstream awareness in 2009 and win the Best Radio Sitcom award this time around. In 2009 we're going for a sketch-show double-whammy...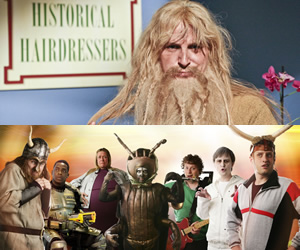 Horrible Histories / Sorry, I've Got No Head
We've picked these two kids' sketch shows as we think they've dramatically raised the standard of childrens' comedy. In our opinion, not since 1967's Do Not Adjust Your Set has sketch comedy for children been so clever or funny.
Very similar in style and tone as each other, both shows bring a touch of clever 'adult' comedy to the nation's children. They're also fun for adults to watch too, and despite being on at 4:30pm in the afternoon boast writing and acting teams that are better that most prime-time sketch shows: David Armand, Anna Crilly, Justin Edwards, Simon Farnaby, Mel Giedroyc, Sarah Hadland, Nick Mohammed, Jim Howick and Ben Willbond are just some of the comic actors who take part. Our favourites include the royal boyband in Horrible Histories and James Bachman and Marcus Brigstocke in drag on Sorry, I've Got No Head. Both shows are coming back for another series in 2010 so do watch out for them!
(For the record, the other shows we considered for our Editors' Award this year included Getting On, Mark Steel's In Town, Moving Wallpaper, Radio 2's Comedy Documentaries, Stewart Lee's Comedy Vehicle, Would I Lie To You? and You Have Been Watching.)
Thanks to everyone who cast their vote, and congratulations to all the winners.