Biography
Born in Gorebridge, Midlothian, Scotland, Crosbie joined the Bristol Old Vic Theatre School while still a teenager, against the express wishes of her parents. She caught her breakthrough role in 1970 when cat as Catherine of Aragon in the BBC television series The Six Wives Of Henry VIII, for which she would win the 1971 BAFTA award for Best Actress.
After another period drama role as Queen Victoria in the ITV drama Edwqrd The Seventh, an abbess in Hawk The Slayer, and the vicar's wife in Paradise Postponed, her first major role in comedy came as Margaret Meldrew, the long-suffering wife of Victor Meldrew (Richard Wilson) in the BBC sitcom One Foot In The Grave. To this day it is the artistic performance for which she is best known. In 2014 she would feature as herself in a documentary retrospective One Foot In The Grave - A Celebration Of A Comedy Classic, celebrating what made the sitcom so beloved across the nation.
Crosbie also played the role of Edith in Andy Hamilton's hugely successful BBC Radio 4 sitcom Old Harry's Game, set in Hell. In 2003 she undertook the role of Jessie in the 2003 comedy film Calendar Girls, based on a true story, about 11 ladies from Yorkshire who strip for a naked charity calendar.
In 2014 Crosbie starred in the 2014 British comedy film What We Did On Our Holiday, written by Andy Hamilton and Guy Jenkin, about a couple struggling to hold it all together amid the pressures of parenthood. In 2015 Crosbie played Reverend Mavis Pipkin in the Comic Relief special of long-running BBC television series The Vicar Of Dibley, and in 2016 she played the role of Cissy Godfrey in the film version of Dad's Army.
Crosbie was awarded the Officer of the Order of the British Empire in the 1998 New Year Honours for services to Drama.
Gender

Female

Nationality

Scotland

Awards

BAFTA Television Awards 1995 - Best Comedy Performance: Nominee
BAFTA Television Awards 1994 - Best Light Entertainment Performance: Nominee

Born

Monday 12th February 1934 (87 years-old)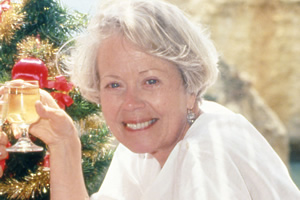 One Foot In The Grave - Margaret Meldrew