The Ronnie Barker Pilots
If somebody asked you 'Name a Ronnie Barker sitcom?' you would almost certainly reply with Porridge or Open All Hours. Ronnie Barker's star turns as both the ultimate lovable rogue, Norman Stanley Fletcher in the prison comedy Porridge, and the miserly shopkeeper Arkwright in Open All Hours, are rightly regarded as some of comedy's greatest performances. However, what is particularly interesting about these two titans of the genre is that they were both born out of the same run of pilots - Seven Of One, a series designed to showcase Ronnie Barker's talents and ability to slip into an array of eclectic characters. These were seven unique stories screened early in 1973 by BBC2 in hopes of identifying a hit new format for the Two Ronnies star.
This series wasn't the first time Ronnie Barker had taken on a run of showcase pilots; nor even the second. In 1968 a series called The Ronnie Barker Playhouse was made by ITV franchisee Rediffusion London. Sadly of the six episodes, two have been lost and the other four remain under lock and key in the BFI National Archive.
Early 1971, meanwhile, saw the launch of not only long-running BBC sketch staple The Two Ronnies, but a further run of sitcoms on ITV: 6 Dates With Barker.
The 'dates' of the title refer to the different time periods in which each of the six episodes were set, including 1915; the then-present day; and a point in the distant future (2774 AD). Although positioned more as one-off comedy plays rather than pilots for series, they are notable for a number of reasons, not least the sheer talent of the writing teams involved, with John Cleese and Spike Milligan both penning episodes.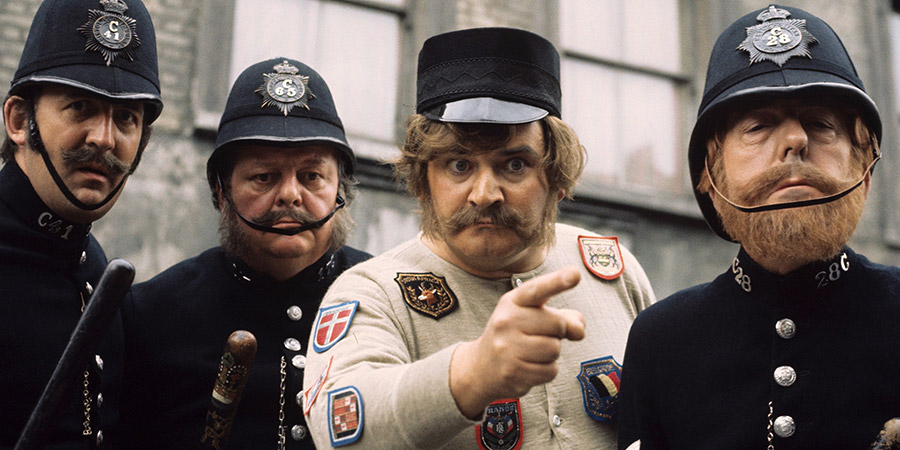 Milligan's programme will be very familiar to anybody who is a fan of The Two Ronnies - The Phantom Raspberry Blower Of Old London Town, which he had originally intended as a TV special for The Goons. Spike eventually turned the script over to Barker for this run (produced by London Weekend Television), and it would surface again as a serialised epic across the 1976 series of The Two Ronnies, playing out weekly as an absurd pantomime of glorious nonsense.
It's Cleese's episode, Come In And Lie Down, a simple two-handler about a deeply paranoid "gasman" who confounds Ronnie Barker's Dr Swanton with his delusions, that is perhaps the greatest of the 6 Dates. There are obvious shades of Monty Python, and on occasion the episode plays out similarly to the comedy troupe's classic argument sketch, with Michael Bates delivering a convincing Cleese-style performance. (Perhaps it was felt that if Cleese himself had played opposite Ronnie, then it would have been almost a distraction from what was designed squarely as a showcase for Barker.)
However, Bates is a great match for Ronnie with the pair keeping both the tension and comedic performance tight for the entire thirty minutes - all the more impressive as the action is confined to just one small room. If you ever wanted to see Ronnie Barker performing brilliant Pythonesque material, then look no further.
Connections to Monty Python don't end there, with another gem penned by Bernard McKenna, who frequently worked alongside Graham Chapman[. The Odd Job Man (shot in black and white due to the ITV network's 1971 colour strike) saw Barker's character decide to end it all when his wife, Kitty (Joan Sims) leaves him. By chance, as he's contemplating his fate, an odd job man knocks on the door (David Jason). Barker's character then seizes upon Jason's character to commit the deed when he least suspects it, only to deeply regret this when his wife returns. What follows are superb performances from Jason and Barker alike, coupled with sharp, modern writing. We see Barker's character in a desperate attempt to escape his assailant's schemes, which involve pursuit with a handgun and even acidic Weetabix.
Indeed, so good was this little one-off that it was reworked as a full feature film. 1978's The Odd Job saw Graham Chapman star in place of Ronnie Barker with David Jason returning as the assassin. Despite the impressive cast, and it being notable as Chapman's first starring role in a movie away from the Pythons, the film has remained, rather sadly, almost entirely unheard of.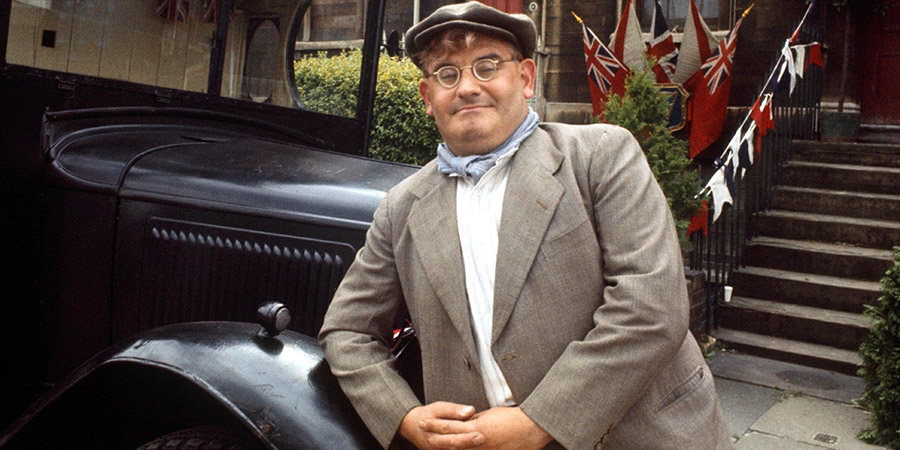 6 Dates also set out the blueprint for Ronnie Barker's final sitcom, Clarence, which came to the BBC as a series some seventeen years later, yet still retained its leads, Barker and Josephine Tewson. This original half-hour, set in the 1930s, saw Ronnie play a confused, old-fashioned and extraordinarily short-sighted removals man, very much in the style of the classic American cartoon character Mr. Magoo. As you can imagine, things get mistaken for other things, people get mistaken for other people, and vases get broken. Ronnie Barker was clearly very fond of this pilot (written by Hugh Leonard) as he went on to pen the full series himself, all those years later, under the pseudonym 'Bob Ferris' (a name chosen in tribute to The Likely Lads).
Not a bad result from a short run of comedy specials you might think, and you'd be right; yet despite its successful one-off showpieces, what 6 Dates ultimately failed to provide for Ronnie Barker was a sitcom that he could really get his teeth into. However, the result would be dramatically different when he moved to the BBC with 1973's similar pilot strand, Seven Of One, which saw the emergence of two of his greatest successes.
Prisoner And Escort, later renamed Porridge (and nearly called 'Bird' or 'Stir') really was all there from the start. Picked up for a series almost immediately, you can see why. What Barker did particularly well with loveable rogue Fletcher was to literally melt into the character - you completely forget it's Ronnie, even though it's self-evident. For all the world, he's just Norman Stanley Fletcher, and in this pilot he's en route to his place of incarceration with both Mr Mackay and Mr Barrowclough escorting him.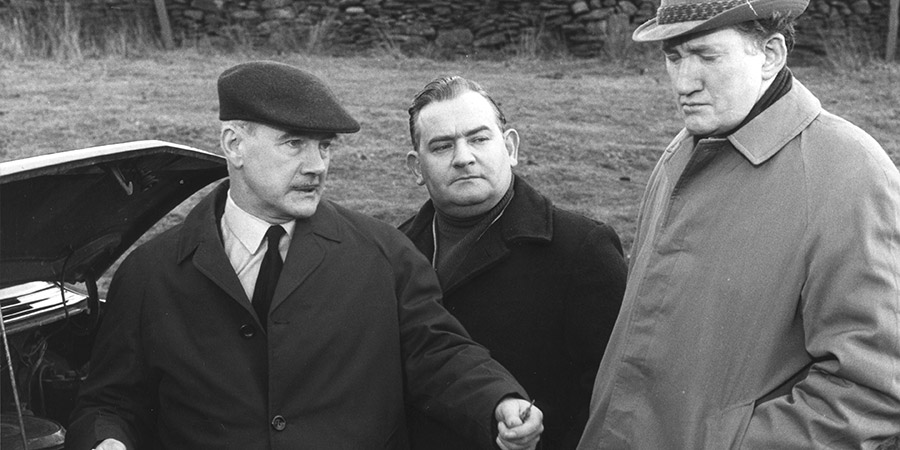 The cast remain the same, with no-nonsense Mr MacKay played by Fulton Mackay (he's Mackay through and through) and the meek and mild Mr Barrowclough portrayed by Brian Wilde. This serving of Porridge was lacking one all-important ingredient, however: Richard Beckinsale's endearing cellmate, Lenny Godber who would join the cast when the full series began the following year.
As that first series debuted the sitcom's subject matter caused a stir in the press. There was outrage! Shock! Horror! How could the BBC commission a series glorifying criminals? Well, good comedy often walks a thin tightrope between offending and entertaining. After that initial outrage died down there was nothing but praise for Porridge and its popularity has never wavered. There was a sequel series (Going Straight) in 1978, a movie in 1979, an American adaptation (On The Rocks) and relatively recently, a reboot 2016 - 17 reboot.
It was the untimely death of Richard Beckinsale, shortly after the completion of the feature film, that tragically curtailed the escapades of Godber and Fletch for good. Just a year before his death Going Straight had proved a ratings winner just as Porridge before it and the pair seemed cemented as an audience winning double act for the foreseeable future. Although it is Porridge's exceptional writing that was the driving force behind the programme's success, it was the duo's touching on-screen relationship that proved the icing on the cake and ensured the longevity of the series.
Not content with one iconic sitcom, Seven Of One delivered another whose popularity has sustained: Roy Clarke's Open All Hours. Unlike with Porridge however, Seven Of One's imagining of the series is not quite the Open All Hours we know: of course it circles around stuttering skinflint Arkwright, with David Jason supporting as the amorous Granville, and even the famous death-trap of a till, but a notable absence is Lynda Baron from the role of Nurse Gladys Emmanuel - a character Clark later earmarked for her own spin-off, Call The Nurse (although sadly this didn't make it past early scripting stages).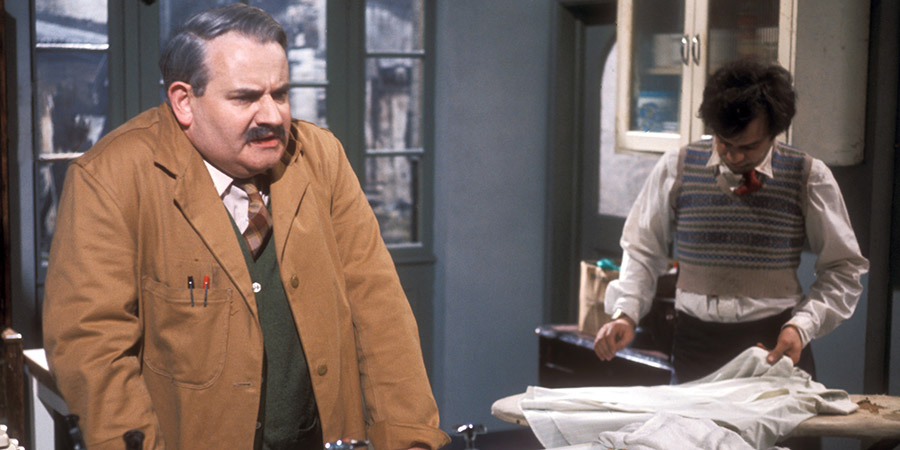 The character was there alright, but she was instead played by Sheila Brennan, who didn't fit quite as well as the object of Arkwright's affections. The famous theme music was missing too; an often overlooked, but all-important mood setter for a sitcom. Yet all the lines were there - "She gave me half a pint of something that tasted like it were made from Postman's feet," Arkwright bizarrely declares of Nurse Gladys.
Thankfully by the time Series 1 came to screens in 1976 all the components were firmly in place, and after its initial run the sitcom returned periodically throughout the eighties, notching up four series in total. Decades later, in 2013, David Jason picked up the mantle with Roy Clarke once again picking up his pen to create sequel Still Open All Hours, a series that, in the time honoured Open All Hours tradition, also seems to return at irregular intervals. A picture of Arkwright still hangs in the back-room, surveying his beloved shop.
What may shock many fans is that Ronnie Barker had to be convinced of the merits of Porridge, with his initial pick of the Seven Of One pilots being I'll Fly You For A Quid - itself an intriguing story and the second in the run, and, like its incarcerated sibling, penned by Dick Clement and Ian La Frenais. Set in deepest Wales, the episode saw Barker take on multiple roles as both protagonist Evan Owen and his dying father, who is sent to his grave in possession of a winning betting slip.
The humour was quite subtle, but it boasts a working-class family focus that, combined with Evan's wheeler-dealer personality gives the show a vague Only Fools And Horses feel. Nearly 50 years from its production, the series potential is clear, but BBC bosses persuaded Barker to take on Clement & La Frenais's other format instead, feeling that Prisoner And Escort offered better scope for future storylines.
All Barker's pilots were high concept, not merely re-workings of a typical nuclear family sitcom scenario. 6 Dates' All The World's A Stooge (again, written by Barker under a pseudonym) imagined a dystopian society wherein all jokes are mandatory, laughter having been recognised as the highest form of happiness with comedians worshipped as gods ("In the name of Charlie Chaplin, Buster Keaton and W. C. Fields..."). Set in the year 2774 it has perhaps dated the worst of any of the programmes, its 'futuristic' look cringingly, recognisably of the 1970s - but in a low-key way, Ronnie Barker was actually pushing science fiction comedy as a genre worth pursuing.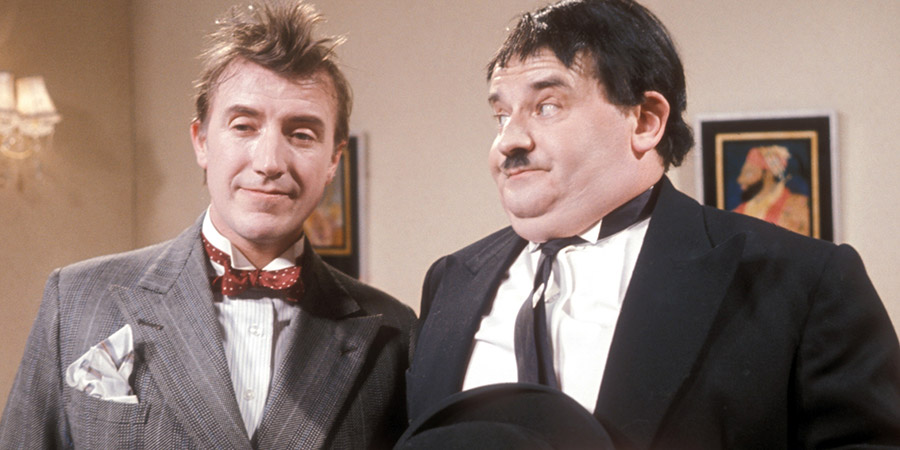 Another Fine Mess sees one comedy legend take on another, as Barker is joined by Roy Castle to pay tribute to Stan Laurel and Oliver Hardy. One could be forgiven for viewing it as an elongated Two Ronnies sketch, but the studio audience clearly loved the inevitable descent into mad slapstick, and there's no getting away from the fact that the duo both looked and felt the part as they paid tribute to, arguably, the most iconic comedy act of all-time.
The impact these two series of sitcom plays had on television comedy is remarkable to consider. Almost every episode had an interesting off-shoot or could be seen to foreshadow a future sitcom. The cross-dressing farce featured in 6 Dates With Barker's First World War-set episode Lola, for example, is eerily reminiscent of 'Allo 'Allo!, complete with a wide shot of a French café as atmospheric accordion music plays; whilst, My Old Man - the convincing tale of a sad widower moved out of his home for redevelopment and feeling lost in the modern world - was picked up by Yorkshire Television and ran for two moderately successful series, in 1974 and 1975, starring Clive Dunn.
From the explicit pilots of Seven Of One to the one-off showcases of 6 Dates With Barker, all thirteen programmes prove beyond doubt the value of producing - and, crucially, broadcasting - new ideas as individual episodes in the hopes that magic will happen. Sometimes the strangest ideas on paper end up becoming some of the greatest icons of popular culture: that's certainly true of Porridge. The BBC has revived the showcase pilot format periodically, most notably in 2016, but not for decades with anything like the same commitment.
Watching these shows today makes one realise the value of the format, and - as if anybody was in any doubt - that Ronnie Barker is the most diverse, unique and talented performer in British comedy history to date.
Where to start?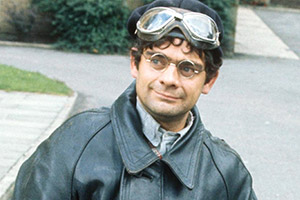 Six Dates With Barker
Porridge fans will likely already be aware of its Prisoner And Escort pilot, while Open All Hours fans will similarly be interested in the genesis of that classic.
As far as standalone episodes go, 6 Dates With Barker is worthy of particular attention, and the episodes Come In And Lie Down and The Odd Job Man are two bona fide overlooked comedy classics that are not to be missed.