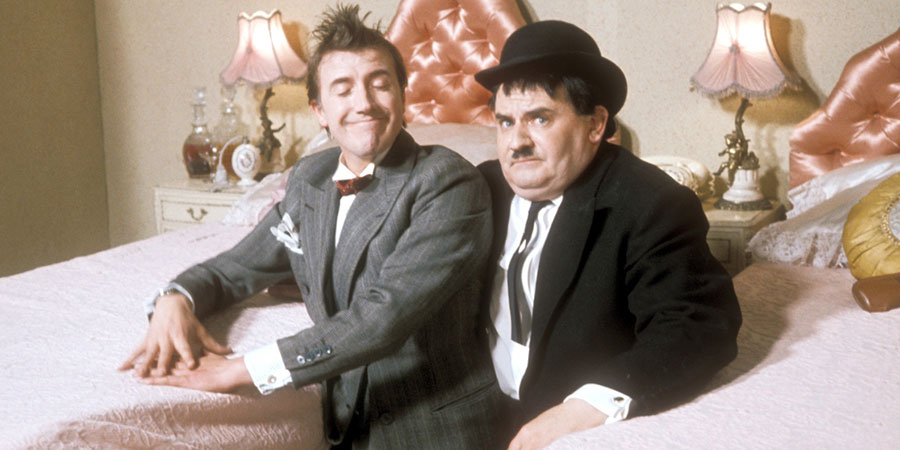 Genre

Sitcom

Broadcast

Channel

Episodes

1 Pilot

Starring

Ronnie Barker, Roy Castle, Avis Bunnage, Margery Mason, Pearl Hackney, Pauline Delany, Dennis Ramsden and Sally Brelsford

Writer

Director

Producer
One of the Seven Of One series, Another Fine Mess is a tribute to legendary double-act Stan Laurel and Oliver Hardy.
American Harry Norvel (Ronnie Barker) is stuck at home as his mother-in-law has died and his mourning wife won't let him leave the house. However, Harry wants to go out so that he and his dim friend, Sydney Jefferson (Roy Castle), can take part in a fancy dress contest, which they plan to enter as Stan and Ollie. Their attempt to go out leads to an adventure not too disimilar to the original double-act.
Part of

Production company

Also known as

Seven Of One: Another Fine Mess (Other official name)
7 Of 1: Another Fine Mess (Other official name)

Laugh track

Live audience
Broadcast details
First broadcast

Sunday 22nd April 1973 on BBC Two at 8:25pm

Episode length

30 minutes

Last repeat

Wednesday 24th June 2015 at 12:00pm on Gold
Website links