Sitcoms and the power of pathos
Simon Blackwell's Back came to a poignant end this week. The sudden departure of a beloved main character may have shocked many, but if we're honest, was this emotional turn all that surprising? Mitchell & Webb have been bringing pathos into their projects for years. As David Mitchell has said, "The key to a good sitcom is that the main characters are caught in what is essentially an unpleasant embrace." Comedy is built on tragedy.
This has been evident since the earliest days of sitcom. We could call Steptoe And Son the originator of this approach, with its level of bleakness previously unseen in British comedy. Writers and creators, Ray Galton and Alan Simpson, had played no small part in establishing the sitcom format with Hancock's Half Hour in 1956, but here they were pushing the boundaries of what you could do with a "situation comedy" that bit further. Steptoe was gritty, real, honest. It held a mirror up to society at the time and that resonated with viewers. There isn't a sitcom around today that doesn't owe something to it.
Right from its first episode, 1962's The Offer - originally a one-off Comedy Playhouse play - the die is cast, with barely a single laugh to be had, or heard, in the whole last 5 minutes of the programme. The founding premise of the series is that Harold, at 37 the latest and youngest in the Steptoe scrap merchant dynasty, is desperate but unable to escape his father's grasp and strike his own path in life; his sense of imprisonment almost tangible as he breaks down in tears, and the studio audience struck dumb as his awful but blackly comic fate is made crystal clear.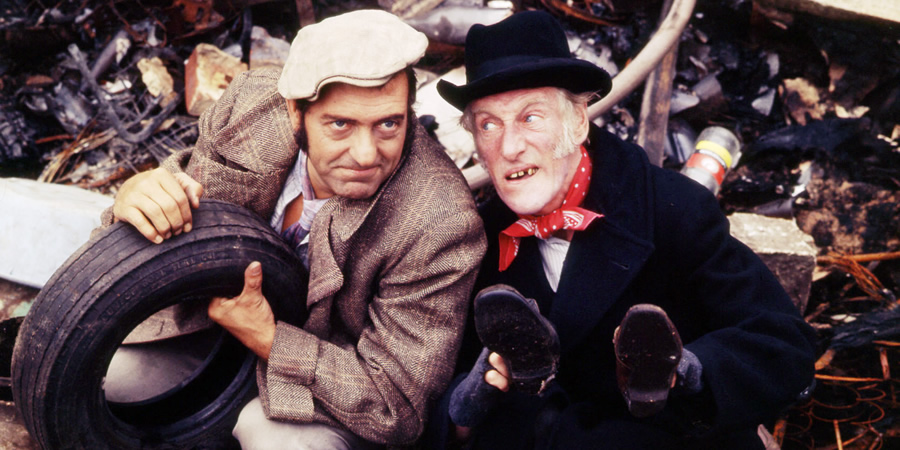 Steptoe's style was in fact so ground breaking that it has far more in common with comedies of today than it had with its contemporaries in the 1960s and 70s. We regularly consider the pathos-laden sitcom to be a relatively modern trend, but series that have the gumption to suddenly slam on the brakes and pause for a completely serious or shocking moment have clearly been with us for longer than we realise.
Not long after Steptoe, Jimmy Perry and David Croft's perennial classic Dad's Army made its own way into poignant character drama. Notably, it was in the 1970 episode Mum's Army that we saw the usually unflappable Captain Mainwaring fall hopelessly in love with the kindly Mrs Gray. The entire episode was structured around Noel Coward's sentimental tour de force Brief Encounter, not so much parodying it, as simply paying homage. Arthur Lowe was originally squeamish about the episode; it was only during the recording that he realised its greatness. Ian Lavender would later recall that, when they came to record a radio adaption, Lowe insisted Carmen Silvera reprise her TV role as Mainwaring's love interest - otherwise, he wouldn't do it.
It was a brave ending to a sitcom episode. No jokes, no declarations of "Don't panic, Mr Mainwaring!", just the heartbroken Captain watching the love of his life leave him behind. As her train departs he is left standing alone on the station platform, clearly bereft.
Dad's Army is otherwise almost entirely broad and daft, mixing slapstick set-pieces with wordplay and the beautiful characterisation we all know and love, but its finale also tugs more than a little at the heartstrings; although rather than plot, this relies on the cast breaking character as the last scene draws to an end, toasting the real Home Guard and real heroes of the Second World War.
The next sitcom to offer such an equivalently timeless close is Blackadder Goes Forth in 1989. Indeed, many consider the last scene of the last instalment to represent the best sitcom ending ever, and not without justification.
It's hard to add any more to the mountain of praise the episode Goodbyee has rightly received over the years. It's no exaggeration to say that Blackadder Goes Forth fundamentally changed the way comedy was made and thought about thereafter.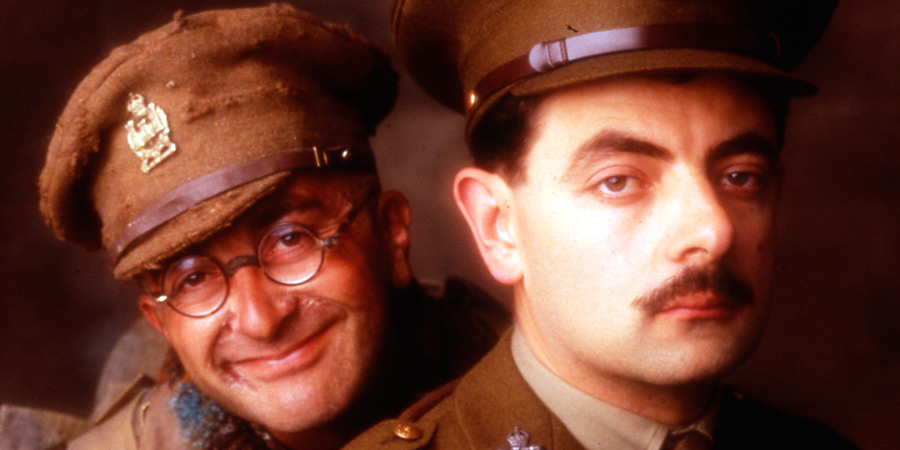 Right up to the end of that final scene, jokes are coming at you like the bullets our trio are about to meet. "Wouldn't want to face a machine gun without this!" George says, brandishing his stick. But the best lines here aren't jokes at all. George's failure to find a reply when Baldrick asks, "why can't we just say no more war?" And Blackadder's reply to Baldrick, when he announces that he has a cunning plan at the end: "Whatever it is, it will have to wait. I hope it was better than that plan to pretend to be mad, I mean who would notice another madman round here?"
What makes the episode so impactful is that it's not mired in despair. Captain Blackadder sticking two pencils up his nose, and saying "wibble" and Baldrick's war poems are two of Blackadder's most iconic and funny scenes - and that humour, that connection, is why we feel their loss so greatly.
These sitcom characters, who are they really? We don't know them, but we let them into our living rooms every week (or for hours on your tablet, if you're a modern binge watcher) and they become like friends of family. We laugh with them. We see them make the best of a bad situation. I mean, they would, wouldn't they? A comedy character has to get back up again with a certain renewed vigour; you don't get that in the same way from a character in a drama. Perhaps that's why, when the one-liners and pratfalls end, a comedy character's pain hits harder and the emotional punch is stronger than in a drama. The contrast with the preceding 25-odd minutes of laughter accentuates the agony.
A 'Blackadder ending' has since become shorthand for a sad finale to any comedy. In the fourth and final series of That Mitchell And Webb Look, David Mitchell and Robert Webb built the entire penultimate episode around creating a 'Blackadder moment', which they discussed at length in their backstage sketches. This was all the set-up for a daft gag, which allowed them to take viewers completely and utterly by surprise in the final episode, when they really did create a sad ending with a Holmes and Watson sketch; the influence of these pathos-laden landmarks clearly extends far beyond the narrative form. The last episode of The Fast Show, which had long utilised tragic comedy through Ted and Ralph, offered similar heartbreak when it gave us quite a different Rowley Birkin story. There's a bit of genius in that sketch as the punchline remains the same, yet, for the audience, it elicits a totally different reaction.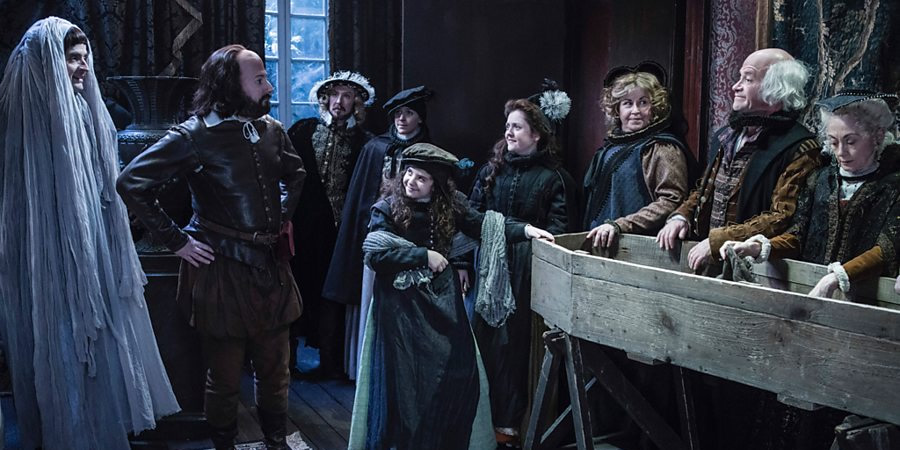 David Mitchell has now been part multiple poignant comedy finales. In 2018, it was Ben Elton's Upstart Crow that delivered a moment of stunning impact at the conclusion of its third series. As well as sharing one of the writers and the same director with Blackadder Goes Forth's iconic finale - Richard Boden - it also shared the same level of historical accuracy. The episode, Go On And I Will Follow, is one squarely based on a real event: the death of Shakespeare's son, Hamnet, at the tender age of eleven.
The whole episode is framed neatly around faith. In the opening scenes, Will boasts confidently of his atheism, before he eventually lies to his wife, Anne, in his attempts to comfort her in her desolation. At the end of the episode, Susanna asks if he truly believes, to which he says, "No daughter, I don't. But your mother does, and for all that she says that I'm the clever one, she's right about most things."
It's done with such a lightness of touch; an elegant musing on faith that hits so hard. But in that short half hour there's also time for jokes. Shakespeare (the original comedian, as you might call him) would be proud, as the series pivots effortlessly from comedy to drama.
Only Fools And Horses took a similar approach, combining high comedy with character drama even further. There were many incidents over the years that played heavily with the audience's emotions, notably with Rodney and Cassandra's miscarriage, but more starkly in the show's earlier, far more traditionally sitcommy years, when it was forced to deal with the death of Lennard Pearce.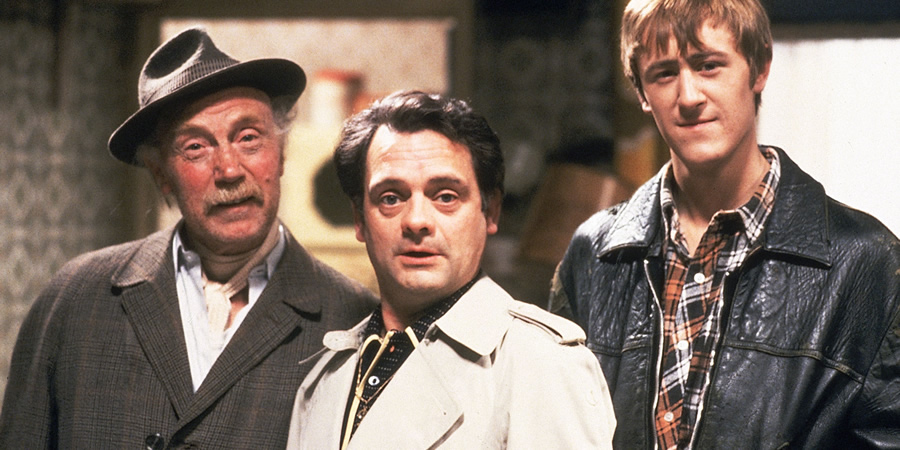 His character, Grandad, was not merely beloved but also core to the programme's dynamic. Questions must have been asked about the ability of the series to continue without him at all. Yet it was fitting, ultimately, that they decided to deal head on with his passing. When Rodney confronts Del over what he perceives as his ambivalence - even jollity - at the wake, we get a rare moment of candour as the façade of "Del Boy" momentarily slips away. Derek Trotter just doesn't know how to "be anything else".
Producer Gareth Gwenlan recalled a moment in the sixth series of a similar nature. The studio audience had fallen silent when Del was left alone at the reception of Rodney's wedding with Simply Red's Holding Back The Years playing quietly in the background. John Sullivan had nervously told Gwenlan that the audience "aren't laughing". Gwenlan simply replied it was because they were crying.
John Sullivan, then, also found his pathos in more unusual places, even when he didn't know it. Here was a moment many script writers would simply have overlooked. Del cuts a sad figure as he contemplates losing his brother, knowing their relationship will never be quite the same again.
The episode Time On Our Hands has another moment like this - great because it's so thought-provoking. Del finally has everything he ever wanted. At long last he's a millionaire; he's got the money, cars, the big house, everything. There's a scene, earlier in the episode, where all the characters are back at The Nag's Head. They give Del and his family a standing ovation as they walk nervously into the pub. Many programmes would have ended it there, but Del returns to the family's now-empty Nelson Mandela House flat one last time. He's back because he's found that he's feeling unsatisfied, heartbroken even - he is essentially grieving his old life. Positive change is never portrayed as a "sad thing", yet in both these moments Sullivan noticed its significance. It's a very different kind of loss, but it is still a loss. Del comes to the slow realisation that it was the chase, not the money, that he lived for. So the chase goes on. "This time next year," he tells Albert and Rodney, as they walk off into the sunset, "we'll be billionaires!"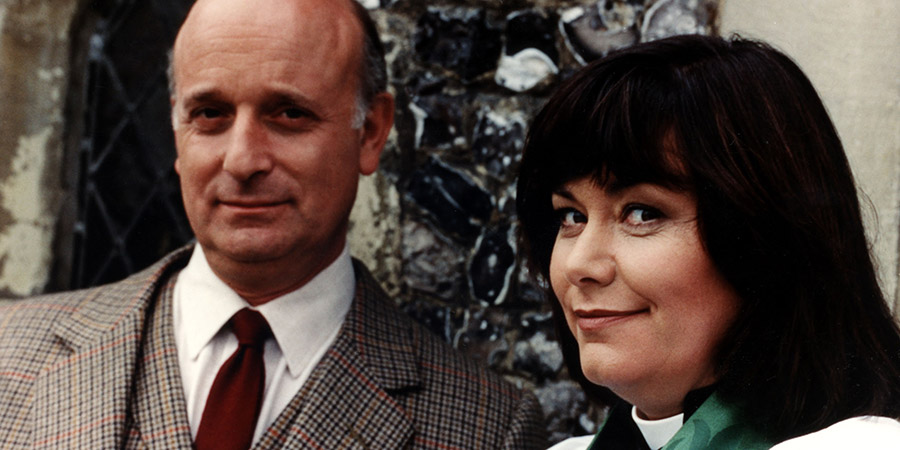 The Vicar Of Dibley made an acute observation not unlike this in the episode Spring. Over the course of its run, we became familiar with the curmudgeonly parish council leader, David Horton, who went from hating and scheming to get rid of the Vicar to eventually coming to like, accept and admire her. But here things tick up a notch as David comes to the conclusion that he is, in fact, in love with her.
He proposes marriage, but after much deliberation from Geraldine they agree to call it off. Just as David goes to leave, he tells her this: "I would like it noted, however, just for the minutes, that at least I had the sense to realise what an extraordinary woman you are... and whoever you finally end up with will be the luckiest of all men. However, sadly, it cannot be me."
Usually when we see unrequited love portrayed, it ends with the partner who initially resisted coming to the conclusion that they were in fact made for each other after all. Or, the other partner is a side character, someone who the audience isn't being invited to rout for, so when our hero rejects them, we feel vindicated. However, in this example, there is no vindication to be found. We love both these characters, but we also understand they are very different and Geraldine would never be happy with David. In the end they are left confused, trying to continue a slightly tragic friendship. A much more realistic depiction of unrequited love than most TV shows or movies attempt to convey.
Much like Back's ending, The Royle Family shocked everybody in 2006 with The Queen Of Sheba. The episode, which centred entirely around the deterioration and eventual death of Liz Smith's Norma, must surely be considered one of the saddest pieces of 'comedy' television ever made. Amongst its many powerful, moving scenes, it is one featuring Barbara brushing Nana's hair whilst singing Que Será Será that is truly heart breaking.
The loss of an elderly cast member was also portrayed beautifully by another series - the frequently overlooked TV reboot of Radio 4's hit, Count Arthur Strong.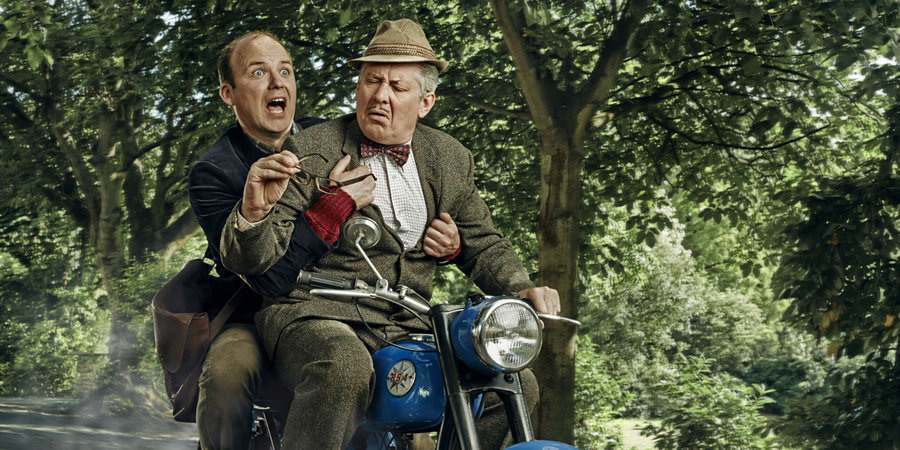 We were introduced to the Count's televisual world through the eyes of minor author Michael, brought deftly to life by Rory Kinnear, who had reluctantly taken up the task of writing a book about his famous, recently deceased father. Since Arthur was in a double act with him, the Count naturally seems an obvious person to get in touch with, and a series full of Arthur's bizarre antics follows, not least Jack the Ripper tours hosted from an ice cream van. Perhaps inevitably, he ends up latching onto Michael, who becomes utterly fed up with him. It takes the unexpected death of one of Arthur's oldest friends to bring the reluctant duo together.
The death was a daring move, coming in the very first series of what on the surface seemed a very light-hearted sitcom, but it more than paid off, and Michael eventually finishes his book with the dedication, 'For the Dad I lost and the one I found'.
Still Game delivered a comparable surprise with its ending in 2018. Something fans of the series simply did not see coming were the deaths of every major character in the series, yet it was executed in the most beautiful way possible. The passing of time, illustrated through Bob Dylan's Don't Think Twice, It's All Right is haunting as we see the years roll by across the fictional town of Craiglang; the locals slowly fade away one by one, as life around them continues. The episode featured Jack and Victor's decision to climb Ben Lomond together. The last shot of the series preceding the montage sees them leaving to ascend the mountain alone. "Do you think they'll know where we went?" Jack asks Victor. "They'll know where we went," Victor replies.
A lot of people wouldn't expect to see this sort of profound contemplation in a sitcom. Yet it runs like a near-invisible thread through many a great sitcom. David Renwick used pathos many times, and to great effect in the classic nineties' sitcom One Foot In The Grave, particularly when he killed off central character Victor in the grand finale; Victoria Wood also made poignancy a key ingredient in her iconic sitcom dinnerladies. And, more recently, the smash hit Peter Kay-starring Car Share - a series created around the compelling will they/won't they storyline between its leads, Kay and Sian Gibson - built up to a shockingly sad ending of the series proper.
Not even the usually more fanciful worlds of sci-fi comedy are exempt, with heartrending moments to be found across the furthest reaches of the galaxy. Red Dwarf's Rimmer and Lister were the double act that seemed to detest each other with the same ferocity as Harold and Albert Steptoe (indeed, Steptoe And Son was the series that directly inspired the creation of Red Dwarf). Yet, despite their hatred down the years, the duo's captivating relationship has had its fair share of genuine moments, which seemed to culminate in the most recent Red Dwarf special, The Promised Land, where Rimmer - who at this point had become a hard light hologram with an existential crisis - shared a chat with Lister about moonlight.
You could go on listing these tear-jerker moments in sitcoms for a very long time. And it seems that a comedy steeped in sentimentality is currently the most popular kind there is. Look at Fleabag's bus stop ending. In its anguish, the series has taken the critical world by storm, winning just about every award going. Similarly, Ricky Gervais's After Life, focusing on Tony, a deeply depressed journalist who feels he has nothing to live for after the death of his wife, has also picked up pretty much every gong you could name. These are two of the most successful sitcoms of the last few years, and they are, at their very essence, tragicomedies. As Samuel Taylor Coleridge observed, "Humour is consistent with pathos whilst wit is not."
Playwrights have mixed drama and comedy with each other for hundreds of years, so it's no wonder that sitcom writers should do the same. Shakespeare, Beckett, Pinter - all evidence of the maxim that tragedy and comedy are but two heads of the same coin. The two forms have always been interlinked, and will remain deftly agitating each other in many television comedies to come. It will be our delight to laugh, and cry, along with them.