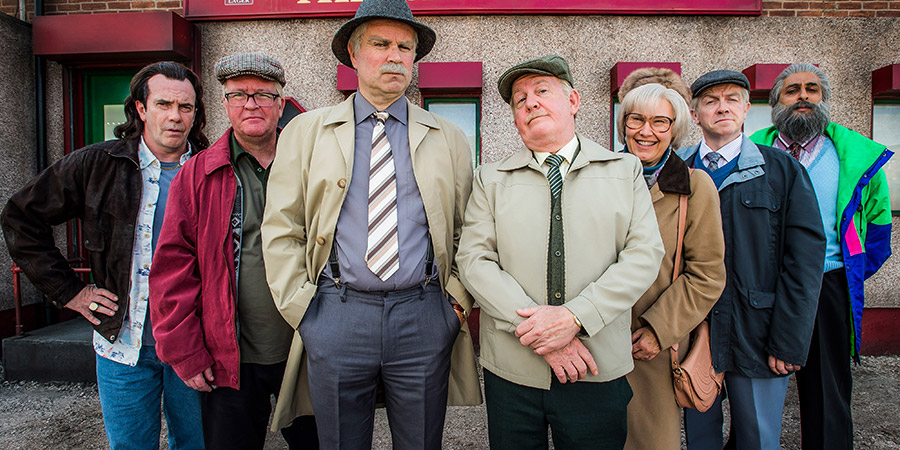 Genre

Sitcom

Broadcast

Channels

Episodes

Creators

Starring

Ford Kiernan, Greg Hemphill, Jane McCarry, Paul Riley, Mark Cox, Gavin Mitchell, Sanjeev Kohli, Paul Young and others

Writers

Director

Producers
Still Game follows the antics of pensioners Jack and Victor as they live out their latter years in Osprey Heights, a tower block in the fictional Craiglang area of Glasgow. Both now widowed, the men have been friends since childhood and despite their frequent bickering have an obvious bond. Affable old boys, the men are always ready for adventure and with their wry sense of humour, are happy to prove that growing old is about more than just a free bus pass. Jack and Victor reminisce of years past whilst contemplating the state of today's society, sharing their bittersweet observations of life alongside their neighbours, friends and other local characters.
The butt of many a joke is good friend Winston Ingram. Eternally immature and always on the lookout for an easy buck, Winston is frequently barred by Boabby the barman from their local boozer, The Clansman. Another estate regular is fellow neighbour Tam Mullen, for whom things always seem to come good, much to the frustration of Jack and Victor.
Keeping an eye on them all is Osprey Heights gossip queen, Isa Drennan. Carrying an unrequited flame for Winston, Isa uses her work in the community to keep her nose in everyone's business. She also works as a cleaner in the local corner shop run by the king of one-liners, Navid Harrid, the long suffering husband to soap-opera loving wife, Meena.
First created by Kiernan and Hemphill back in 1999, the characters of Jack and Victor started life in a stage show. Following tours of Scotland, England, Ireland and Canada, Jack and Victor progressed to the small screen in the comedy sketch show, Chewin' the Fat. In due course, the duo's flourishing popularity led to the first series of Still Game, which debuted on BBC One Scotland in 2002. The duo went on to make 44 episodes of the cult comedy, across six series, two Christmas Specials and two Hogmanay Specials, before the final series of Still Game aired in 2007 due to a falling out between the creators.
However, in 2014 the creators reunited for a live stage show, which proved to be incredibly popular. In the end they played to over 200,000 fans across 21 sell-out nights at the Glasgow Hydro arena. Ford and Greg then recorded a special sketch for BBC Children In Need, in which Jack and Victor visited the set of Scottish soap opera River City. BBC Scotland followed this with a Hogmanay 2014 special, Still Game: The Story So Far, which celebrated the show's ongoing success. It was inevitable that the ever-present pressure for the show's return to the small screen would became overwhelming and, indeed, in May 2016 the BBC finally announced what all fans had long-hoped for, that Still Game would return for a seventh series.