Top 10 jokes at the Edinburgh Fringe 2010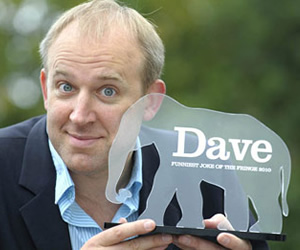 Tim Vine has been crowned the winner of digital TV channel Dave's Joke of the Fringe award for the gag "I've just been on a once-in-a-lifetime holiday. I'll tell you what, never again."
The pun specialist, talking about the win, said: "I'm going to celebrate by going to Sooty's barbecue and having a sweepsteak."
Channel Dave boss Steve North said: "This year's Edinburgh Festival Fringe features some 34,265 performances of 2,098 shows in 265 venues with comedy making up 35 per cent of the programme. With the Dave Joke Of The Fringe we've boiled it down to the best 24 jokes on offer and let the public crown Tim Vine as the winner."
Top 10 Jokes
Top 10 'Worst' Jokes
Sara Pascoe: "Why did the chicken commit suicide? To get to the other side."
Sean Hughes: "You know city-centre beat officers... Well are they police who rap?"
Gyles Brandreth: "I've got nothing against lesbians. I mean, that's the point isn't it?"
Doc Brown: "I was born into the music industry. My dad worked in Our Price."
John Luke-Roberts: "I made a Battenberg where the two colours ran alongside each other. I called it apartheid sponge."
Sarah Millican: "I bought a cross-trainer to keep fit. I suppose that it's not enough to just buy it."
Bec Hill: "Some of my best friends are vegan. They were going to come today but they didn't have the energy to climb up the stairs."
Andi Osho: "Floella Benjamin is in the House of Lords. How did she get in, through the round window?"
Gareth Richards: "My mother is always taking photographs of me - she said if you disappear tomorrow I want you to look good on the news."
Emo Philips: "I like to play chess with bald men in the park although it's hard to find 32 of them."
More Top 10s
To enjoy more jokes, check out the top 10 from other years:
2012 jokes (Stewart Francis won)