Top 10 jokes at the Edinburgh Fringe 2011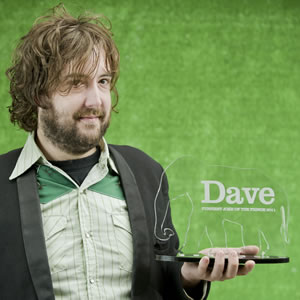 A joke by Nick Helm has been voted as having the funniest joke of the Edinburgh Fringe Festival 2011. The prize, organised by digital channel Dave, is for the gag: "I needed a password eight characters long so I picked Snow White and the Seven Dwarves."
Helm said: "I knew my joke was the funniest joke of all the other jokes in 2011. Thank you to Dave and all the people that voted for proving me right."
It's been a good couple of days for Helm. Yesterday he was one of the six comedians nominated for the prestigious Edinburgh Comedy Award.
Helm managed to beat other more established acts such as Tim Vine, Sarah Millican and Mark Watson to the award. Vine has ended up with something of a mixed bag, as two of his jokes appear in the 'best' list, whilst another of his gags was voted one of the worst of the year.
The 'award' for the worst joke of the Fringe went to veteran comic magician Paul Daniels, who tells the following gag in his show: "I said to a fella 'Is there a B&Q in Henley?' He said 'No, there's an H, an E, an N an L and a Y'."
Top 10 Best Jokes
Top 10 Worst Jokes
1. Paul Daniels: "I said to a fella 'Is there a B&Q in Henley?' He said 'No, there's an H, an E, an N an L and a Y'."
2. Tim Vine: "Uncle Ben has died. No more Mr Rice Guy."
3. Vladimir McTavish: "The Lockerbie bomber put Lockerbie on the map, well he nearly took it off it too."
4. Josh Howie: "I've got nothing against the Chinese. Don't get me Wong."
5. Card Ninja: "I went to see this show and the guy said 'Hey kid do you like magic?' And I said 'Yeah!' So he asked if I wanted to see a trick and I said 'Yeah!' So he said 'think of a number, times it by two and if it's odd...' Oh no, he's a MATHmagician!"
6. Tom Webb: "Due to the economy, profiteroles will now be called deficiteroles."
7. Nathan Caton: "Postcode wars? That sounds like a really s**t BBC game show."
8. Andrew Bird: "My wife's eating for two. She's not pregnant, just schizophrenic."
9. Mark Olver: "During my first murder I was like a dyslexic having my back teeth removed... losing my morals."
10. Andrew O'Neill: "A song for the colour blind: 'And I think to myself ... why did I become a bomb disposal expert?'"
---
In its quest to find the best and worst jokes, TV Channel Dave enlisted the help of a panel of judges, made up of 10 of the UK's leading comedy critics. Each judge nominated their three favourite and three worst jokes, with the 30 shortlisted jokes in each category then put to a public vote involving 3,000 comedy fans.
Steve North, the head of channel Dave said: "The competition to win Dave's Joke of the Fringe was hotly contested this year with some 21,192 performers in over 2,000 shows across 258 venues. As we continue to establish Dave as the natural home for comedy - whether that's at our live shows or on screen, Nick Helm is a brilliant and thoroughly deserving winner of this year's Dave's Joke of the Fringe."
More Top 10s
To enjoy more jokes, check out the top 10 from other years:
2012 jokes (Stewart Francis won)