Top 10 jokes at the Edinburgh Fringe 2014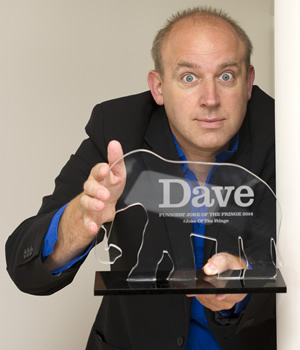 Tim Vine has won Dave's Funniest Joke of The Fringe 2014.
19% of those polled picked his one-liner - "I've decided to sell my hoover... well, it was just collecting dust" - as the funniest joke of the Edinburgh Festival Fringe. This is the second time Vine has won the contest in its seven year history, making him the first person to triumph twice. He previously took the top spot in 2010 with "I've just been on a once-in-a-lifetime holiday. I'll tell you what, never again."
In its mission to find the most hilarious one-liners at the festival, TV channel Dave enlisted the help of a panel of ten judges to seek out jokes. The best shortlisted gags were then put anonymously to the public vote, with 2,000 Brits selecting those they found the funniest.
Tim Vine first performed at the Fringe in 1993 and was awarded Best Newcomer in 1995. His current Edinburgh Fringe show, Timtiminee Timtiminee Tim Tim To You, is a sell-out success at the Pleasance Courtyard, and precedes his first stand-up tour in four years, which is planned for next Spring.
Of being awarded the top spot, Tim Vine said: "I'm a little bit surprised but very delighted. This is the second time I've won this award but I guess nobody loves a repeat more than Dave."
Steve North, General Manager of Dave, commented: "It's great to see a range of established and new comedians in this year's top 10. The award celebrates the fantastic range of comedy on offer at the Fringe, and Tim has once again proved he is king of the one-liners."
The top ten are:
---
Here's a short video in which Vine tells the gag:
More Jokes
Honourable mentions go to the following comedians, who just missed out on the top 10:
Ed Gamble: "I go to the kebab shop so much that when they call me boss in there it's less a term of affection, more an economic reality."
James Acaster: "Leadership looks fun, but it's stressful. Just look at someone leading a conga."
Sara Pascoe: "I bought myself some glasses. My observational comedy improved."
However, the voting public didn't like the following gags. They judged them to be the worst one-liners from the options presented to them. Of course, if the audience groans that can actually be a great reaction too, so the following comics shouldn't feel too bad about appearing here (plus, after all, the winner also has a gag in this batch).
"My mate sat on my pumpkin. He butternut squash it." - Leo Kearse
"I had a friend call Iain. Two 'i's... to go with the face." - John Kearns
"I'm lazy - my childhood ambition was to be an injured footballer." - Mike Shephard
"This vodka is drunk by the rapper Sean Combs. P Diddy? Only when he drank a whole bottle." - Ben McFarland and Tom Sandham
"I tried to Google endangered species. They were hard to find." - Suns of Fred
"I'd like to start with the chimney jokes - I've got a stack of them. The first one is on the house." - Tim Vine
More Top 10s
To enjoy more jokes, check out the top 10 from other years:
2012 jokes (Stewart Francis won)
For an exclusive interview with Tim Vine, visit www.joindave.co.uk