Writers and cast for topical CBBC comedy announced
Writers and cast for topical CBBC comedy announced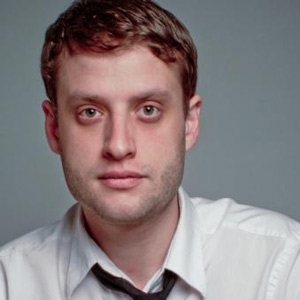 The BBC has revealed details of key cast and writing talent involved in upcoming childrens' comedy series, DNN.
DNN, which childrens' channel CBBC hopes will do for topical satire what smash-hit, multi award winning Horrible Histories did for the sketch show, is a weekly series taking "a sideways, upside-down and back-to-front look at what's happening each week in the world of news, sports and entertainment".
CBBC say: "Filmed in studio and on location during the week of transmission, DNN will run for 13 weeks and include a cast of dysfunctional news anchors and correspondents. Each week they will put their own unique spin on the news agenda through irreverent sketches, hilarious archive clips and plenty of silly physical comedy."
Comedian William Andrews (pictured right; Sorry, I've Got No Head, Anna & Katy) stars as Bob Roberts, a hopeless news anchor whose incompetence is often exposed by the brilliance and superiority of his female counterpart Felicity Bond, played by Kelly-Anne Lyons (Richard Hammond's Secret Service, Dick And Dom's Funny Business).
The anchors are complemented by fame-hungry entertainment correspondent, Stacey-May Anais (Cariad Lloyd - Cardinal Burns, Fit); stand-up comedian Sam Fletcher (Coming Of Age, White Van Man, Ideal) as deluded sports correspondent Gary Odgen; Jesting About 2 winner Victoria Cook as all-action weather girl Davina Wave; and roving reporter Nellie Osmond, played by Gemma Arrowsmith (The Ministry Of Curious Stuff, How TV Ruined Your Life).
They will be joined by Marvyn Dickinson as breaking news reporter Phil Tyme, Mawaan Rizwan out on the streets canvassing public opinion, and Susan Harrison as a succession of fictitious bloggers offering their own opinions on the news stories of the week.
Meanwhile, DNN's writing team will be overseen by script editor David Quantick, whose credits range from Stand Up For The Week to Harry Hill's TV Burp and The Thick Of It.
They include: Daniel Maier (TV Burp, It's Kevin, A Touch Of Cloth); writing duo Jason Hazeley & Joel Morris (That Mitchell And Webb Look, Miranda); Stuart Kenworthy (Strange Hill High, Smack The Pony); Ciaran Murtagh & Andrew Jones (The Legend Of Dick And Dom, Hotel Trubble); and James Harris & Marc Blakewill (White Van Man, Sorry, I've Got No Head, Russell Howard's Good News).
Controller of CBBC, Cheryl Taylor, says: "DNN is the first in the line-up of several brand new CBBC comedies. It has a sparky and box-fresh cast bursting with brilliant and barmy news items that will have our audience in stitches. Tune in for the news as you've never seen it before!"
DNN is expected to begin on CBBC in the third week of May.
Share this page