Series 1, Episode 1 - Nelson The Online Predator
Nelson discovers the harsh reality of interspecies dating, Marion gets himself adopted after his previous owner dies, Destiny bites her owner so she can attend dog obedience classes and Kali implicates DJ
Toby Anstis
in one of her evil schemes.
Full synopsis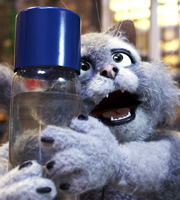 Nelson uses Toby Anstis's social networking login to set up a blind date with a human. However, he gets a shock when he discovers the Wendy he was planning to meet isn't a human being after all, but a chicken.
Destiny joins owner Gary for the canine horror show that is Strictly Dog Dancing and falls for badboy Rivers from the dog disobedience class. If she is to see Rivers again, Destiny has to start behaving really badly.
When Marion's owner dies, Kali sees an opportunity for Marion to pose as a missing cat called Chopsticks in order to rob his owner for all she's worth. Marion finds his new life most comfortable, until his new owner takes him to be neutered.
Song: The Chicken Song (F*** Chickens) - Sung by Vince, featuring Nelson.
Written by Daniel Peak and Danielle Ward.
Notes
Some sources give this episode the unofficial title Chicken.
Broadcast details
Date

Tuesday 22nd June 2010

Time

10pm

Channel

Length

30 minutes
Repeats
Wednesday 23rd June 2010 at 11:45pm on BBC3
Friday 25th June 2010 at 10:30pm on BBC3
Sunday 27th June 2010 at 11:15pm on BBC3
Monday 20th December 2010 at 12:05am on BBC3
Tuesday 28th June 2011 at 11:45pm on BBC3
Wednesday 29th June 2011 at 3:45am on BBC3
Saturday 16th July 2011 at 2:45am on BBC3
Wednesday 20th July 2011 at 12:45am on BBC3
Wednesday 20th July 2011 at 3:10am on BBC3
Sunday 30th October 2011 at 3:20am on BBC3
Friday 12th April 2013 at 11:20pm on Dave
Monday 14th April 2014 at 1:55am on Dave
Monday 30th June 2014 at 3:15am on Dave
Wednesday 17th September 2014 at 2:15am on Dave
Saturday 13th December 2014 at 2:30am on Dave
Saturday 10th January 2015 at 2:45am on Dave
Friday 22nd January 2016 at 2:00am on BBC3
Saturday 5th March 2016 at 3:30am on BBC3
Cast & crew
Videos
Vince gives his honest view of chickens in Cockney music form (not safe for work).
Featuring: Paul Kaye (Vince).