Series 1, Episode 7 - Marion The Superfluous Feed Character
Nelson organises a rooftop picnic to celebrate Vince's birthday, but things go badly wrong when an accident with a party popper puts Vince in a coma. Meanwhile, Destiny tries dating a bossy sheepdog and Kali plots her revenge on Harry Hill after seeing her mum getting electrocuted on You've Been Framed.
Full synopsis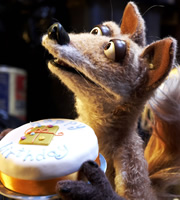 It's geezer fox Vince's birthday and, to surprise him, metro-sexual fox Nelson organises a rooftop picnic to celebrate. However, after an incident with a party popper goes wrong, Vince falls off the roof and ends up in a coma, leaving Nelson to look after his patch.
Stepping up to his new responsibilities, Nelson attempts to put the tearaways living on Vince's patch back on the right path by teaching them the benefits of being middle class.
Destiny tires of dating a bossy sheepdog, meanwhile, and turns her attention to a comatose Vince who, in his unconscious state, turns out to be the perfect date as he can never tell her what to do. It's all going so well, until Vince wakes up...
Meanwhile, cynical pigeon Kali plots revenge on Harry Hill after seeing her mum getting electrocuted on You've Been Framed.
Song: Middle Class Is Magical - Sung by Nelson.
Written by Adam Miller.
Notes
Some sources give this episode the unofficial title Beatrix Reloaded.
Broadcast details
Date

Tuesday 3rd August 2010

Time

10:30pm

Channel

Length

30 minutes
Repeats
Thursday 5th August 2010 at 12:30am on BBC3
Friday 6th August 2010 at 9:30pm on BBC3
Sunday 8th August 2010 at 10:45pm on BBC3
Thursday 30th December 2010 at 12:20am on BBC3
Wednesday 10th August 2011 at 1:45am on BBC3
Monday 31st October 2011 at 3:30am on BBC3
Friday 24th May 2013 at 11:20pm on Dave
Monday 5th May 2014 at 2:00am on Dave
Wednesday 8th October 2014 at 2:15am on Dave
Sunday 28th December 2014 at 2:40am on Dave
Saturday 31st January 2015 at 2:45am on Dave
Tuesday 17th February 2015 at 1:55am on Dave
Monday 7th March 2016 at 3:00am on BBC3
Cast & crew
Videos
Nelson and Marion attempt to wake Vince from his coma using singers from Boyzone and Westlife.
Featuring.
Tomcat Marion can't remember who or what the silent killer is. Is it Tim? Is it mumps? Or is it salt? Only Nelson has the answer.
Featuring.
Nelson teaches the other mongrels about the wonders of being Middle Class in song form.
Featuring.